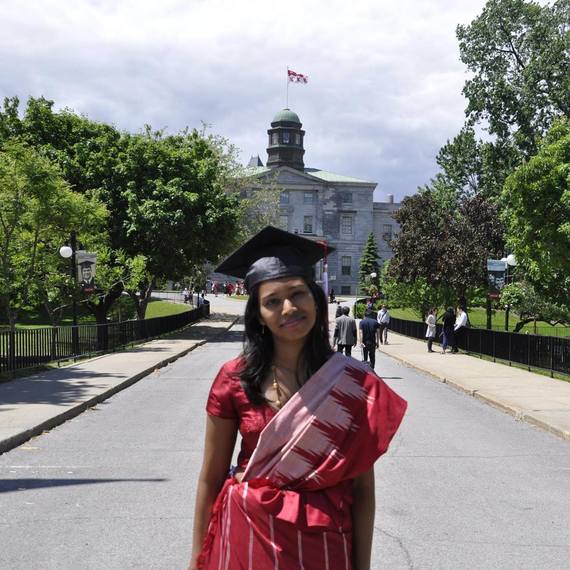 Congratulations on becoming the sunniest Prime Minister of Canada.
Je me souviens (I remember) hearing that your dad was pretty sunny too. But you have taken over his legacy with such grace by carving your own niche to promote diversity and inclusivity in every shape and form  --  from multiculturalism to gender equality. When I heard you quote another one of our McGill Alumni -- Sir Wilfred Laurier, in your victory speech on the 20th of October last year with "sunny ways" and positive politics for real change, I couldn't have been prouder or happier.
In this light, thank you for personifying happiness in your every endeavour throughout your election campaign. Thank you for focusing on the positives whilst yet being realistic, for being firm in your beliefs yet fair in your approach. Most importantly, thank you for being globally warming -- by being kind and genuine and open, as you officially took over duties in Ottawa as Prime Minister, whilst also managing to make it to Vogue. You are undoubtedly the hottest Head of State for the coldest country - I'm not lying, it's Trudeau.
When United Nations Secretary General Ban Ki Moon spoke at McGill University recently, he said,
"You are not here at McGill just for yourselves, but for our common future...I'm leaving tomorrow and from tomorrow you're in charge, so be prepared."
So from one McGillian to another, I want to talk to you about our common future.
I write to you to ask you to make happiness part of your public policy and inspire other world leaders to do the same.
As you may know, the 20th of March was declared as International Day of Happiness by all member states of the United Nations. I have a personal connection with this day because it was conceptualized and founded by one of my mentors Jayme Illien, who understood that we could use the concept of happiness and incorporate it into the UN global agenda as a means of unlocking the code to the complex challenges we as humans face today.
In 2011, the UN General Assembly adopted a resolution, which recognized happiness as a "fundamental human goal" and called for "a more inclusive, equitable and balanced approach to economic growth that promotes the happiness and well-being of all peoples"
After years of happiness research, one thing has proven fundamental - the importance of our connections with other people. As a millennial, to me being engaged with the world in which we live in, regardless of whether it is about an issue that is on our shores or otherwise is what we ought to do as the most connected generation in human existence.
I know you insist that the most important thing in the modern world is to be optimistic about change, which is a fact of life, and not succumb to negativity. I recall you saying that
"There's a sense that maybe we've reached the end of progress, that maybe it's the new normal that the quality of life is going to go down for the next generation. Well, I refuse to accept that".
So in the light of the recent global atrocities that made and didn't make headlines, I wrote A Love Letter to Beirut, Paris and beyond from Sri Lanka. This letter, in which I describe my childhood experience of being born and raised in conflict, subsequently took a life of its own and went viral all across the world. I quoted Dumbledore from Harry Potter - "Happiness can be found, even in the darkest of times, if one only remembers to turn on the light." I suspect that what resonated most with people from around the globe was the need for us to be hopeful, and not hateful as humans, especially at this time of global strife. And in that light, I want to say thank you for protecting the ideals of Canada by setting an example, and by leading with soft power.
When we compare Canadian politics to that of our friends in the south, ours appears to be pretty mundane because we don't disagree on many pivotal issues as a people, whether it is about Planned Parenthood, banning of armed weapons or marriage equality. But I'm so glad we are this boring because that means we all share the same ideals as a people and as a result, most would agree, it has helped create a happier country. We have universal healthcare and education and so it is not surprising that Canadians are the most educated nation in the world - which is exemplified by how we behave.
However, there are some pathways to happiness that Canadians and for that matter all nations should be paying attention to at this pivotal point in history. They are pathways that I would love for you to work on during your term. I know we can lead the way as the Truly (Happy) North that we are and be known as a place that keeps our planet happy.
1. Happiness through kindness
On the 11th of December 2015, when you went to Pearson International Airport to greet the first group of 2500 Syrian refugees, in front of the world you reinvigorated what the Canadian identity is all about, and more so what humanity is all about. As you helped those kids into warm winter jackets, not only did you give them a warm Canadian welcome, but you also gave these children who have seen more years of conflict than peace in their lifetimes - a moment of happiness. This moment of humanity will be forever etched in my mind.
That night, I came across the incredible video compiled by World Vision Canada, in which kids from across the country sent their wishes to Syrian refugees children in true Canadian style.
"I want to be your best friends." "Hope you might live near us." "We can't wait to have you in school." "I hope to see you on the slope."
I watched it many times with tears in my eyes every single time, because it epitomized what world leaders were incapable of saying:
"I can't imagine what you've been through, I hope you like it here in Canada."
You had managed to spark kindness in every direction.
The cultural intelligence with which you handled the isolated incident of a hate crime that took place at the mosque in Peterborough, Ontario, only a day after the terror attacks in Paris, was also nothing short of admirable. When you iterated that although the attackers intended the fire to pull the community apart, it actually brought them closer together, you gave the world an essence of what we are not as Canadians and what we shouldn't be as humankind. My birth home of Sri Lanka can learn so much from your positive politics as it moves forward in a postwar era.
Proposition #1: Use your social media to encourage youth from Canada and beyond to participate in acts of kindness and gratitude with no expectations in return. You can start this challenge on the UN International Day of Happiness.
2. Happiness through gender parity
When you appointed the first gender-balanced cabinet in history, you created a precedent that is so simple, yet so imperative - one that every child growing up after this in Canada and beyond our borders will consider to be the norm. Thank you for shattering some glass ceilings that shouldn't have existed in the first place. When you said at Davos 2016 that we shouldn't be afraid of the word "feminist" and that men and women should use it to describe themselves anytime they want, you said what many leaders have been unable to perfectly articulate. And when you related the conversation you had with your wife Sophie, when she pulled you to the side a few months ago and said to you that as much as it is all well and good to be thoughtful about raising your daughter to be empowered, that you need to take a much effort to talk to your sons so that they grow up to be a feminist just like you, you personified the true meaning of the UN Women campaign #HeforShe.
Proposition #2: Create and push for legislation that provides for equality in law for wages regardless of gender and a redefinition of (shared) maternity and paternity leave.
3. Happiness through diversity
I wonder, now that you live at 24 Sussex in Ottawa, if you miss the North American Paris -- our Montreal?
Some cities you grow up in, and some cities make you grow  --  and to me Montreal was the latter. And maybe it was the same for you too. I grew up most of my life in the beautiful island of Sri Lanka and moved to Montreal when I turned 18. So although I have lived and studied across three continents thus far, when I walk through Pierre Trudeau International Airport into my city  --  I feel at home again. And wearing a Sri Lankan Kandyan saree on graduation at McGill was as important to me as the degree I was holding in my hand that day. It reiterated to me that being Canadian is about holding on to your cultural diversity and backgrounds together with shared values -- because being different makes us alike. And I know you agree that being Canadian is being a mosaic of diversity and it is just this that is the gift of happiness we give our people and the world.
Diversity only makes us smarter. I can't even count the number of permutations and combinations of race, ethnicity, nationality or gender that we have at home. And being around people who are so different yet alike only makes us more creative, more diligent and more hardworking. In this light, it should never be the case that doctor who now happens to be a Syrian refugee and is now Canadian has to end up driving cabs. We both know how tough it is to complete medical school - anywhere in the world, and the least we can do is to ease the process of transition even with work parity.
Proposition #3: Create legislation that supports every skilled migrant who enters Canada as a refugee or otherwise is able to continue their original vocation by easing the transition and associated financial costs.
4. Happiness through health
After interning with the World Health Organization in Geneva, I was delighted to discover that the two places I call home - Sri Lanka and Canada were both role models in terms of universal healthcare. However, when I probed deeper into my new profession of dentistry, I came across a bizarre fact that I knew I had to bring it to your attention. The one component of the right to health that is not guaranteed to all Canadians is the right to free dental care. Can we please change this? Just look toward Sri Lanka if you need some inspiration and you will see how it is done to maintain a healthy balance of public and private healthcare. Sri Lanka is an outlier in the developing world with universal healthcare including free dental care, alongside a free public education system up to tertiary education. If this beautiful pearl in the Indian Ocean, which was ravaged with a thirty-year civil war, can still manage to make it on top in this regard - so can Canada.
As much as it may be enticing to earn as a dentist once I graduate, I'm more concerned with the lack of access to dental care in Canada and beyond. This comes from a complete privatization of this very vital sector of healthcare that has been overlooked. After all, we (Canada) don't proclaim to be the best country in the world - we just walk and the talk follows. So let's keep doing that especially by spreading healthy, happy smiles.
Proposition #4: Create the infrastructure required to provide universal dental care to all Canadians, and lead the way for other countries to follow you.
5. Happiness through sustainability
The Canadian economy is so much more than just resources. We have an educated and diverse workforce that is excited about participating in the global economy. We have always tried to set forward interesting solutions, and we succeed for ourselves as we share our stories - especially in terms of sustaining our planet for my generation and the generations to come. After all, we only have one viable planet for life and we need to be passionate about this global issue. We cannot be myopic about economic benefits, but we need to be vigilant of the human benefits on the longer run. This is imperative if we want a planet that is sustainable and that reflects intergenerational equity.
The good news is that we millennials have different attitudes. We move more for work and use different tools for work. We have a different attitude to leisure because of Airbnb and Uber. We are less focused on owning assets, and in a sense this movement away from ownership into a world where we are happy to rent, borrow, swap, and donate assets changes opportunities radically. So our solutions to the world in which we live in will also be different from the rest.
Proposition #5: Encourage new graduates to create start-ups in renewable and sustainable energy, and to use creativity to tackle the global energy challenges whilst we remain sensitive to the transition we need to make with those who are losing their jobs in the oil industry in Canada.
As my favorite leader of the 21st century, I hope you will use your position to support and rally around happiness as a social policy as your integral theme in office, so that you can inspire the leaders of all UN member nations to follow suit. We both know that we don't have to be sceptical as people to be realists. In fact, we can be optimistic realists, because at the end of the day there is enough science to prove how positive reinforcement works better in us humans in the long run.
This millennial proposal is already very much in line with your political philosophy, so I am positive that you will drive change in policy by being an example and thereby make epic things happen.
Merci beaucoup for everything you are doing to change Canada for the better. You have done a great job in your first hundred days in office and here is wishing you success in the hundreds of days to come. Remember that as you create real change in our country and around the world to make it happier and more prosperous, never change being the human you are, because the world needs more leaders like you - especially today.
I will always believe in you and look up to you.
Sarah Jameel McGill Class of 2014
Calling all HuffPost superfans!
Sign up for membership to become a founding member and help shape HuffPost's next chapter