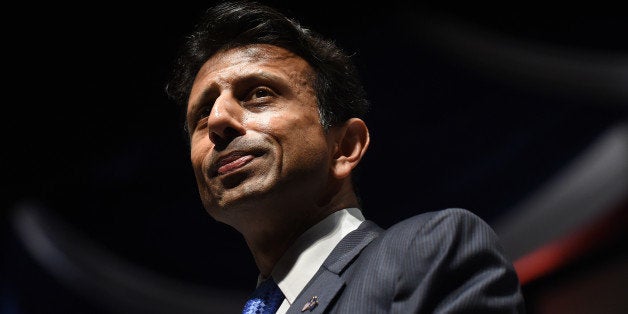 Louisiana Governor Bobby Jindal yesterday announced he is praying over his decision whether to run for president. Yesterday, Jindal also issued an executive order supporting discrimination against marriages by Louisiana gay and lesbian citizens, minutes after a similar bill was overwhelmingly rejected by the Louisiana legislature.
This is but the latest example of Jindal throwing Louisiana under the bus to advance his own personal agenda. He has been brutally criticized by fellow Republicans for playing games with Louisiana's big budget problems which faces a $1.6 billion deficit. The flagship state university, LSU, has had to draft and publicly announce "academic bankruptcy" plans due to lack of adequate state financing.
Jindal, who majored in biology at Brown, now supports teaching creationism to Louisiana public school students. Jindal still strongly supports the invasion of Iraq, even though more than 80 members of the military from Louisiana lost their lives there. Jindal also successfully fought to protect oil and gas companies from even having to go to court to defend themselves against their destruction of Louisiana wetlands.
Governing by executive order is a total reversal for Jindal, who condemned President Obama just a few months ago for issuing executive order on immigration. On November 24, 2014 Jindal said:
The President is lecturing us and not listening to us. He's bypassing Congress, and ignoring the American people...Granting amnesty by executive order is wrong... If the President wants to make the case that the law should be changed, he should go make the case to Congress and our people.

This is an arrogant, cynical political move by the President, and it's why so many Americans no longer trust this President to solve the problems we face.
Dear God, if you are listening to Governor Jindal's prayers asking if he should run for president, please just say, "No." Louisiana cannot afford his ambitions anymore.
Popular in the Community