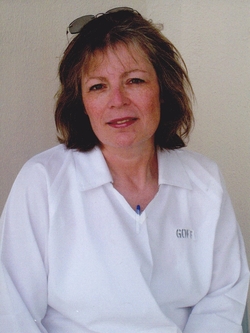 Dear Governor Mike Beebe,
I haven't had the honor of meeting you or the privilege of visiting your state. But I would like to bring a story to your attention that transcends geography, party affiliation, or just about any other division I can think of.
In 1996, a woman in Arkansas named Belynda Goff was convicted of a murder she did not commit.
This past summer, Belynda, now represented by the Innocence Project, was granted DNA testing. But some of the evidence that the Innocence Project seeks to test -- the fingernail scrapings taken from the victim's hands and hairs found on the victim -- has apparently been lost. In August, a clemency petition was filed on Belynda's behalf.
But let me start at the beginning:
In 1994, Belynda lived in Green Forest, Ark. with her husband, Stephen, their two young sons, Mark and Stephen Lee, and her teenage daughter Bridgette. Belynda worked at the local Tyson plant but always tried to arrange her schedule so she would be home when her children arrived home from school. She never missed one of their Little League games or cheerleading events. Belynda was a committed member of her church in Berryville and taught Sunday school.
On the night of June 11, her husband left their home around 9 p.m. He told Belynda he was going out for cigarettes. Belynda watched some TV, then went to bed around 10 or 10:30. Stephen still was not home.
During the night, her 3-year-old son, Stephen Lee, crept into her bed and slept beside her. Belynda woke up some time between 4 and 4:30 a.m. when the alarm went off. She went into the bathroom, then walked into the living room. She saw her husband laying by the front door and called his name. He did not respond. She went closer and saw his face was bloodied. Hysterical and screaming, Belynda called the operator and said her husband needed an ambulance. The police and paramedics arrived.
But instead of offering help, the police offered accusations. As she sat outside just moments after finding her husband's body, the police asked what she had done with the gun, and later that morning conducted a gunshot residue test on her hands. They mistakenly believed it was a shooting; in fact, Stephen was bludgeoned to death. To the police, Belynda wasn't a victim. She wasn't a stunned and grieving widow with three children. She was a suspect. No, she was worse. In their eyes, she was the perpetrator.
From there the boulder rolled down and down and down. Tunnel vision seized the authorities. Belynda was arrested, tried, convicted, and sentenced to life in prison.
No matter that Stephen was allegedly involved in an arson scheme and had his life threatened shortly before his death. In 2001, Belynda's brother, Chris Lindley, testified at her appeal that over the course of about one year prior to the murder, Stephen repeatedly asked him to participate in the scheme, which reportedly involved getting paid $10,000 by two men to burn a building in Flint, Mich. At first, Chris said he would help but when he told Stephen he had changed his mind, Stephen became panicked. According to Chris, Stephen said he had already spent the money and would be killed if Chris backed out. A few days later, Stephen was found dead. The appeals court ruled that Belynda's trial counsel was ineffective, in part, for not calling Chris to testify at her trial. Belynda was granted a new trial but another court overturned the decision.
No matter that two days after Stephen's death, Chris said he received a phone call from an unknown person threatening that "[i]f you open your mouth, you'll find yourself laying right next to Steve. You will be dead; your family will be dead." Chris immediately changed his phone number, sold his home, and moved. A little over a year after Stephen's death, Belynda's home was burned to the ground in a still unsolved arson.
No matter that someone else reported the crime. A female identifying herself as a nurse at "Carroll General Hospital" called the police dispatcher at 4:29 a.m. on the morning Stephen's body was found and said a "beating death" had occurred at Stephen and Belynda's address. This person provided information not yet known by the police who initially thought it was a shooting.
No matter that a neighbor saw two men with baseball bats parked in front of Belynda and Stephen's apartment on June 11, the evening before Stephen's body was found. The neighbor reported the incident to the police that day and again after Stephen's murder.
No matter that Belynda rejected a plea deal for 10 years when she faced a life sentence because she would not admit guilt to a crime she did not commit.
Despite Belynda's wrongful conviction, she remained a mother to Bridgette, Stephen Lee, and Mark. While her young children lived with her mother during the early years of her incarceration, Belynda tried to call them every morning to wake them and make sure that they didn't miss the bus. "A little piece of us wasn't connected until that phone rang and we heard her voice," Stephen Lee writes in a letter included in Belynda's clemency petition. When Mark got married he held his wedding on her birthday and saved her a seat. When Bridgette became pregnant with her second child, she did not look at the ultrasound results because she wanted her mother to tell her the news. She sent them to Belynda, who responded by placing a pink ribbon in an envelope and sending it back to Bridgette. This daughter, born in June, was named Liberty, for Belynda's struggle to be free.
To know Belynda is to be uniquely blessed. Blessed by her generous spirit, her commitment to her family and their commitment to her, and her compassion and care for those around her, despite the most tragic of circumstances. While imprisoned she has mentored other inmates, and joined the Paws in Prison program, training dogs for children with disabilities.
But to know her is to also be uniquely haunted by the tragedy she and her family have lived for almost twenty years. Haunted that she was not there to see Mark graduate Marine Corp boot camp, or the birth of his baby boy. Haunted that she was not there to see Bridgette graduate from college, or to help Bridgette care for her 2-year-old daughter while her husband, a Major in the Marines, was deployed in Afghanistan. There are too many moments to name. But as a father yourself, you know them all too well.
Another moment is approaching us -- baby Liberty's first Christmas -- and your help is needed to be sure Belynda doesn't lose that moment too. Her clemency petition has been with the parole board since August. Many supporters have written letters asking that her petition be granted, including four jurors from her trial.
Respectfully, I ask that the parole board support her petition and I ask you to grant it.
Please bring Belynda home in time for Christmas.
Elizabeth Weill-Greenberg
To join the efforts to bring Belynda home for the holidays, please send your own letter to Governor Beebe by clicking here to find the Innocence Project's Action Alert.
Calling all HuffPost superfans!
Sign up for membership to become a founding member and help shape HuffPost's next chapter