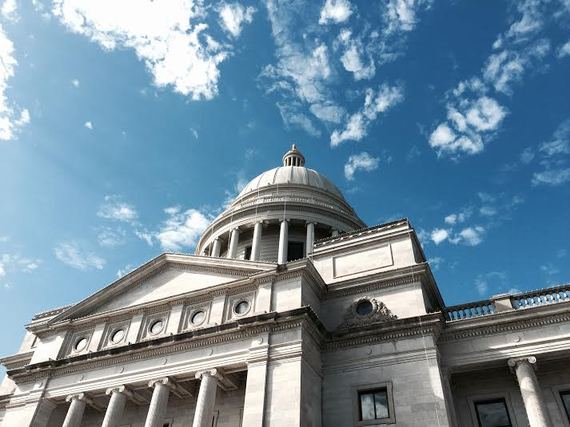 My name is Rhys Harper, and I am proud to say that I live in Little Rock, AR. Although I have spent most of my adult life in New York, I moved to Little Rock in December 2014 to be closer to my family, some of whom live in Little Rock. I also grew up in Oklahoma, and spent much time in Arkansas growing up - it is a place that I have always held close to my heart and am proud to call home.
I'm a photographer, and tend to prefer being behind the camera. Recently, I began a project called "A Portrait of Arkansas," documenting the beautiful, diverse stories of the people that make the Natural State an amazing place to live. When I moved to Arkansas, I had people ask me why I would want to live in a place like Arkansas. Being a photographer, I decided that the best way to tell people why I live in Arkansas was to photograph the people here, and to tell their stories.
I have only just begun this project, but I intend to photograph thousands of people from all across the state of Arkansas. I have photographed Christians who have been committed to mission work all over the world, immigrants who came to our state to do important interfaith work, physicians healing our sick, musicians who create the soundtracks to those celebrating weddings, and LGBT people who have been brave enough to live authentically in the public eye.
The project was designed to allow people from all different walks of life to find common ground, rather than further the polarization existing in our society.
I am also the creator of The Transcending Gender Project, and for the past two and a half years, I've been photographing transgender and gender non-conforming people across the United States. I've met doctors, attorneys, students, musicians, activists, social workers, postal workers, game designers, filmmakers, engineers, dentists, and more. They are our neighbors, and part of the quiltwork that makes our country diverse and beautiful.
The Transcending Gender Project is personal to me, and it is similar in design to "A Portrait of Arkansas," to show that transgender and gender non-conforming people are much more than just the sum of their genders - allowing people who are not transgender or gender non-conforming to find a shared experience with those who are. Allowing people of different walks of life to find common ground instead of further dividing. Governor, I am transgender, too.
While I tend to shy away from these conversations, I would like to invite you into a conversation about your recent remarks with us. We would love to sit down with you and have a conversation about how we can work together to make Arkansas a safe place for everyone - including the LGBT community.
While we can celebrate things that make us unique, we must work together to find common ground, rather than focus on things that divide us.
I respectfully ask that you meet with members from our community so that we may have a productive conversation, and move forward, together - showing people exactly why someone would want to live in the Natural State.
Respectfully,
Rhys Harper
REAL LIFE. REAL NEWS. REAL VOICES.
Help us tell more of the stories that matter from voices that too often remain unheard.