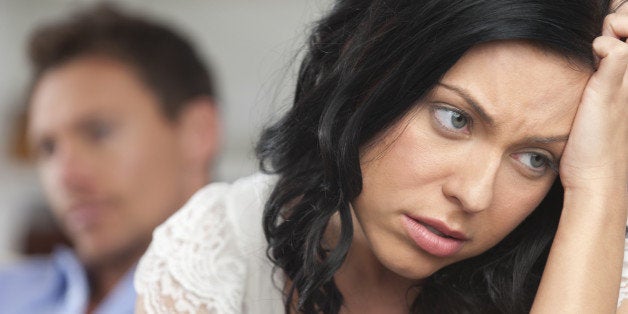 Disclaimer: Studies show that only 10 percent of people are good listeners -- so feel free to replace the word hubby with self, wife, partner, friend, colleague, boss, mom, dad or any other person you know. Truth be told -- my hubby should have written this letter to me.

Dear Hubby:

As I was fighting traffic on my commute home last night, I was replaying everything that went wrong at work.
How did I miss that e-mail from the director...
Why did Shelly have to throw me under the bus in front of everyone?...
I know I messed up again, BUT if Mike would've helped me and I wasn't so overwhelmed I would have never missed the e-mail and would've known to be at the executive's meeting...
I'm such a failure -- I'm probably going to get fired!
This traffic is outta control, it shouldn't take me two freakin' hours to get home!

I was cycling through feelings of failure, overwhelm, stress, anger and fear -- and needed a shoulder to lean on.

I know it is just a J-O-B, but I truly believe I am making a difference in the world. When I fail it feels as if I am failing everyone around me.

As I pulled in the drive-way, I had to give myself a pep talk, put on my happy face and pull myself together for you and the kids. I didn't want you all to know I was a failure. Luckily I made it through dinner, baths and bedtime without falling apart.

As we were finishing up the dishes and picking up the toys strategically tossed throughout the house, I started to tell you about my day. I started to tell you what happened and how I was made to look like a fool. I started to tell you how I was angry, sad and scared.

Without even looking up -- you replied, "It's fine -- everyone will forget about it tomorrow."

That's when I lost it! That's when I felt like tearing out my hair in frustrations and told you that you never listen and you just don't understand.

I know that you thought you were helping. I know that you hate seeing me sad or upset. I know you wanted to be a hero and solve my problems.

I love you for that... but please...

JUST LISTEN.
Please turn towards me and sit with me and my emotions. Please don't try to solve my problems unless I ask. Please try to understand my perspective and comfort me.
I know that we are busy trying to raise our family, excel in our careers and keep our heads above water. But, I can't do this without you. We can't do this without one another. Please, look at me and notice my hurt. Please stop what you are doing, turn off the tv and put down your phone -- then sit with me and let me release.
I need you to be strong for me when I am feeling weak -- and I promise I will be strong for you. I know it's hard to let me hurt and not be able to help me.
But, you are my true hero when you listen and understand my hurt and celebrate my victories.
This is when I feel closest to you. This is when I trust you more than ever. This is when our love grows stronger.
I apologize that I haven't always listened to you. I'm sorry that I've forgotten to celebrate with you when your hockey team won the Stanley Cup, or you got the huge promotion at work, or even when you had a proud father moment. I have forgotten to listen to you when you were angry, sad, hurt or scared and I'm sorry.
Let's make a change today. Let's remember to listen to each other and sit with one another in our feelings -- no matter how uncomfortable it may be.
Let's help each other to grow as individuals and as a couple.