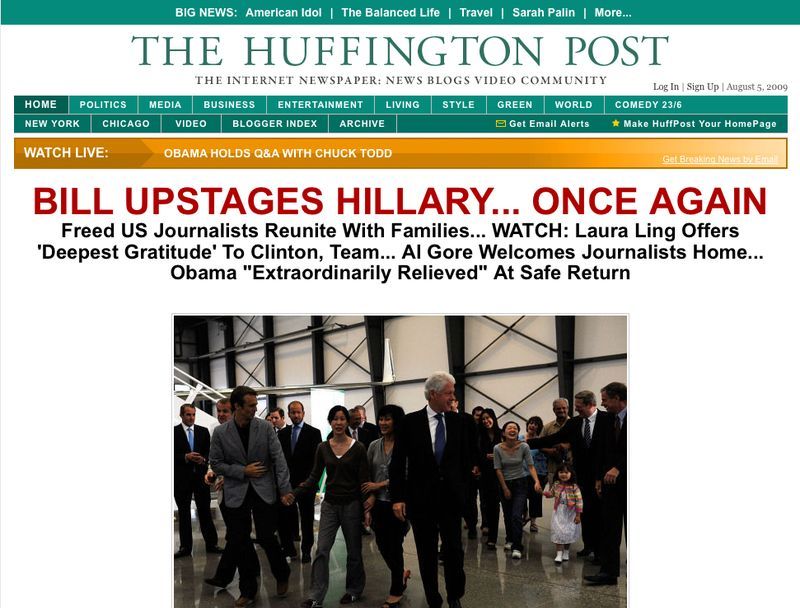 Yesterday was a pretty big day. The lives of two amazing journalists were saved, their families spared more emotional agony. It all started, as the New York Times reported it, after being arrested on March 17 near the North Korean border with China while reporting on human trafficking for Current TV. But yesterday, Laura Ling and Euna Lee were rescued by former President Bill Clinton in a feat of diplomatic aplomb that left anyone with a heart teary eyed and choked up, and a nation very grateful.
However, instead of blasting a headline of jubilation, someone inside Huffington Post decided to take the road down Clinton Derangement Highway, choosing the headline you see at the top of this post.
Being privileged enough to contribute here, frankly, I was appalled. I wasn't alone, as you no doubt saw in your own comment section.
So, since someone missed it, let me tell you how something like this actually works. In order to pull the whole thing off and make sure Bill Clinton went over there, got the pardon, then got home with both reporters quickly and before something went wrong, the Obama administration had to keep the political away from the humanitarian, you know, in case something actually did go wrong, creating an international incident. I'm sorry if this sounds like a lecture, as well as for those at Huffington Post who were as horrified as I was, but somebody obviously missed the whole point of no one in the Administration going. And by the way, Secretary Clinton certainly couldn't have gone, as it would have put Obama's foreign policy on North Korea in a ringer, which was the whole point in having someone neutral and outside the Administration involved. The other issue being that the North Koreans actually wanted Bill Clinton, because he's a former president and a political rock star across the globe.
I shouldn't have to tell you all this. You all are way too smart.
I also shouldn't have to tell you that running a headline blaring "BILL UPSTAGES HILLARY.... ONCE AGAIN" on a day two journalists lives were saved from doing twelve years hard labor in a North Korean prison camp made Huffington Post look silly. Petty. Small.
Related
Popular in the Community