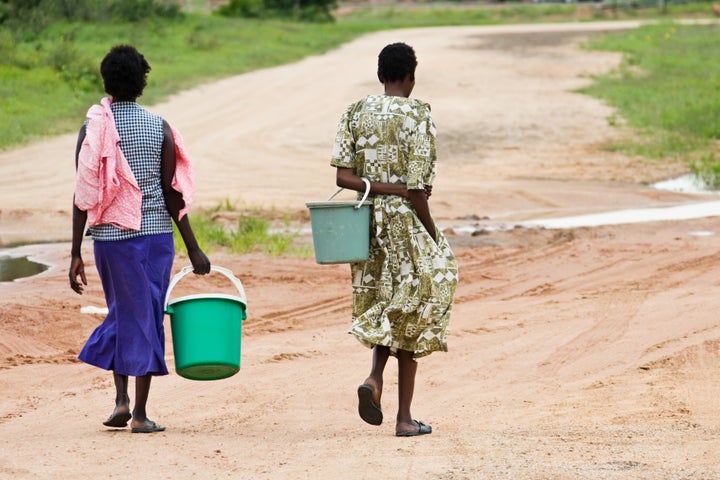 The 2016 IUCN International World Conservation Congress kicked off a few days ago here in Honolulu, Hawaii. The conference theme is 'Planet at the Crossroads', and a series of journeys, from 'Business' to 'Biosecurity' have been highlighted as key issue areas to frame dialogues and conversations during the Congress.
As an estimated 8,000 advocates, scientists and conservationists convene to advance the protection of our world's natural resources, we also see that people and cultures are inextricably linked to these efforts, as stewards of their lands.
Our planet is at a crossroads, and people are also at a crossroads. We must be willing to take urgent and bold action to challenge unsustainable systems in our societies, and recognize how power and privilege underpin environmental degradation and resource extraction.
People are really at the heart, or should be at the heart, of our sharing and learning here at the IUCN Congress. And further, an understanding that people's interactions with nature, in communities and households, is very much framed by intersections such as race, class, culture and, in particular, gender.

Why Gender & Conservation?
Gender is a social construct. While not immutable nor universal, gender shapes expectations, attributes, roles, capacities and rights of women and men around the world- and in turn, experiences and interactions with the natural environment. Women, compared to men, often have limited access to resources, more restricted rights, limited mobility, and a muted voice in shaping decisions and influencing policy. At the same time, gender roles generally ascribed to women such as informal, reproductive work often relate to caregiving for households and communities, caretaking of seeds and soils, maintaining traditional agricultural knowledge, and responsibility for natural resource management such as firewood and water, and thus these roles create opportunity for engagement as women bring diverse and critical solutions to conservation.
IUCN as a Gender Champion
As one of the leading environmental organizations in the world, IUCN has been at the forefront of recognizing women's rights and gender equality as a critical element of conservation and sustainable development. Since its founding in 1948, over 40 Congress resolutions have recognized women's role in resource management and at least 16 have emphasized the need for gender analysis and planning in conservation work.
Following a resolution in 1996 to develop a gender policy, the approved policy was passed in 1998 and included the creation of a Global Senior Gender Adviser Office (GGO), which almost 20 years later, now includes a global staff of over 15 people, conducting technical work with IUCN members around the world. This work has included support to mainstreaming gender into international environmental policy frameworks, and support to members at national level, creating action plans on gender in climate change and biodiversity planning. In addition to the Global Gender Office, IUCN has also established regional Gender Focal Points to monitor implementation of the IUCN Gender Policy at all levels.
This institutional recognition of gender issues is quite noteworthy for an intergovernmental organization such as IUCN, as it has taken many decades for other environmental frameworks and mechanisms to begin developing policies to integrate social issues into their work. This is beginning to shift across the board, and in particular, in 2015, where both the Sustainable Development Goals and the Paris Climate Agreement, placed gender equality as central to all actions.
As highlighted in the Opening Session of the IUCN World Conservation Congress, this is the largest global meeting of decision-makers and practitioners since the major global development agreements of 2015--and an important opportunity to focus on implementation and action. It is a moment for IUCN to highlight its strong history and work on gender equality, which the Congress seemingly recognized: "The IUCN Congress 2016 aims to be the most gender-responsive Congress in IUCN's history. It will comply with the Union's Gender Policy as well as the various mandates adopted by IUCN's General Assemblies. The IUCN Congress Gender Mainstreaming Strategy was created to ensure that IUCN's policies and actions reflect the importance of gender equality in all of the Union's work."
In reflecting on the first few days of the 2016 IUCN Congress, there are some glaring challenges to achieving the goal of being the most 'gender-responsive' Congress in IUCN's history.
Motions. As stated above, this Congress marks a critical moment for building towards action and implementation from the big agendas decided in 2015. The Congress intends to leave with a Conservation Agenda - to help achieve a series of goals. It would seem unquestionable given progress on gender, and IUCN's history on this work, that gender equality would be a pillar of this agenda. However, the 2016 Congress will actually mark the first Congress in decades where out of 99 resolutions, there is not a single reference to gender.
Visibility. It's also surprising that out of the 17 journeys/ topics identified as critical issues for this 'planet at a crossroads', it seems that the concerns of people and communities, and in particular, gender issues are very hidden within the agenda. IUCN certainly has the expertise, partnerships and knowledge for gender equality, women's rights and the role of local communities / indigenous peoples to be critical journey not only as part of the themes of the conference but woven throughout all of the conference.

Influence. While much progress still needs to be made in integrating gender into the efforts of environmental conservation groups such as the members of IUCN, many do have gender advisors or advocates working within these organizations. In discussions with fellow gender advocates here at the Congress on the lack of gender issues in the motions as well as in events, there seems to be some shared experiences of either not being fully engaged in preparations for sessions and motions in relation to the World Congress but also challenges in support or political will among the organizations to see gender, women rights and the rights of indigenous peoples as priority issues. This suggests a need for continued opportunities for capacity building and knowledge sharing on how gender is central to all conservation work, and not simply an 'add-on'.

Voice. Most significant is an observation that many panels / sessions of the IUCN Congress have not included or prioritized people most impacted by environmental degradation, or leading conservation efforts, in particular, indigenous women. Beyond this, there is a lack of space for these important voices to be heard in the first place. As an example, an incredible group of indigenous women from Kenya, Thailand, Guatemala, Hawaii, Fiji and Russia, part of the Indigenous Women's Biodiversity Network (IWBN) held an event offsite on Friday, September 2nd, at the University of Hawaii at Manoa. The organizers explained that they did not know in time about funding availability to be able to apply for an official side event slot. This sharing of experiences of resources management and conservation via traditional knowledge was worthy of a High-Level Panel at the IUCN Congress, but at minimum, more flexibility and space to ensure the participation and voice of indigenous women, peoples and frontline communities should be guaranteed in this type of space.
This is not to diminish the good work that is going on to highlight gender in the IUCN Congress, particularly via the efforts of the Senior Global Gender Office, as well as the many gender experts, advocates and indigenous women activists who are here organizing and sharing their experiences. However, with such a rich history in leadership on gender issues, and with a specific policy for gender mainstreaming, one would expect a much stronger coordination and emphasis on the topic. In addition, a much more progressive understanding that for the Congress to be truly gender responsive and also responsive to human rights, we must work to ensure that gender balance is only a first step. In addition to ensuring men and women in equal number we must also make space and prioritize frontline communities who are leading resilience efforts- to voice their challenges and their solutions for conservation and sustainable development.
As the IUCN Congress moves from the Forum to the Members Assembly on Tuesday, there are a number of things which can be done over the coming days and in the future to ensure the Congress is fulfilling IUCN's role as a champion of gender issues.
Raise your voice. IUCN members should use the opportunity of the Assembly to raise the importance of gender equality and women's rights in conservation and sustainable development, in line with the big agreements of 2015 and IUCN mandates and policies. Members should highlight that this is the first Congress where gender has been absent from motions, and that it must not be absent in the future conservation agenda.
Reflect. Members should also reflect on the motions/events submitted and planning for the Congress and whether there were opportunities to engage with gender advisors and staff which were not utilized or explored.
Engage. Congress participants should join in the conversation on gender issues. Advocates at the Congress have been using the hashtag #IUCNGender to highlight some critical conversations. In addition, anyone interested in these issues is welcome to join an open and informal 'women and gender caucus' which meets at 8am each morning on level 3.
Lead. Finally, IUCN must ensure gender equality, and their leadership on this issue, remains as a guiding principle for the organization. Articulated in enhanced collaboration with women's groups and gender advocates around the world, greater coherence to its internal mainstreaming policies, and continued support to members on technical training and capacity building around gender issues.
Popular in the Community