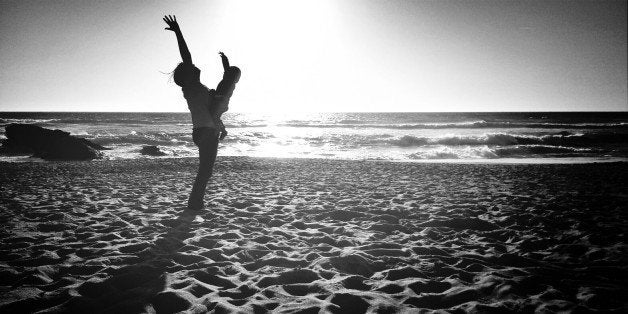 Someone asked me once what I want my kids to remember, when they are grown, about the kind of mother they had. I have thought about this many times, and I've come to the conclusion that there are things I know they'll remember, things I hope they'll remember, and things I fear they'll say about me. That last category is terrifying.
When your baby cheeks have thinned and your excitement for 6 a.m. has waned and you're a boring old grown-up who pays bills and growls about taxes, what will you say when people ask you about your mother? What was she like? First, here are things I am sure you'll recall.
You'll remember that your mom almost always wore a ponytail and hardly ever wore makeup.
You'll recall that she, far more than Daddy, made you eat fruit and vegetables and go to bed at a real "bedtime."
You'll say your mom was a writer. (You'd better, anyway.)
You'll say that your mom drove you to school, and to practice, and to games, and to the library, and to your friends' houses...
And your mom always picked you up.
Unfortunately, you'll also recall that your mother lost her patience. And she yelled. And once in a while cried on a really bad day.
But here are some things I truly hope you remember about me as well:
I hope you remember that I never put myself or Daddy down. That I was very committed to setting an example of positive self-worth for you. And that we wanted you to see how much we loved and supported each other.
I hope you recall me exercising (occasionally) and how I talked about getting stronger. And also that sometimes you exercised with me, too.
Will you remember the times I was fun? I hope so. I know it wasn't as often as Daddy, but I tried.
I hope you think about all the times we read together, curled up on the couch, sounding out words at first and then delving into themes and characters and plotlines of novels.
I hope you remember that you made me laugh, every day.
I hope you know how hard I tried for you. I tried in every way a mother should. I tried to keep you safe. I tried to keep you happy. I tried to keep you healthy. I tried to expose you to a myriad of experiences, so you didn't fit into one square space. I tried to keep you close, and I tried to let you go.
Finally, and this part is hardest to write, I am afraid of the following:
I fear that you will remember a mom who yelled too much and who seemed unhappy.
I fear that you will say I missed stuff -- not games and recitals and performances, because I was there for those. But that I missed opportunities to sit on the floor with you and play. Or take an extra long walk on a sunny day rather than going in to start dinner.
I am afraid that you will hear of other mothers who were different, who did more, and think I was not good enough.
I am afraid you won't know how much I loved each of you, especially for how unique and amazing you were as individuals.
I fear that you won't know how much my entire existence was wrapped around all of you. That you made me who I am.
What will you say, when people ask you about your mother? I do know this. You will say she was always there.