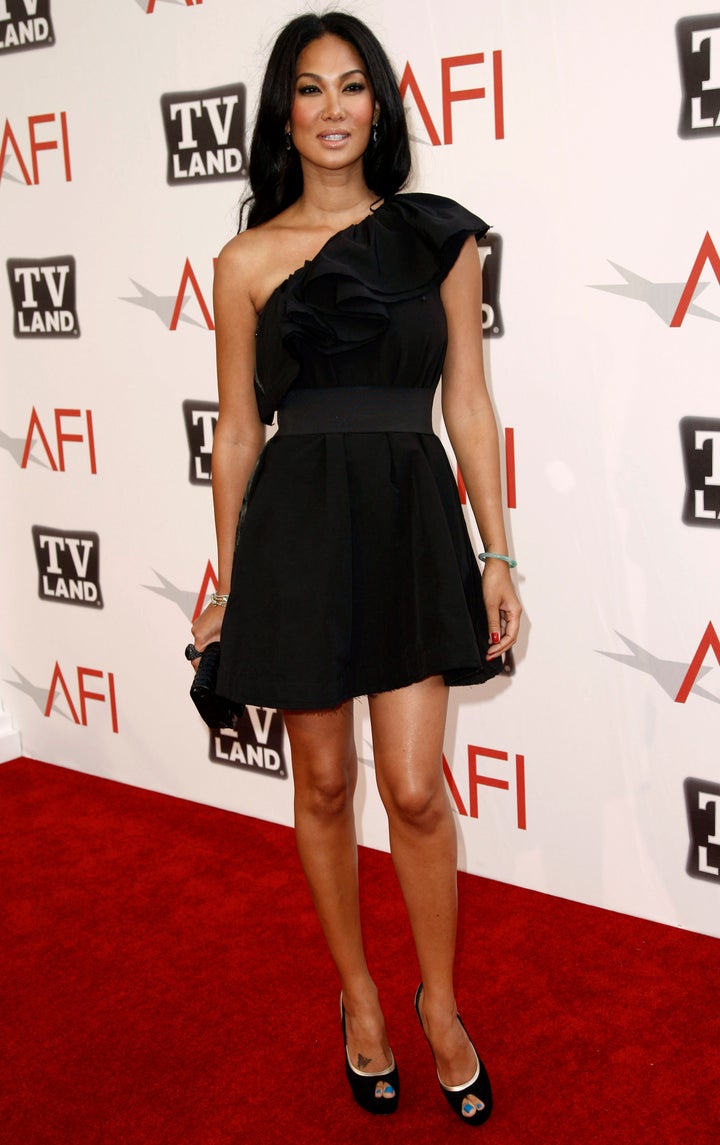 Welcome to Dear Kimora, the advice column where multitasking mother of fabulosity Kimora Lee Simmons Hounsou will tackle your questions about men, marriage, motherhood, money and more! You can pose your questions in comments under this post, on Kimora's official Facebook page or tweet @officialkimora. Make sure to use #dearkimora so we can find you amid her thousands of @mentions!
To start things off, we asked Kimora some of the questions we know she hears the most.
Your ex-husband lives in New York, you're based in Los Angeles with Djimon and the kids and one thing that is constant in all of your lives is travel. How do you manage all the moving pieces of your blended family, especially around the holidays?

I joke about 'the ex and the next' but what I'm really saying is, "Yes, it's going to take all of us to get this done right." I'm fortunate that all parties involved agree that the kids' needs come first. I'm also uber blessed that my ex and my next are like my diamonds -- conflict-free!
Still, the holidays can be fraught with tension at times because everyone has their vision of how and where things will be best. I feel like my role is to stay flexible so we can work it out as best we can to keep everyone as happy as they can be. I keep it real but more importantly, I keep it nimble.
When the girls travel with their dad, we keep in touch over the phone or – and this is a new development – email. We try to teach them that email and social networks are designed to enhance the life they're already living, not replace it. But it's crucial for us – phone, email, skype. Kenzo loves to give a skype shout-out when given the chance!
There's a new Sarah Jessica Parker movie coming out called I Don't Know How She Does It so you'll have to come up with a new title for your biopic. We know that's the number one question you hear the most. Mom, wife, mogul, philanthropist... how do you do it all?

I'm like any mom in that I'm trying to squeeze it all in, make sure everyone is happy, myself included, and make it through the day with my sanity in tact.
There's a lot of multitasking. My schedule is based around the kids' schedules and how they move through their days. Or in Kenzo's case, how he tornadoes through my office. Last week I was reviewing final prototypes for my new skincare line Shinto Clinical – I was elbow deep in serums and hydrators – while Kenzo is competing in a decathlon in my office: running around, throwing things, being very vocal about his boy-ness. After that I jumped in the car and slathered the steering wheel with lotions as I rushed off to the girls' school. It's a non-stop up at dawn siege. But we get it done!
I honestly love everything I do -- my work and my family -- but to me the most important part of being a good parent in this day and age is knowing when to put the Blackberry down and pay attention. Because no matter how much you want to be present, all those beeps and pings and crazysexycool ringtones can suck you into the matrix with a quickness!
But you can always call that person back. You can reschedule that meeting. And email's open all night. When Ming or Aoki looks over to the sidelines after kicking the winning goal, I want them to see me holding my Blackberry to take their picture, not checking email.

Now your turn. What questions do you have for Kimora? Ask away!

Calling all HuffPost superfans!
Sign up for membership to become a founding member and help shape HuffPost's next chapter