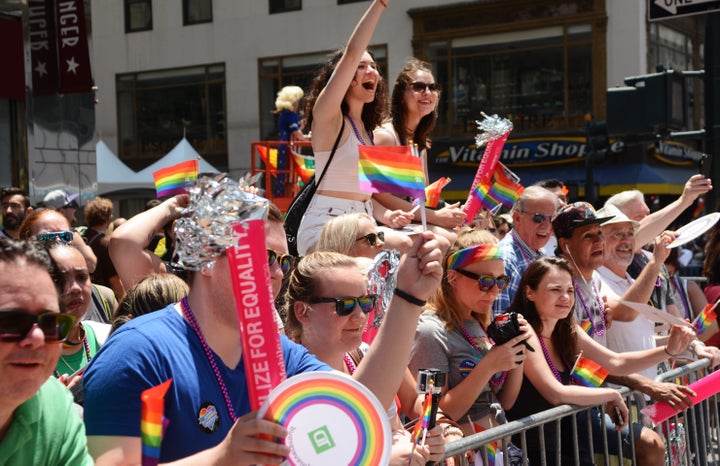 My dearest gays and lesbians —
I've loved you since before I even knew you. From a young age, I was drawn to your transgressive sexuality and gender expression, your courage to be yourselves in the face of oppression, your fabulous rainbows and your sensible shoes.
I've marched in your parades, joined and organized protests for your rights, volunteered with your local groups and worked for your most prominent national organization.
I've loved you fiercely and advocated for you tirelessly. But I've finally accepted the fact that you will never love me back because I'm a bisexual woman, and you have shown me time and again that you are not here for me or my community, despite the numerous disparities we face in comparison to you and the non-LGBTQ community.
"You have shown me time and again that you are not here for me or my community."
When I was a newly out baby bi, I co-founded the first ever LGBT student organization at my Southern Baptist university with this beautiful and charming lesbian classmate with whom I fell madly and angstily in love. She was the first of many who told me I should just "choose" to be a lesbian.
"There were the countless times one of you told me my identity wasn't real."
Lesbians and gay men, this angry bisexual is tired of being your afterthought. I'm exhausted by showing up for you, time and again, with no reciprocity. I'm tired of facing more biphobia from organizations that claim to represent bi+ people than I do in the straight cis world.
"Lesbians and gay men, this angry bisexual is tired of being your afterthought."
I'm tired of trying to prove that I'm worthy of your love while you seem to forget or deny that I exist.
Bisexual people are tired of being told that our voices, our needs, our lives are a distraction from the "real" issues, when we constitute half of what you claim as your LGBT community.
And more than anything, I am tired of watching my fellow bi+ advocates — beautiful, talented and resilient people — burn out, break down, get fired for standing our ground and take our own lives because you make it so fucking hard for us to feel safe and affirmed.
Even after 15 years of being out, my voice still shakes sometimes when I say the word "bisexual" aloud to one of you, and I get a little jolt of adrenaline, bracing for the snarky comment, the rolled eyes, the dismissal of my existence.
"I'm exhausted by showing up for you, time and again, with no reciprocity."
Let me be clear about what is at stake here, lesbians and gays. Bisexual people are literally dying because of your neglect, erasure and exclusion. We are sicker, both physically and mentally, than you are because more of us are closeted from our communities and our healthcare providers.
Our youth face more bullying and harassment and higher risk of suicide than their gay and lesbian peers do, and we all have less social support.
Sixty-one percent of bisexual women such as myself will be raped, beaten or stalked by our intimate partners — and as Heard's experience shows, our identities will likely be blamed for our own abuse. For the numerous bi+ community members who are also transgender, disabled and/or people of color, these staggering disparities are compounded.
I watched HRC make its own bed in 2016, once again ignoring the voices of the LGBTQ community's most marginalized members, and dumping its resources into mind bogglingly ill-conceived endorsements, most notably the political campaign of a candidate who waited until the last possible moment to "evolve" on marriage equality (sorry that job didn't pan out for you, Chad).
I knew the time was coming when bisexuals, queers, transgender people, people of color, undocumented and other marginalized groups within the LGBTQ community would be asked to once again push aside our needs, close ranks with white cis gays and lesbians, and overlook our differences — you know, for the sake of preserving marriage equality.
And sure enough, here we are, fighting for scraps from a table at which we have never been welcome, and once again being told that our needs — our very survival — don't warrant attention, visibility, funding or resources.
As the LGBTQ community faces an uncertain future under Donald Trump's presidency, I'm giving up on you, gays and lesbians. I don't love you the same way anymore. You broke my heart too many times. I will no longer fight for the liberation of people who actively perpetuate my community's oppression.
I'm too busy just trying to survive.
Popular in the Community