Each week Marcy Winograd and Jackie Hirtz, educators with over 20 years of experience working with students from elementary to high school, will answer your questions regarding reading strategies, essay writing, homework habits and math challenges. Submit your questions to winogradteach@gmail.com and include Dear Marcy and Jackie in the subject line.
Q. Do you think it's okay for me to give my child $50 for each A he brings home on his report card from middle school? He doesn't apply himself in class and I'm trying to motivate him.
A. We do not recommend parents pay their children for A's or B's because the payment suggests learning and scholarship have no intrinsic value and can only be suffered through bribery. We've heard some students brag their parents offer them money for A's, but these are often the same students who still fail their classes, so clearly the financial incentive is not a great answer. At the very worst, payment for grades establishes a mercenary relationship between parent and child and cheapens the value of education.
Rather than offering your son money for grades, support him by reading with him, discussing what he's studying in class, and modeling your own genuine interest in learning by tackling new subjects or skills. Finally, talk to him about his future and his dreams, and help him connect the dots between hard work and achievement.
Q. My son, who is in second grade, struggles with reading in school. When I ask him to read at home, he says he doesn't like to read. My sister told me her daughter improved by reading to dogs at her school. Have you ever heard of this? My son loves animals, especially our two cats. Do you believe reading to pets could help him?
A. Anything positive you can do to foster a love reading is worth trying. Reading to the family cat (dog, bird or hamster) can be an excellent motivator for your son. In fact, some animal shelters invite children, accompanied by their parents, to read to homeless cats because the cats need attention and the kids need reading practice.
You mentioned your niece reads to dogs at her school. Perhaps she has a R.E.A.D. (Reading Education Assistance Dog) program at her school. This is a volunteer organization in which registered therapy dogs and their handlers are trained to listen to struggling readers practice reading. Dogs are chosen for this activity because they are good listeners and non-judgmental. Imagine a gentle Labrador retriever or a tiny puggle lying on a blanket next to a child who's reading Clifford the Big Red Dog or How to Train Your Dragon. The dogs love the attention, while the students gain self-esteem and confidence in their reading skills. R.E.A.D dog handlers stay close by to answer the occasional question or help as students sound out and decode words. This is a joyful way to practice reading just as reading to your cats at home can be for your son.
Parents of children who've participated in the R.E.A.D. dog program report that their children's reading level jumps and, best of all, their children love books and look forward to reading. Let us know how reading to the cats works out for you and your son.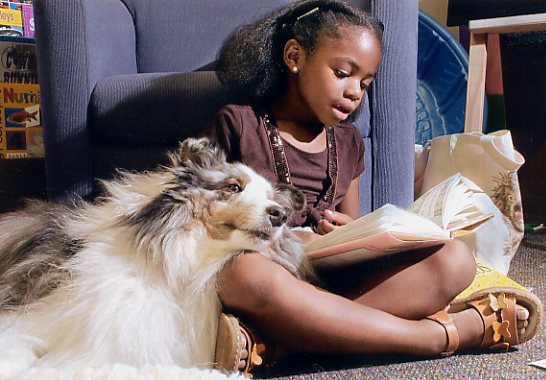 Credentialed in both English and social science, Marcy Winograd now teaches special education students at Venice High School in the Los Angeles Unified School District. Jackie Hirtz, MS Ed., a writer and writing coach, taught elementary school for seven years. Together, Marcy and Jackie have written for children's television, print, and new media. Their most recent project is the tween novel Lola Zola and the Lemonade Crush, available on Amazon. They also blog at lolazola.com and tweet @tweenorama.
Calling all HuffPost superfans!
Sign up for membership to become a founding member and help shape HuffPost's next chapter