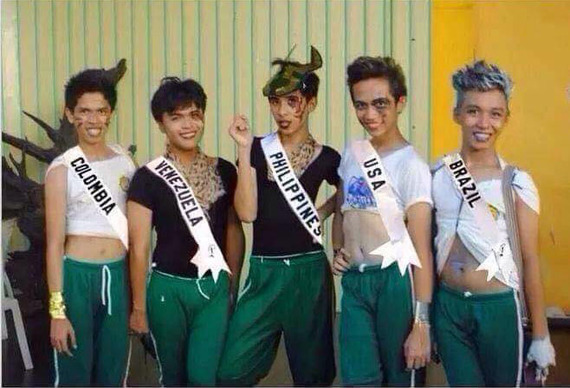 Once a year, I close shop. And it doesn't happen during Semana Santa, but during a Philippine gay holy week, that is, Miss Universe season. It's been the case for as long as I can remember -- since my childhood in Manila, during which the street kids where I grew up would stage our version of Miss Universe in friends' houses. As a kid, nothing fascinated me more than the watching a world of women coming together in one festival in their national costumes only to take them all off for a bikini parade. Of course, there is the question and answer portion where women pick their questions from a fish bowl to show the world there is, indeed, a functioning brain behind the beautiful faces, well, for two minutes -- and, please, no thinking allowed. It was my first introduction to gay camp. I really should have outgrown this fascination by now, but I have continued to watch Miss Universe year after year, cheering for Miss Philippines, and riding the telenovela for a whole week prior to the climactic coronation night.
Every Filipino melodrama has a bida (protagonist): MJ Lastimosa, Miss Philippines 2014, a Filipina Cinderella of mixed heritage from war-torn Cotabato. She joined the competition three times with the unflinching eagerness to win, and to finally break the top-five-finalist trend of the previous four Miss Philippines. The crown has eluded a Filipina head since 1973, and we've gotten so close in the past four years. Such a big dream and prodigious task for a woman whose parents left to work in Saudi Arabia when she was a girl, and whose uncle, her caretaker, recently passed. Her mestiza looks are also atypical for a Filipina Miss Universe, a competition that has long favored our morenas. The fact that she has reached beauty contest retirement age only embellishes her already dramatic narrative. Nevertheless, she has earned the biggest fan base of all her predecessors.
Following MJ Lastimosa's journey was made accessible by social media, where the melodrama started playing out long before the arrival of the contestants in Doral, Miami. There were many so-called pageant "experts" such as Missosology, Sash Factor and Pageantology, not to mention the countless Facebook pages, just for Miss Philippines alone, that published forecasts on youtube early on.
These Facebook pages were quick to provide regular updates and ever-changing rankings on the Misses, photoshopped pictures and all. Because of Miss Philippines' failure to deliver the crown last year, allegedly due to her gown, there were a lot of speculations on what MJ Lastimosa was going to wear. Indeed, the internet riot began as soon as the Miss Philippines showed up in her non-Filipino-designed national costume during the preliminaries. Filipino critics were quick to strike back with memes, calling it a "cake gown."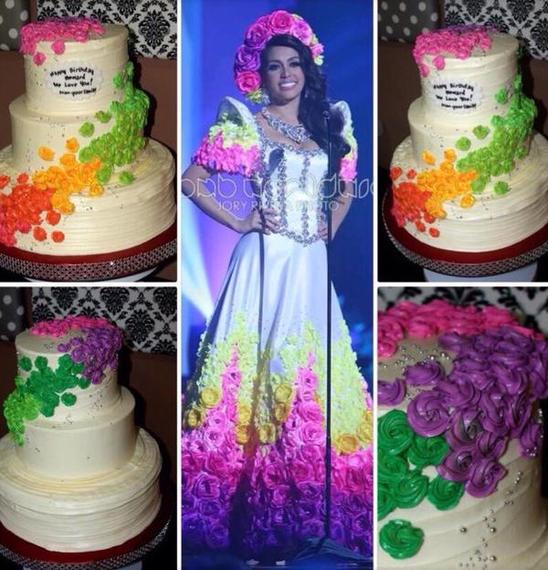 Just as important as the bida is the contrabida (antagonist). A good Filipino melodrama wouldn't fly without stern and jealous girl whose mission is as simple as making sure the bida/protagonist doesn't get her way. For this Miss Universe season, it would have been easy to pick from or to pick on one of the other 87 contestants. After all, Miss Venezuela is the one everyone loves to hate. She allegedly turned out to be her own country's dartboard for putting on pounds after winning her crown; being a victim of bullying disqualifies her for the contrabida role.
But no need to look further. Filipino netizens were buzzed with charges of sabotage as the head of the Miss Philippines organization herself, Stella Marquez Araneta, a Colombian, had chosen a fellow Colombian, Alfredo Barraza, once again to not only create the "cake gown," but also the evening gown, because Filipino designers were reportedly "not good enough." Not having learned from last year's Miss Universe debacle by outfitting then Miss Philippines Ariela Arida with a gown that made her look like Big Bird on tour, Alfredo Barraza had created an evening gown for MJ Lastimosa that would make the white Kois in my brother's fish pond in New Jersey proud. Reportedly, he was also responsible for Miss Colombia's gown, and if that is not conflict of interest, I don't know what is.
Scoring low points on her gown, Miss Philippines didn't even make the top five. Just as quickly, #patayTV (turn off your TV) and "Stella Araneta" trended on Twitter. For all of the above, Stella Marquez Araneta has earned the ire of Filipino netizens, with Adobo Chronicles satirizing her fate. On the other hand, with legions of fans, MJ Lastimosa, who epitomizes grace under pressure, should only expect a bright future.
At the end and outside the microcosmic Filipino telenovela, the crown didn't end up with the crowd and internet favorite, Miss Jamaica, but landed on the sweet long hair of another latina, Miss Colombia. #Worstmissuniverseever and #MissJamaicaShouldHaveWon trended on Twitter. Oh well, of course, it's another latina, and what should anyone expect? This is Miss Universe after all -- where nobody cheers but the country that wins.
REAL LIFE. REAL NEWS. REAL VOICES.
Help us tell more of the stories that matter from voices that too often remain unheard.