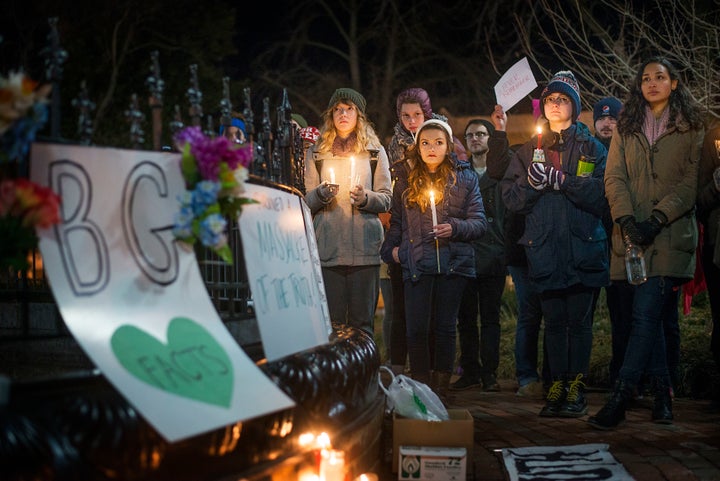 I write to you today from the small picturesque American town of Bowling Green, Kentucky, which I was shocked to learn from Kellyanne this week was the site of the #BowlingGreenMassacre.
At first, I thought maybe she was talking about the town in Ohio. They have Bowling Green State University and are always getting confused with us. Also, they are located in a swing state and, as a political journalist, I don't trust anything coming out of Ohio right now.
Then I wondered why my colleagues at Western Kentucky University had not mentioned the massacre to me in the years since I joined the faculty. Kellyanne noted that the media didn't cover the massacre, so surely my colleagues in the journalism school must have been in on the cover up! I am astounded and, frankly, impressed: Having worked as a reporter in the "lamestream" media before becoming a professor, I am adept at oppressing white men and inserting anti-Christian messaging into all of my news articles. But to successfully cover up a massacre committed by Middle Eastern terrorists in the height of the information age just a decade after 9/11? Wow. Maybe the old guys with tenure have something to teach me after all.
In Bowling Green, we have a very large refugee community. In fact, in our small town of about 60,000 people, one in 10 residents is foreign born. Because of the refugee center located here, we even have white Muslims. (Betcha didn't think about them!) Turns out this whole taking refugees thing goes back decades, and many of the pillars of our business community came here as refugees from Bosnia in the 1990s. We also have a sizable population of refugees from the Middle East, Asia and Africa. The international flavor of our town isn't just metaphorical: I live near "Little Mexico," the offensively nicknamed neighborhood surrounding the city's best taquerias and pupuserias. (Please don't build a wall between us.)
Even at the university, one cannot escape the diversity. WKU calls itself "a leading American university with international reach." We have 1,300 international students from 70 countries — 22 of which are from the seven countries included in your ban and have already had their lives and educational plans impacted "bigly." Lucky for us, though, a large number of our international students are from Saudi Arabia, the home country of most of the 9/11 hijackers. I know Saudi Arabia surely is not a terrorist threat, though, because you didn't include it among the countries in your refugee ban.
To be honest, despite the 2011 incident, I've never felt threatened by the refugees or the international students in our community. As a professor these days, I fret on a daily basis of being listed on Professor Watchlist or being taken down by "call-out culture" for failing to deliver an appropriate trigger warning before quoting you in class. (This whole pussy-grabbing thing is difficult to discuss, I have to say.) We did have a recent incident in Bowling Green in which an attacker evoked ISIS — but that was our star football player, Tyler Higbee, who allegedly yelled "ISIS these nuts" to the Middle Eastern man he knocked out in front of a food truck last April. But Tyler is now in the NFL, so clearly he's not dangerous.
You know what is a threat? CNN. Since you have taken office, my entire world turned upside down. I thought I knew what fake news was, and then you started telling the world that it was CNN. I thought I understood the definition of "truth," but then Kellyanne explained "alternative facts." I just don't know what to teach anymore...
Sorry to get emotional and write such a long letter! (And my apologies to whomever was charged with reading this aloud to you.) But ever since that rally in Ohio when you turned toward me and my students and all the other media at the event and called us "disgusting," I have felt a connection. I think you get me, you know?
So I really do want to invite you to come visit us in Bowling Green. Kellyanne's comments have emboldened the community, which is expected to show up en masse to a unity walk on Saturday to support refugees. When you visit, we'll let Sen. Paul join us for bourbon. I know you and Rand haven't been close, but he lives just down the street, and the last time I saw him, he was at a bar during one of the final Republican primary debates drinking alone. Tell Kellyanne and Steve to come, too. Despite all the refugees, I think Steve will really like it: The town is still pretty much segregated and even our squirrels are white!
Well, I've got to go — there is a candlelight vigil tonight downtown organized by some anti-fascist activists. I'll tell them you said "hello."
Amanda J. Crawford is an essayist and professor of journalism at Western Kentucky University in Bowling Green, Kentucky