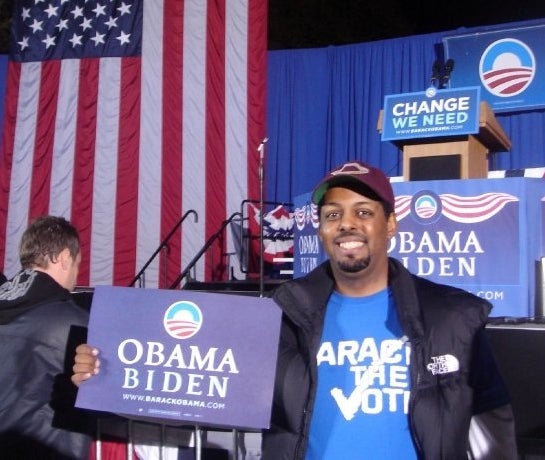 I have been wanting to write this letter since 2004, but I never could find the words. A long time ago in a galaxy far far away, on the far south side of Chicago, in the backyard of a political operative, during the summer of 1995, we met briefly. This first time we met, my friend, a noted political consultant who I was working for, told you, not two minutes after our introduction, that I had a folded up LA Times article about you becoming the first Black editor of the Harvard Law Review. The reasons I had that article – and we all remember back then, it was cut out of the newspaper, photo copied multiple times, and kept dry, not stored on a hard drive – was that I too attended Occidental College and I too had a goal of becoming a lawyer who worked with the people and served the community.
Fast forward to 1998-99 and you Mr. President are in the Illinois State Senate and your wife is working as the Director of the Community Service Program at the University of Chicago. I, having left politics (but it never leaving me) worked around the corner at the University of Chicago Lab School as the assistant director of the same program. Michelle and I met to discuss ways in which the high school and University could collaborate on projects and to help build both programs to capacity. Near the end of our hour or so, I asked her about law school and social work. She spent the next 5-10 minutes questioning me on my reasoning for wanting to go to a joint degree program, what my intentions were post degree and where I thought my professional trajectory was headed. As you can imagine, I came out of that meeting with far more questions than answers.
My stubbornness and persistence led me to attend John Marshall Law School for one semester, before I realized that the First Lady was right.
Fast forward to 2008. After a stint in Los Angeles as a high school AP US/Government teacher at a public school in South Central, I begin my master's program in education in Philadelphia. No, I never did become a lawyer, but as my best friend said at my wedding, what I am doing as an educator is truly service to others in the most "boots on the ground" way. To say that I was inspired by your run for the Presidency would be an understatement. I volunteered in North Philadelphia, driving seniors and others to the polls on election day. I celebrated, and cried in front of Independence Hall after it was announced that you, the person who inspired me from both near and afar, ascended to the Presidency of this country – especially this country.
I tell these stories not to highlight that I knew you both when, but rather to illuminate that there are hundreds of thousands of people who have similar stories about you both. The fact that you took the time at that barbecue to talk to me about my life and what I was interested in, and that your wife did the same a few years later, has influenced every decision I have made since. That is not hyperbole, that is real.
As I write this, now in living Phoenix, as a Ph.D. and an Instructor of Academic Success at a University, I wanted you to know that those of us who have always believed in hope understand that change is hard, is not linear, and sometimes means moving backwards before moving forward.
Thank you both for your grace, dignity, humility, pragmatism, and yes mentorship. I don't know what the future holds, but I do know that you both will never stop fighting for social justice, equity and what is right. We are right behind you being the agents of change needed to make this country, and this world a better place.
Calling all HuffPost superfans!
Sign up for membership to become a founding member and help shape HuffPost's next chapter
This post was published on the now-closed HuffPost Contributor platform. Contributors control their own work and posted freely to our site. If you need to flag this entry as abusive,
send us an email
.