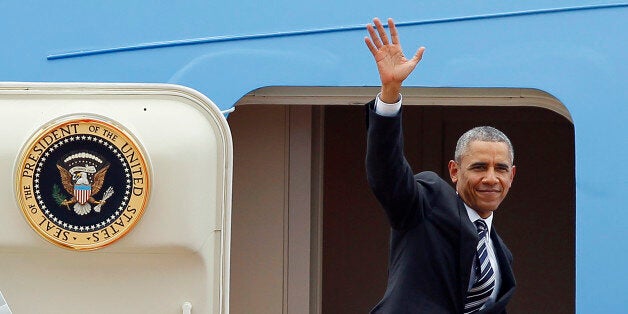 President Obama visited Vietnam this week in hope of firming up his "rebalance to Asia" policy, which had faltered in recent years. It requires being friendly to dictatorial regimes in the region in order to shift their allegiances with China toward firmer ties with Uncle Sam. In the case of Vietnam, he gave the communist regime its greatest gift: fully lifting the arms embargo, opening the way for Hanoi to buy lethal weapons from the United States, despite their dismal human rights records.  
The American president also arrived at a time when Vietnam has found itself in the middle of a great political upheaval. Since early April, up and down the country, mass protests sporadically erupted against the regime's ineptitude and lack of transparency over a major toxic spill that some observers have called "Vietnam's Fukushima." On YouTube, scenes captured by private citizens showed police brutally beating and arresting protestors who took to the streets to demand that the government investigate why tons of dead fish washed up on the pristine shores of central Vietnam.
Many alleged that Formosa Plastics Group, a company that owns a steel factory in Ha Tinh Province in central Vietnam, is the main culprit. High-level toxic chemicals -- Chromium and ammonium among others - have been found in the coastal waters there, killing a vast coastal ecosystem and causing the loss of livelihood for tens of thousands who lived off the fishing industry. But the Vietnamese government, which benefited from Formosa's $10.5 billion dollar investment, denied any wrong doing on the company's part and blamed the massive sea life extinction on the natural phenomenon of a "red tide." 
"The President may give a speech that makes reference to human rights concerns, but his words must be matched with deeds or Vietnam's Communist Party leaders will expect and receive lucrative trade benefits and arms sales," Congressman Chris Smith (R-Hamilton, N.J.) noted in a statement. He urged the president to meet with civil society and religious leaders in Vietnam as well, and not just its communist leaders. "Without establishing human rights conditions, nothing will change in Vietnam, and the American people will continue to subsidize the repression of democracy advocates and religious groups." 
Alas, it's par for the course that when it comes to the region, Uncle Sam, while publicly voicing concerns about human rights abuses, will always act on self interest. President Bush visited Vietnam in 2006 for the APEC summit, and promptly dropped the country from the list of nations that severely curtail religious freedom even as dissidents were being arrested. The United States had already partially lifted the ban on lethal weapons sales to Vietnam in 2014 (a limited focus on maritime security assets) and, even worse, supported Vietnam's bid for a seat on the UN Human Rights Council. 
This seeming indifference to the Vietnamese struggle for true political reform while giving public lip service to human rights is damaging. It encourages Hanoi to continue its crackdown on dissidents and human rights activists with no fear of international criticism or, for that matter, U.S. rebuke. It also sends a message to political reform advocates that they cannot hope to look toward Washington for support. 
Under Obama, the United States is licking its chops as it perceives an opening for a grand reentry into the Pacific Rim theatre to check China's expansionism and dominance in the South China Sea. Vietnam today has more money than ever, and is seeking an international status equal to its newfound wealth. It also needs advanced weapons to counter the looming threat from China. This week, to show its appreciation, Vietnam's Vietjet bought 100 aircrafts worth about $11.3 billion from Boeing upon Obama's arrival.
Bao Nguyen, the mayor of Garden Grove, in Orange County, where the largest Vietnamese American population resides, noted,"The human rights situation in Vietnam is atrocious. Just the other week, I met with Vu Minh Khanh, wife of imprisoned political dissident and human rights attorney Nguyen Van Dai. She came to America to shine a spotlight on the human rights abuses in Vietnam, where they are imprisoning citizens like her husband in solitary confinement without charge." 
A former refugee from Vietnam who is running for Congress, Nguyen said it's important to buffer China's military encroachment in Southeast Asia. But, he added, "we have to be very careful and very smart about how we approach our relationship with Vietnam. That's why we need an intelligence-focused approach to this situation, so we can find the right partners on the ground, know who our friends are, know who's working against us, and begin to build democracy in the region."
While U.S. interests will always trump its ideals when it comes to foreign policy, its failure to balance the two will no doubt someday lead to tragedy. Human rights, after all, are not a mere diplomatic tool. For the millions who hope for a better world, they are a struggle of sweat and blood and sacrifice. Tens of thousands lined the street of Hanoi holding American flags, hoping to get a glimpse of the American president who, in their mind, still represents a leader from a better society, a better world where individuals have rights and governments are held accountable for misdeeds. It would be tragic if, a Vietnamese Spring-style protest erupted, demanding change, only to be put down with American bullets and guns. 
Calling all HuffPost superfans!
Sign up for membership to become a founding member and help shape HuffPost's next chapter