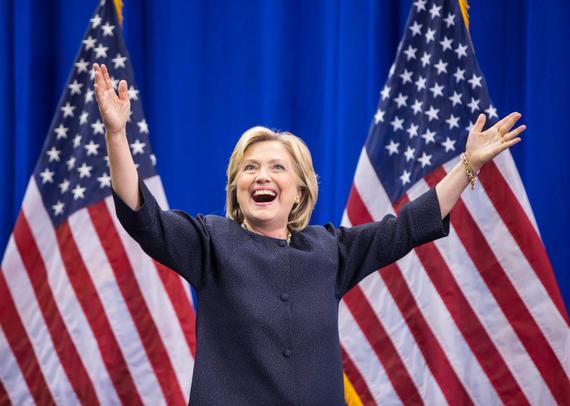 I am no political expert. I cannot explain this inscrutable turn that finds my spirit broken and my stable mind that now appears to be playing tricks on me. And in the midst of my immense feelings of despair, I realized it was you Mrs. Clinton that I was thinking of most. I needed a balm for my disordered soul.
Music is normally one of my go-to balms when things seem to fall apart. One of my favorite songwriters (Amel Larrieux) wrote that she's "never seem love to face-to-face," and again my thoughts drifted to you...because you have seen love face-to-face. You saw love in the thousands of faces on the campaign trail and right now thousands more would gladly shout: Mrs. Clinton - we love you, and would do it face-to-face. I hope that "your heart remembers the sound" of that love. Not many people anywhere on the planet can lay claim to such affection.
On November 8th, you spoke to us, your words laced with grace and courage. Excuse my English but how you do that? I bet you had our future leaders - our kids on your mind and you knew they were watching. You showed them and us that standing for and doing what is right even when you don't think you can is paramount when you love with your whole heart. You changed us again, in that moment. And then in the midst of our pain, you offered what you knew would be a balm for us, a picture of your smiling face with a mother and her daughter... putting others first...cementing why "I'm With Her" resonated with so many.
When the glass ceiling is broken, when "she" is taking the oath of office, your work would have led the way. And like Moses, you - the way-maker, the trailblazer, whose presence and tenacity has made what was impossible in 2017 a definite future occurrence.
It is a fact that you will be known for generations to come, your legacy unmatched by most. You showed what the good book teaches - that all are precious in His sight. You freed us in ways that have yet to be written. What is written is this: on the day that you were born, plans were made for your life by the giver of life. He said His plans will prosper you and not harm you, and would give you hope and a future. There is a balm for you, for me, in Gilead.
REAL LIFE. REAL NEWS. REAL VOICES.
Help us tell more of the stories that matter from voices that too often remain unheard.