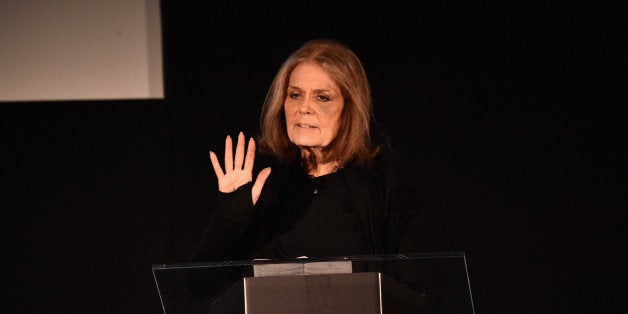 Dear Ms. Steinem. Were you having a bad day?
The other day I was horrified to see your comments about young girls voting for Bernie to find boys. Horrified, not for Bernie or Hillary, but for the damage that you may have just done to our ability to pass along our reverence of you to our daughters. This morning I read your retraction, and I appreciate it for all of us.
Perhaps your intention was pure. You may be feeling that by not supporting Hillary they are slapping feminism in the face.
I have a differernt perspective. The Millennial Generation, 80 Million (now the largest is the work force) is slapping inauthenticity in the face.
I am a Generation Xer and therefore, I understand and appreciate Hillary and her ego. Heck, I have a huge ego as well--I had to in order to have been successful in the corporate world. I understand this about her and I admire it.
My 18-year-old daughter is a freshman Electrical Engineer. She is one of 13 per cent of her gender in her program. This will be her first year of voting and she (along with the rest of her school) is voting for Bernie. Now these are smart kids, really not just out for the boys.
What I have learned (by asking) is that they do not find Hillary to be authentic. In a generation that is more influenced by social media than by celebrity, all it takes is one off statement to ruin things. Bernie probably gets up, puts on slippers, and starts working. In fact, he probably doesn't care if people see him in the slippers. That is how authentic he is.
When I was in the U.S. army (many years ago) I studied at the Defense Language Institute in Monterey as a Russian Linguist. I had a T-shirt from the commissary that said "We learn Russian so you don't have to." Indeed, I feel very much the same way about this generation. They do not see the gender gap the same way because their mothers have fought like hell for them not to. Yes, it still exists (I point this out to my daughter, an endless endless debate).
Please don't make the icon of feminism (yourself) persona non grada of young women, it wouldn't help Hillary at all. It could be much worse--they could be voting for Donald.
Rena Cohen-First is a VP of Sales who has sold in the Food Ingredient Industry for the past 17 years, selling to the largest food and beverage manufacturers in the world. She is the author of The Authentic Sale, A Goddesses Guide to Business. She has taught online business and leadership classes as an adjunct instructor, studied Professional and Executive Coaching, completed her MBA and Served in the US Army. She resides in San Diego with her two children and husband. Her goal is to show every woman that she can become a Sales Goddess in all circumstances. See more about Rena at: www.thesalesgoddess.com
Popular in the Community