Dear Danny, Donnie, Joey, Jonathan and Jordan (written in alphabetical order to emphasize I am a happily married woman past the age of having a "favorite") (unless I HAD to choose in some inexplicable "your life depends on choosing" kind of scenario) (which would never happen, but okay FINE, it's Jordan, but only because you made me choose),
Last night, you literally rocked my world. It's been more than 25 years since I've seen New Kids on the Block perform live, and if memory (and a quick Wikipedia search) serve me right, I was 12-years-old during your Hangin' Tough tour.
Let me tell you what I was like at 12. I was just discovering boys, drowning in crushes and falling in and out of love with someone new every day. I was obsessed with pop culture. In what continues today, if I liked something, I was infatuated with it. These days it's an all-consuming deep dive into Hamilton or the Serial podcast.
But in 1989, it was all about you. And last night, during your Total Package tour stop in Dallas with Boyz II Men and Paula Abdul, it was all about 1989.
Of course the evening wasn't without its heaviness. The night before, a terrorist took the lives of 22 Ariana Grande concert-goers in Manchester, England, as they were leaving her show -- many of them young girls. In fact, the crowd probably looked pretty similar to what your concert crowds looked like back in the day. I never once worried a bomb (strapped to someone's chest, no less) would go off when I rushed out, euphoric and awe-struck, to meet my parents for my ride home. Why would I? But the world has changed. I know this wasn't lost on you as you led us through a beautiful tribute to the victims and their families.
And last week, another icon from the music I moved on to once I outgrew yours (for the time being!), Chris Cornell, passed away. His death was ruled a suicide, like so many of his fellow grunge legends before him. In that way, the world has stayed the same.
But last night, for a few hours at least, the outside world didn't exist. Inside the sports stadium in downtown Dallas that flipped many of its men's restrooms to women's to accommodate the almost entirely female crowd, we were a community of former fan girls, donning denim jackets and concert t-shirts, impressing each other with our intricate knowledge of your choreography and lyrics. And I thank you for that.
Thank you for making it so easy to reconnect with the innocence and purity of adolescence (relatively speaking) through music and dance and camaraderie. Like I imagine most women there, my friends and I spend these days of middle age balancing our homes, our children, our marriages, our careers. We rarely have time to plan for the future, much less reflect on our past. But last night was about one thing -- fun. We sang like we were holding our hair brushes in our childhood rooms and grabbed hands and screamed when one of you lifted your shirt. The word we landed on to describe the experience was liberating.
Thank you for confirming for me that the brain definitely processes short-term and long-term memory in different ways. I can't remember if I've already put shampoo in my hair when I shower, but you better believe I knew every word to "This One's For the Children" off your 1989 Christmas album.
Thank you to your social media manager for "liking" my tweet today about the show. I took screen shots of it and sent it around to friends and family. If Twitter existed in 1989 (and thank goodness it didn't) and this happened, I probably would have slipped into a coma.
And most of all, thank you for the conversations it sparked with my friends the day after -- conversations about the young girls we once were and the women we are now. And how most of the time they feel mutually exclusive of each other, but last night felt like one.
Today our current lives picked up where we left them before the concert. Back to work, back to bribing a child to use the potty, back to passing out on the couch from exhaustion. Your latest EP is called Thankful and as the Manchester event reminded us, I'm thankful for this mundane life. And despite nostalgia's best efforts, I'm even thankful that my confusing, messy adolescence is behind me.
But every now and then, it's exciting to journey back in time. Thank you for one hell of a trip last night.
Caryn (your No. 1 fan who will be loving all of you forever) (because if I don't work in a cheesy song title reference, then what's the point of it all?)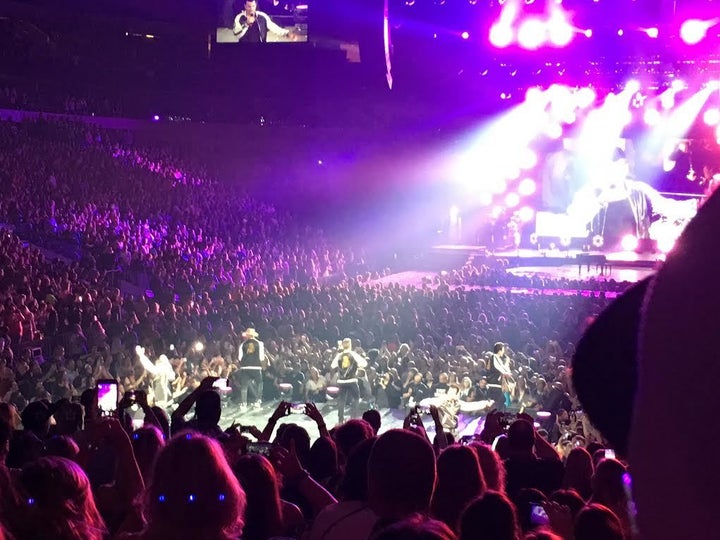 Related
Popular in the Community