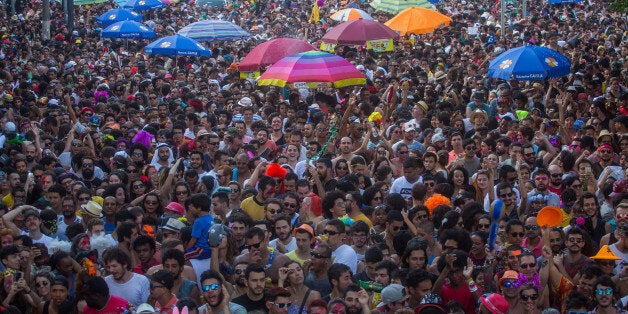 Perhaps it is presumptuous of me to criticize an article written by an award-winning journalist. However, Andrew Jacobs -- until recently a correspondent for the New York Times bureau in Beijing -- has written about my country in his article, "Brazilians Shrug Off Zika Fears to Revel in Carnival Fun." He describes the apparent apathy shown by Brazilians towards the Zika virus outbreak, and proceeds to portray last week's Carnival activities as our sole interest.
It was clearly an outsider's view, and I could understand such a perspective from an American simply addressing other Americans. But I don't believe Jacobs truly understands Brazil -- or Brazilians, for that matter. His vision of our country might be misleading to Times readers and ultimately lead to misinformed opinions about Brazil.
While I was reading Jacobs's piece, it occurred to me that he easily could have been the screenwriter behind an infamous 2002 episode of The Simpsons, when Homer and the family visit Brazil. In Matt Groening's cartoon, there are monkeys on the streets, the Amazon is next to Rio, and the population consists of nothing but carjackers, thieves and rats. Jacobs's article manages to encompass a similar type of prejudice.
Jacobs emphasizes the "minimally clothed multitudes." Perhaps he expects that all Brazilians should be wearing pants right now to avoid being bitten by the Zika-spreading mosquitoes. What he failed to mention, however, is how warm Brazilian summers can be. So yes, shorts will be short, because people must wear the most suitable clothing possible for our blistering heat. Come on, we're talking about 100-plus degrees Fahrenheit.
Scantily clad bodies are not exclusive to Brazil. When I lived in the United Kingdom, I saw sweaty Europeans all over the streets during summer. No shirts, just shorts. They wanted to enjoy the rare sunshine and feel refreshed. No surprise there.
Further, Brazil understands the risk of Zika this season. But the "deepening fear and worry across the Americas" (or did he mean America?) due to this disease is not something new for us. Dengue fever, as mentioned by Jacobs, is also caused by the Aedes aegypti mosquito and has been a major concern of ours since at least 1916. And we have always dealt with it.
Just because the American authorities are currently preoccupied by a new disease doesn't mean that people should stop enjoying Carnival or summer and sequester themselves indoors, quiet and fully clothed. That wouldn't be Brazil. People here can take care of themselves; we can be cautious, prevent infections, and have fun. And there is nothing baffling about it, as Jacobs insinuates in his article.
"The sight of so many people gallivanting about in various stages of undress and seemingly oblivious to the potential dangers of Zika can be striking," Jacobs writes. I doubt that he undertook any studies on how many people used insect repellent during Carnival.
But what's really striking for me is his fixation with Brazilian bodies and sexual encounters. "Prodigious carnal possibilities," "bacchanal," "cologne-suffused sweat," "drunk on beer" and the "tradition of snogging complete strangers" are just some of the expressions used by Jacobs throughout his article to describe Carnival.
Don't let us forget that America has a similar kind of celebration. Mardi Gras in New Orleans is home to an outstanding number of carnal possibilities. But as far as I'm aware, no Brazilian journalists are lurking in the streets to patrol someone else's party.
The same type of drunk and sweaty youths who have left such an impression on Jacobs can also be found at Spring Break celebrations across the U.S. The differences between Brazilians during Carnival and American college students partying during Spring Break aren't so great. And I'm sure strangers also kiss strangers in America -- despite virus warnings.
So make no mistake, the fear of Zika in Brazil is real. But nevertheless, the beat goes on. We love feeling the rhythm of the drums, and dancing with everyone around us in Salvador, Rio de Janeiro or any other city celebrating Carnival.
Andrew Jacobs, I want you to know that Brazil can treat you right and teach you a lesson in how to be happy when the going gets tough. So take off your shirt, spray some bug repellent, and let's samba!
____________ Diego Iraheta is Editor-in-Chief of HuffPost Brazil.
Calling all HuffPost superfans!
Sign up for membership to become a founding member and help shape HuffPost's next chapter