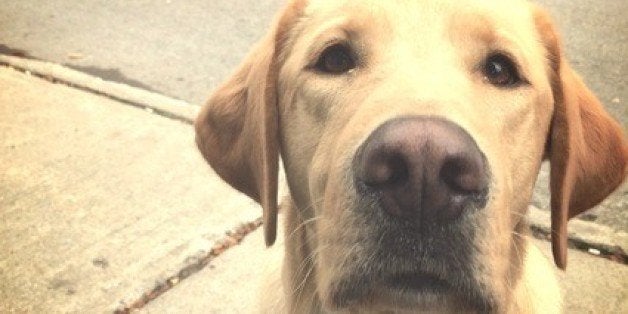 Why can't I touch you? It's proving to be very difficult not to reach out. You are one handsome man, after all.
Thank you for the question and the glossy 8 x 10 headshot. I know with my soft fur and ears like velvet, it can be excruciating to look and not touch. I hope you can be strong, because along with this handsome physique of mine, I have a set of skills that set me apart from other dogs. First and foremost, I take care of a little girl who hasn't developed a sense of fear. When we are together, I must do my very best to focus on her and my handler so that I can make sure she stays close and safe. Secondly, I provide sensory pressure for my girl when she becomes overwhelmed. If you think I am irresistible now, wait until you see me comfort my girl.
Why do you look so sad all the time?
Let me be the first to tell you that I am far from sad. I spend more time with my family than most dogs because of public access laws for service dogs. In fact, I've been to more movies and restaurants this year than I can count. That Melissa McCarthy is hilarious, isn't she? Anyway, the truth is I was born with these big brown eyes and although I know they make you melt, I promise I am one happy pup.
Why are you going to school with Kate? How will you help her? Won't that be a distraction to the other kids?
First of all, are you sure you're not Joey's sister? How young you look! Well, the facts are these. It's going to be up to you and Joey and all the other kids in the school to ignore me completely. I will have no problem doing my job. I take great pride in my ability to lay beside my girl while she works. I will escort her through the school when needed and I will provide sensory relief if she needs that, too. I could go on and on about the benefit I am to my girl, but you get the idea. I am a very talented dog (I am writing this for starters). I won't bark, or groom, or even relieve myself while at work (I bet you can't say the same). Therefore I will not be a distraction to others, unless you count my good looks.
Having said that, I do realize that this gorgeous mane of hair can result in some allergies for others, so we've made sure to place me in a classroom free of allergy sufferers. Furthermore, if someone has any fear -- I am 90l lbs. you know -- we'll make sure they never have to cross my path.
So, you see, easy peasy and everyone is happy. Especially me.
Like any dog, I love to run and play as much as I can. I go to the dog park each evening to meet friends and race around like maniacs until we collapse. When I am home I like cuddle with my girl. Sometimes she lets me be a pirate on her ship or a lion in the jungle.
I don't like to admit this too often, but sometimes I like to snuggle with Bill Bailey, the cat. He's so soft and he gives the best massages.