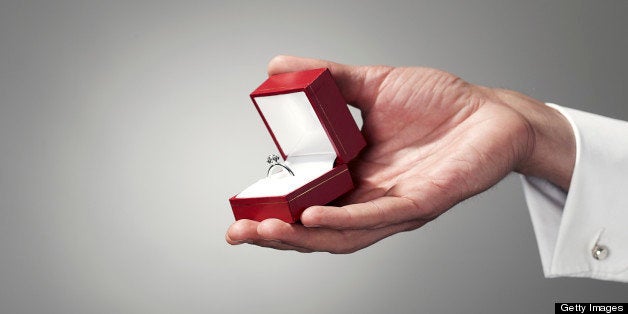 Dear People Who Want To Get Engaged,
I work for a leading online jewelry company that specializes in engagement rings, loose diamonds, gemstones, natural fancy colored diamonds and wedding rings -- part of my job is to identify engagement trends and traditions. I spend countless hours scouring the internet for heart-warming engagement stories that mark the start of a lifelong journey, based on the values of commitment, support and, above all, love. I've spoken to numerous couples before they got engaged and after the fact. Here's a common concern:
"I really want to propose at our favorite restaurant, just the two of us. Do you think that's enough? How can I compete with all these extreme proposal videos around? What if she feels let down?"
Well, I'm here to tell you this: You don't have to compete. In fact, you shouldn't compete. A proposal is a unique and powerful moment between two people who are about to decide to spend the rest of their lives together. Why should you do it any differently than you want to? Why should you add extra pressure?
I don't mean to suggest that couples who want flashy public proposals are doing anything wrong, or that they ought to abandon the idea. I am simply talking to those couples who don't want a large proposal, but feel pressured to have one because the phenomenon has become commonplace.
Before viral mania, public proposals actually used to be special. Why? Because they weren't ubiquitous. Now they are everywhere; they have practically become a genre unto themselves. As soon as the video starts, we already know what is going to happen... and how. When was the last time an online video proposal truly surprised you? I can't even remember. Worse still is that as each proposal works to top the one before, it increasingly becomes less intimate and less original.
An episode of the Fox television show, Mobbed, illustrates this perfectly -- after tricking his girlfriend Nikki into believing he's been unfaithful, Justin proceeds to propose, but only after the following sequence: a mob of jazz dancers, a step group mob, mob dancers on roller skates with balloons, a mob of cheerleaders flying through the air, and what appears to be some sort of Celtic dance group. It's a roller coaster of emotional gluttony. Poor Nikki doesn't look like she's enjoying herself at all -- she looks freaked. And I can't even imagine the amount of pressure they both felt throughout the entire process.
Unlike a wedding or an engagement party, a proposal is not a public event. No matter how much you dress it up, a proposal is this and only this: a decision. It is beautiful, romantic and life-changing, but a decision nonetheless. This decision should be unpolluted and well thought-out. Do you really want to make such an important decision while dozens of dancers on roller skates are swerving all around you?
I'd love to hear your thoughts on mass proposals: would you prefer a big, public proposal or a small, private proposal with just you and your partner?