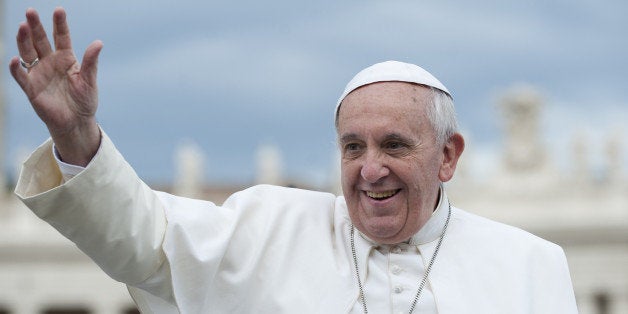 In a few short days you will be coming to the U.S. and millions of American people are excited for your arrival, including me.
Last month I received in an invitation to the White House to witness your arrival ceremony. This opportunity still has me in shock, as I know there are many people out there who deserve to be in your presence.
Though I may not be able to meet you, shake your hand or give you a hug, I do want to send you a message.
Thank you for welcoming me back to the Church.
Your words of love, compassion and acceptance inspired me to explore my faith in a way I had never done before. As an openly gay man, I have struggled. Not in gaining people's acceptance or respect, but internally.
My fears and doubts once clouded my ability to see clearly. There was a time I believed that the Church would never accept me for who I am and that I could never find happiness in life as a gay Catholic. Heroes like my mom, my spiritual advisors and you have helped me on my journey to discover that I can be happy and practice my faith.
Today, I'm a proud Catholic.
Sunday masses have become routine, praying has become meaningful, and parishioners have embraced me.
I've never been so proud to call myself a Catholic and to practice my faith.
You made all of that possible. It is my firm belief, along with many others, that you are the Pope the Catholic Church has been waiting for... the one we have needed.
For the first time in forever, I see our community stronger than ever. That's the result of spreading love and respect.
While change doesn't happen overnight, you have brought a lot of changes in the past two years. These changes are only the beginning of a shift I'm seeing in our Church.
I'm excited for my future as a Catholic. While you have not given a stamp of approval on gay marriage nor changed the Church's teachings, you have continued to share words of compassion and less judgment. Hearing your words has affected me, and that's why I have returned to the Church.
Benvenuti, Papa Francesco! In bocca al lupo.
My name is Aaron Jay Ledesma.
I'm from Houston, Texas.
I'm Catholic.
I'm gay.
I'm me.
Calling all HuffPost superfans!
Sign up for membership to become a founding member and help shape HuffPost's next chapter