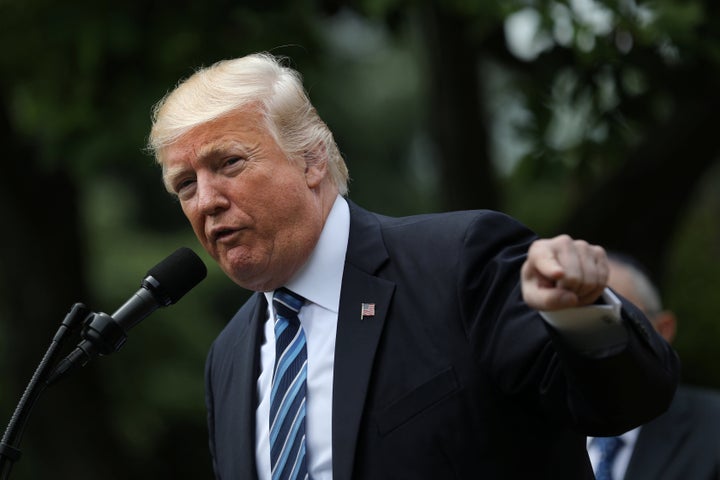 It's me again. The writer you blocked on Twitter.
As a brown woman who benefited from the results of The Civil War, I know we aren't on the best of terms. But I'm hoping you can give me a moment of your time as you board your next flight to Mar-A-Lago.
"I mean, had Andrew Jackson been a little later, you wouldn't have had the Civil War. He was a very tough person, but he had a big heart. He was really angry that he saw what was happening with regard to the Civil War. He said, 'There's no reason for this.' People don't realize, you know, the Civil War — if you think about it, why? People don't ask that question, but why was there the Civil War? Why could that one not have been worked out? "
While it pains me to dignify this horrendously erroneous rendition of history with a response, I feel it is my civic duty to do so. First, we need to dichotomize a few points – namely the fact that President Andrew Jackson couldn't have said "there's no reason for this," since he was kind of dead at the time of The Civil War. Also, President Jackson was a proud slave owner, but I digress.
You see, when the leader of the supposedly free world utters something so egregiously ill-informed, it may cause a bit of concern. It makes some of us wonder if your inadvertently dangerous comments weren't inadvertent at all.
When American citizens familiar with The Civil War (you know, the ones who were there that day in middle school) read your statement, we began to consider the following:
3) The Commander in Chief thinks the rampant rape, torture and exploitation of black bodies could have been "worked out."
4) The Commander in Chief thinks profiting off of stolen labor was constitutional and therefore could have been "worked out."
6) The Commander in Chief thinks President Jackson – who did not want blacks to have the right to earn an education, maintain a job, participate in the institution of marriage, vote in elections, own land, or enjoy basic human rights – was best suited for procuring a deal that would have "worked out" for black people.
8) The Commander in Chief's comments on The Civil War will be documented, quoted and regarded as a representation of American views.
9) The Commander in Chief's remarks are accessible to the world and he has the power to influence our young.
10) The Commander in Chief is responsible for upholding the Constitution and protecting the very lives he would have endangered if his version of history succeeded.
As a citizen who actively combats the nostalgically oppressive climate of your current administration, I'd be remiss if I didn't at least have a "come-to-Jesus" talk with you. I know your constituents are big fans of Jesus. It gives me hope knowing that you're cool with Jesus – a brown-skinned, Middle Eastern, Jewish refugee who probably would have marched alongside us mortals at the "No Ban No Wall" protest. You might want to read up on Jesus. But that's just my alternative two cents.
Today, I am not addressing a president. I am addressing a man inflicted with an aggressively rare strain of White Privilege.
Donald – I am talking to you. Please. Just read before you speak.
I beseech you. At least glance at that old, tattered document called the Constitution of the United States of America – preferably before you sign a law that relaxes tax rules on churches taking part in politics. I'm pretty sure there's a riveting part in the Constitution that talks about the separation of church and state. It's not as riveting as The Apprentice, but the act alone would score you higher ratings than that show ever could. Actually, I encourage you to just read something before you sign any more laws or take any more interviews. I know that's a lot to ask considering you don't have a house slave to teach you how to do that, but we are all making do these days.
I hope we won't need to have this talk again. But your presidency, like the night, is young.
REAL LIFE. REAL NEWS. REAL VOICES.
Help us tell more of the stories that matter from voices that too often remain unheard.
BEFORE YOU GO