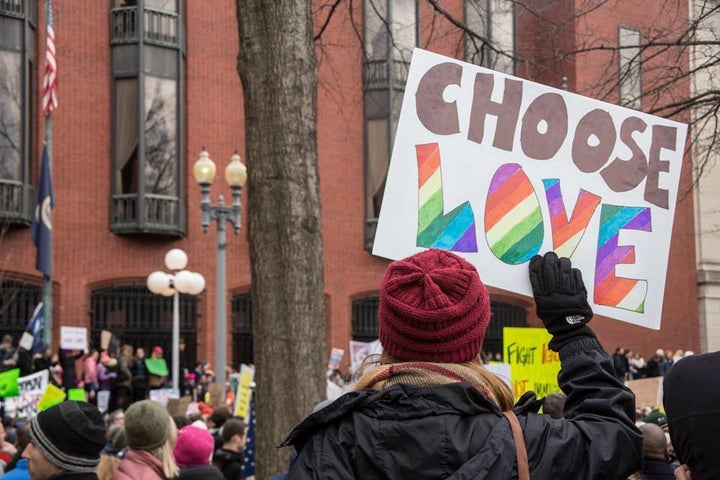 My name is Katie and I'm from a small town in Rhode Island. I love country music, comedy writing, Paris, and a really good cold brew iced coffee. And I too graduated from the University of Pennsylvania. But unlike you, I know what it's like to be part of a minority group in this country. Unlike you, I know what it's like to be judged on something entirely outside of my control.
When I realized I was gay at the age of 11, I decided to bury my sexual orientation. Although I knew that "coming out" wouldn't result in physical harm or danger, I still couldn't bring myself to say the words aloud. I was scared of judgment, of prejudice, of loss. I didn't know how to be openly gay.
After over a decade in the closet, I finally "came out" at the age of 22. As I watched your predecessor, former President Barack Obama, advance equality for LGBTQ people and other minorities groups in this country, I found myself hoping that the days of LGBTQ youth feeling ashamed were over. I found myself assuming that the United States would remain a much-needed beacon of hope for LGBTQ people worldwide.
Your presidency has threatened these hopes.
I watch as you, your vice president, your nominee for Attorney General and the rest of your administration, roll back civil rights and social progress in this country.
But I, along with numerous other members of minority groups in this country, am long done watching.
"Trump talks a big game on his support for LGBTQ people, yet he has filled his cabinet with people who have literally spent their careers working to demonize us and limit our rights. Claiming ally status for not overturning the progress of your predecessor is a rather low bar."
"The president is proud to have been the first ever GOP nominee to mention the LGBT community in his nomination acceptance speech, pledging then to protect the community from violence and oppression."
We cannot be won over by a mere "mention." We will judge your argued "allyship" based upon the integrity of your actions - not your words. In order to support you, we need to see you take action to protect and advance the rights of all minority groups in this country. Everyone deserves the safety and freedom to be themselves.
Ask yourself: How will minority youth feel when they listen to your hate-filled speech and learn about your discriminatory executive orders? What will their futures look like under your presidency?
You might not ask these questions. But these are the types of questions that you will be judged on - not how many times you mention "LGBT" in your speeches.
We, "the gays," will not let you strip away the basic civil rights of any minority group. Minorities are invaluable to both the well-being and advancement of our nation. And they always will be. Each of our rights are intertwined and connected, and until all of us are equal, none of us will have justice.
REAL LIFE. REAL NEWS. REAL VOICES.
Help us tell more of the stories that matter from voices that too often remain unheard.
BEFORE YOU GO