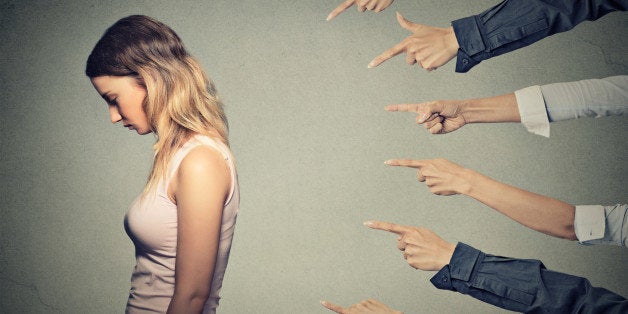 I'm tired of being stigmatized, made fun of, and stereotyped by presidential candidates because I have a mental health condition. I'm a compassionate, liberal, mature graduate student in music education at NYU (3.9 GPA) with dear friends from diverse religions and backgrounds. A person's character and how they treat others is what matters to me, not their religion, race, country of origin, immigration status, sexual orientation, gender or background.
I don't attack people who disagree with me, make fun of people with physical disabilities or use stigmatizing language. I don't call people "lunatics" "sickos" "crazies." Why? Because of compassion, integrity, and kindness; qualities I believe are important in leaders.
Also, this kind of careless language fuels discrimination and stigma which actually prevents people from seeking mental health care, which is the opposite of what needs to happen. It's incredibly stigmatizing to label someone as mental ill because they are behaving in a negative way, or because you wildly disagree with their policies. Being racist, offensive, and lacking compassion and wisdom isn't a mental illness.
I'm a Christian with Muslim, Jewish, Hindu, atheist etc friends. I'm 100% for gay marriage and equal rights for all. I try to love my neighbor as myself, help people in need and turn the other cheek. I don't ignore the central tenants of Christianity for biblical passages taken out of context, used to divide us rather than unite us. I volunteer every Saturday, I'm a mental health advocate, and I'm a dedicated music teacher.
When I had half Muslim students and half Christian students in my children's music class, I learned a Muslim children's song to teach the whole class. It was a beautiful song about respecting your mother. The whole class loved the song. I want my students to grow up in a world where they appreciate and respect each other's cultures and religions.
We have to think about great leaders in history. We admire them because of their commitment to equality and justice for all people. They would never make fun of people with physical disabilities or carelessly throw out words like "sicko" and "wacko."
I'm so tired mental illness being used as a scapegoat for gun control. As John Oliver so brilliantly (and hilariously) pointed out, mental health is brought up as the central issue when mass shootings are addressed, which further stigmatizes people with mental health conditions. People with mental are no more likely to be violent than the general population. People with mental illnesses do not frighten me, but I am frightened by the lack of compassion for people with mental health conditions, the lack of knowledge about mental health, and the lack of commitment to better mental health care for all.
Mental health care does need vast improvement, but it is its own issue. It's not a joke that people in crisis who are thinking of taking their lives can't get adequate mental health care. It's not a joke that veterans who have served our country and risked their lives for us are not taken care of when they return home and given the most excellent mental health care available if they have PTSD. It's not a joke; it's a nightmare. It's someone's life; it's daughters, sons, sisters, brothers, mothers, fathers.
I don't understand how, in 2016, it's ok to stigmatize, make fun of, and stereotype a group of people who have an illness. 1 in 4 Americans who have a mental health condition deserve an apology from every presidential candidate. We deserve to be respected and valued. We aren't monsters. We are valuable, thriving members of your community. We are teachers, doctors, lawyers, artists, innovators, and entrepreneurs etc. Mental illness is not a character flaw, a weakness, a choice, and it doesn't define us. We will not be silent anymore. We deserve better.