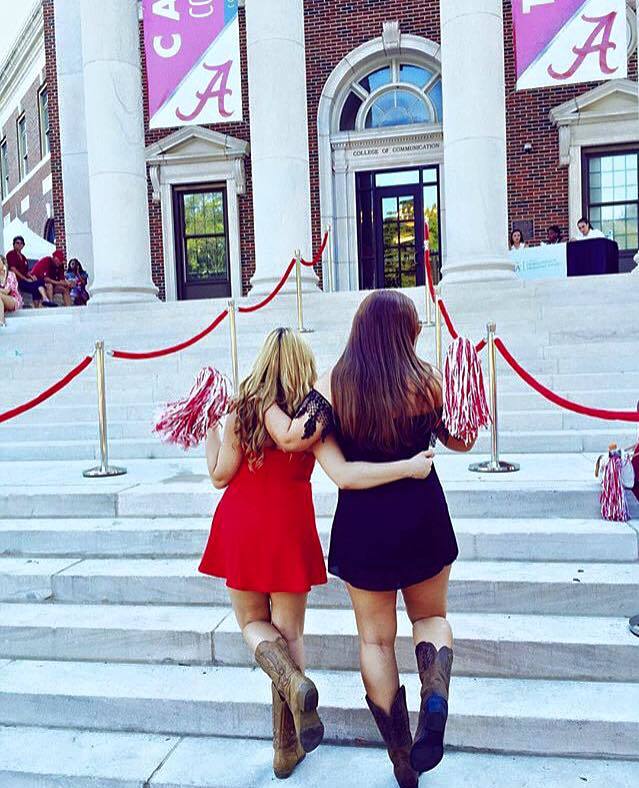 Fall semester at the University of Alabama is now in full swing. Students are attending classes, studying for upcoming exams, and counting down the days until The Tide can claim its 17th National Championship at the end of this season. Though, this post isn't about football. It's about a blog post that was recently published on the Huffington Post where Ms. Rebecca Walden asked girls of the SEC to do the world a "solid" and "cover up."
As a current Alabama student, I am proud to say I attend one of the best schools in the nation. I live and breathe college gameday and every tradition that follows. On Saturdays, I make sure I am runway-ready, but unlike Walden suggests, I don't do it for the attention of "a boy," or to look like a Victoria's Secret model ― which I'm still a little lost on how that is an insult? If there's an outfit out there that can make me look like Candice Swanepoel or Gisele Bündchen, please link me to where I can buy it.
For Walden, the sight of girls "teetering around on stilettos with bra straps exposed" was so tasteless, it took away from her enjoyment of the Tide's beating of USC 52-6 and almost prompted her to start wrapping her "elephant scarf" around those she deemed dressed unfit to be out in public.
The more we bash on one another for dressing too revealing, the more we are perpetuating the rape culture so many have been victims of.
The problem with Walden's post isn't the fact that Walden suggests wearing a scarf in over 100-degree weather is a smart idea or that she wonders if the mothers of these girls know what their daughters are wearing ― which, trust me, they do and they are probably commenting heart-eye and fire emojis under their daughter's Instagram post as I write this.
Slut-shaming is real, we see it every day and this blog post is one of the countless examples roaming the cyber world today. We, as young women, have grown up in a world where we have been taught our shoulders distract boys from learning. We've been threatened to get sent home from school if our knees show. Little by little, comment to comment, it adds up. Older generations have raised a generation so ashamed of their bodies that they would rather stay home than bear putting up with such derogatory comments ― especially by women themselves.
According to Bustle.com, "Slut-shaming is disparaging and harmful, has psychological repercussions, and sadly can lead to tragic outcomes." Young women already deal with so much pressure in all areas of life, with insecurities still at an all time high. It's important to cheer each other on, to support one another, and to understand that the more we bash on one another for dressing too revealing, the more we are perpetuating the rape culture so many have been victims of.
For Walden, it was simply a 458-word post voicing her opinion about how she doesn't approve of new gameday fashion trends. But her words hold a far greater impact than she may even realize. Her tasteless and bashful opinion isn't going to make girls want to dress "classier" and "cover up" more. It's going to make that one girl who finally grew the courage to flaunt her body in a new dress she had been too intimidated to wear before regret ever going to the game in the first place.
So, to my fellow women, my younger sister who will one day attend college football games, and future daughter, my advice to you is to wear what you want and flaunt the curves you were born with. And, if anyone out there is bothered by this ― well, they can always watch the game at home.
REAL LIFE. REAL NEWS. REAL VOICES.
Help us tell more of the stories that matter from voices that too often remain unheard.
BEFORE YOU GO
PHOTO GALLERY
10 Women On Why Feminism Still Matters