A few evenings ago, my family of five decided to shop at Kohl's to pick up a few odds and ends. It was pouring outside, and we dashed into the store, hand-in-hand, our sneakers squeaking against the tile floor. My husband grabbed a cart, and we took off our rain coats. We were discussing a plan of which kid would go with which parent when I glanced up at the display directly in front of me.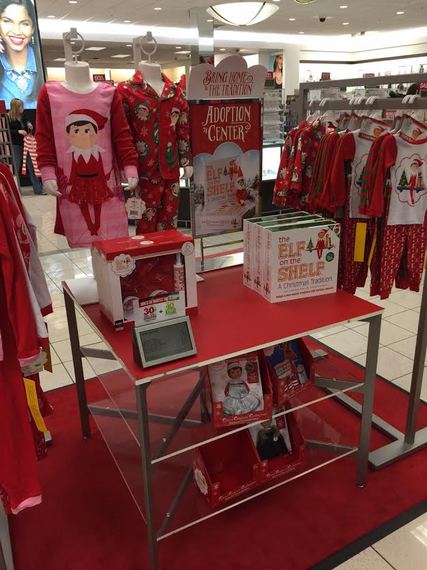 Surrounded by a few racks of pajamas and a stack of Elf on the Shelf merchandise was a sign proclaiming "Adoption Center." Further signage instructs customers to "Bring Home the Tradition," and boasts of the hashtag #ScoutElfReturnWeek. According to the Elf on the Shelf website, interested persons can find an "Adoption Center" and watch videos on the elves preparing to "return" on November 27th.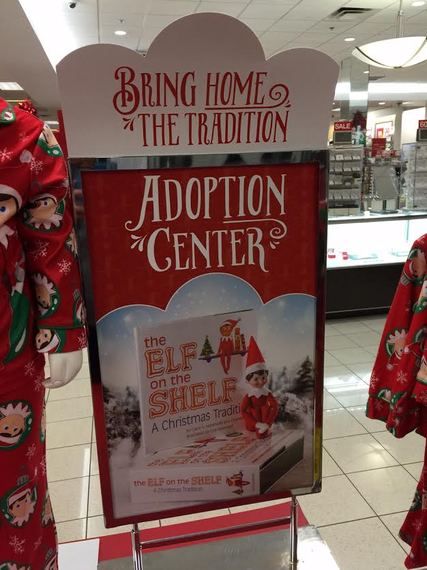 As mom whose family has grown by adoption, I'm quite tired of adoption getting thrown around like New Year's confetti; it's warm fuzzies being sold for a profit. It's trendy and attention-grabbing to implore people to "adopt" a pet, to "adopt" a highway or a star or a penguin at your local zoo, to "adopt" a new policy, to "adopt" a poverty-stricken family in another country. But frankly, it's rather offensive. Particularly the Elf on the Shelf promotion during the month of November.
November, as you may or may not be aware of, is National Adoption Month. It's main purpose is to focus on the children in our domestic foster care system and their desire to be placed in a permanent home.
So instead of joining the adopt-the-next-great-thing bandwagon, I implore you to consider, especially this month, what adoption really means and is. (Hint: It isn't anything like purchasing a plastic doll):
Loss initiates every adoption. Any child being welcomed into a family is something to be celebrated, but adoption also entails a lot of loss. The biological family loses the child, sometimes voluntarily, sometimes not. The child loses the opportunity to be raised with their biological family. And the parents who adopt the child may have adopted due to infertility, infant loss, miscarriage, or in lieu of passing on a genetic disease to a biological child.
Adoption requires commitment. Adoptees (people who were adopted) might come to their forever families having been through tremendous trauma including but not limited to sexual or physical abuse, neglect, malnourishment, homelessness, prenatal drug or alcohol exposure, loss of siblings, and more. Some adoptees struggle with Fetal Alcohol Syndrome (FAS), Reactive Attachment Disorder (RAD), Sensory Processing Disorder, Post-Traumatic Stress Disorder (PTSD), and Failure to Thrive. Parents who choose to adopt agree to parent their children "for better or worse."
Adoption isn't a gateway to heroism; it isn't attention-seeking. Parents who adopt aren't saints, saviors, or heroes. They are everyday people who choose to build or continue to build their families in a way society often glamourizes or ostracizes. Adoptees are often told they are "lucky" to have been adopted, but the truth is, it is we, the parents, who are the lucky ones. Parents who adopt may elicit extra attention, questions, and reverence, but we certainly shouldn't be put on a pedestal above our children or above any other parents.
When choosing to use the word adopt or subscribe to a marketer's adoption rhetoric, consider that at the heart of the word and meaning of adoption, are children. These children are human beings with talents, with quirks, with beauty, with needs. These are children who desire to belong, to have a present under a Christmas tree, a bedroom to call theirs, and a family with open arms and hearts, in it for the long-haul.
Related