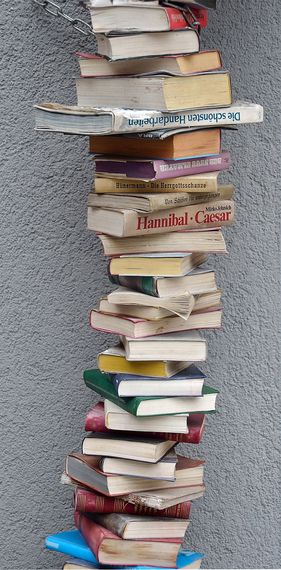 No matter what experts tell you, no matter what trends, conventional wisdom, social media chatter or your friends in the Facebook writers group insist upon, do NOT write four books a year. I mean it. Don't.
Unless they're four gorgeously written, painstakingly molded, amazingly rendered and undeniably memorable books. If you can pull off four of those a year, more power to you. But most can't. I'd go so far as to say no one can, the qualifier being good books.
Beyond the fact that the marketplace is glutted with an overwhelming number of books already (many of dubious quality), writing good books simply takes time, lots of it. There's no getting around that time. It involves learned skills, unhurried imagination, fastidious drafting, diligent editing, even the time to step away, then step back, to go over it all again. And, unless you're a hack (and we know there are plenty of those out there), isn't the whole point of this exercise to write good books?
Our most highly esteemed, widely applauded, prodigiously awarded, read and revered authors know this to be true. Donna Tartt, last year' s Pulitzer Prize winner for The Goldfinch, took eleven years to deliver that masterpiece. This year's winner, Anthony Doerr, had written only four books in his entire career before penning All The Light We Cannot See, wisely taking years to craft his stunning tale. The cultishly-beloved Harper Lee had only To Kill A Mockingbird in her catalogue before this year's controversial release of Go Set A Watchman (which some are convinced was not of her doing). Even others amongst our best, who do put out work on a more regular basis, do so with focus appropriately attuned to the quality of the book, not the depth of their catalogue or the flash-speed with which they crank out product.
But, you say, I'm not interested in writing Pulitzer Prize winners; I don't need to be on The New York Times bestseller list; I just wanna see my name up at Amazon and sell a few books to family and friends, and, hey, if I go viral, all the better! They say write to the market, so I gotta write to the market. I mean, look at E.L. James...she's hardly Chaucer and look what's happened to her!!
Point taken. Which actually brings us to the point: what is your point?
What's your point as a creative, an artist; an author? A purveyor of the written word? Why are you here, what is your purpose, your goal as a writer? What do you hope to achieve? Is it fame and fortune at any cost, quality be damned? Or is it about finely crafted work? It's important to know, to decide, because those principles will guide and mandate every decision you make from there on out.
I bring all this up because I experienced a snap the other day, one triggered by an article from Self Published Author by Bowker titled, Discovery: Another Buzzword We're Wrestling to Understand. In it, the writer lists many of the familiar instructions toward procuring success as an indie writer -- social media, book reviews, networking, etc. -- but her very first suggestion to self-published authors looking to get "discovered" was this:
Publish. A Lot: For those of you who have spent 10 years writing your last book I have news for you. You have ten days to write your next one. Okay, I'm sort of kidding with the ten days but, candidly, the most successful authors are pushing out tons of content: meaning books, not blog posts.

In most categories, readers are hungry for new reads, new books, and willing to discover new authors. You'll have a better time getting found if you continually push new books out there. How many should you do? At a recent writers conference some authors said they publish four books a year. Yes, that's right, four. [Emphasis mine.]
So, her first piece of advice to self-publishing authors wasn't to put more focus on fine-tuning one's craft, it wasn't about taking time to mull and ponder what stories, what narratives, most inspire you to put "pen to paper"; it wasn't even a suggestion to be relentless about working with professional content/copy editors and cover designers to create the best possible version of your work. No, it was the insanely insane advice to pump out at least four books a year.
And people wonder why there are stigmas attached to self-publishing.
First of all, in looking at her point of reference, I suppose it depends on what you define as a "successful author." I have a distinct feeling this may be where the disparities lie. Perhaps my own definition is a different one.
When I self-published my first book, After The Sucker Punch, in April of 2014, I had, by then, put years into it, doing all those many things I itemized above. Because I not only wanted to publish a novel, I wanted that novel to be a work of art, a book of depth and merit, one that would not only tell a compelling story but would meet standards of publishing that authors of the highest regard are held to. I wanted it to be a book that would favorably compare with anything put out by a traditional publisher. My choice to self-publish was a result of not having engaged a publisher by the time my book was done and I was ready to market it. It was not based on the notion of joining the "second tier club" where one is unbound from the stricter, more demanding standards of traditional publishing.
"Second tier club"? Yes. As insulting as that sounds, particularly in relation to self-publishing, there is no question that there are two tiers operating in the culture of the book industry. Take a moment to think about it: based on what advice is given to self-published writers, some of which I shared above; based on the"free/bargain" pricing paradigms of most book sellers hawking those writers; based on the corner (quality)-cutting measures required to pump out endless product to meet the purportedly endless demand of those sites and their bargain-hunting readers, "second tier club" is no misnomer.
Where the best of traditional publishers set their sights not only on commercial viability but award-quality work, nurturing authors with enduring skills and profound stories to tell, in a climate that is selective (perhaps too selective) and based on the notion that that level of quality and commercial appeal is a rare and valued commodity, self-published authors are advised to, "Crank out loads of books. if you have to write little teeny short ones to get your catalogue pumped up, do that! Don't worry about covers; your readers don't give a hoot about artwork. It's all about genre, easy reads, and low, low prices! And speaking of low prices, don't even think about selling your books for more than a dollar or two, because readers who do bother with self-published books are too accustomed to bargain-basement prices to spend any more than that. This is the 99¢ Bargain Circus Book Store, where we push quantity over quality every day of the week!! CRANK OUT THAT PRODUCT!!"
I'll bet good money Donna Tartt, Anthony Doerr, and other quality writers aren't getting that same message from their publishers. First tier, baby.
Look, if your point and purpose as a writer is largely related to the numbers -- of books sold, of Amazon ranking, of reviews garnered, of Twitter followers and Facebook "likes" -- then, certainly; follow the advice of the article quoted about. I know many self-published writers who are, and though I have no idea how well that's working for them, it's certainly the prevailing trend.
But if your point and purpose as a writer is to take someone's breath away, capture a riveting story, translate an idea -- whether fantasy, love story, science fiction, human interaction, tragedy, thriller, family saga, memoir, non-fiction -- in a way that raises hairs or gets someone shouting "YES!"; if you're compelled to tell that story so beautifully, so irreverently, with such power and prose as to make a reader stop to read a line over just to have the opportunity to roll those words around one more time, then don't listen to that advice.
Instead, do the opposite: take your time, work your craft; look for the best possible ways to tell your story and allow yourself time to change your mind, sometimes often, until you know it's right. Allow your editors time to help you mold your narrative into peak condition. Give your formatters and copy editors time to comb through your manuscript, again and again, to make sure everything is perfect. Work carefully with your cover artist to create the most gorgeous, most professional book cover you can. TAKE YOUR TIME.
Then take lots more to research marketing options; ask questions, weigh contradicting information, and come up with the best possible strategy for your book. Do what you choose with professionalism and without the misguided push to the "top of the list," that pervasive attitude so rife with desperation and panic. You're not in a race, with anyone. You are a professional author working your book your way. Be an artist, don't be a carnival barker. Be a wordsmith, not a bean-counter. Be patient, not hysterical. Transact wisely, but don't lose your soul in the process.
I know I'm bucking the trend, and certainly there are quality issues and dubious motivations floating around both tiers. It's also certain that, if you follow my lead, you will not be able to write four books a year, at least not four full-length books. You will write, perhaps, one. But if you do it right, taking time and taking care, you will have written one excellent book. One you'll be proud of years from now. One your friends and family will keep on their book shelves. One readers across the globe will talk about on social media. One that tells the world, I am a writer and this book is my legacy. Then you'll go write another of those...and so on.
The rest of it -- sales, rankings, reviews, viralness, likes, tweets, awards, kudos, peer admiration... all that? If you do it right, if/when any of those things come, they will be warranted and well-deserved. You can celebrate them authentically, because you did not sell your creative soul to get them. You actually made the far, far better deal.
CLARIFICATION- Because the last thing I want is to insult a fellow author, let me clarify, because it seems to be needed: This is NOT a screed against authors who CHOOSE to publish multiple titles annually (according to many, I'm faulty in assessing that that's difficult to do well!), nor is it a suggestion that there is only "one way" to do things. In fact, it's the opposite. The whole point is choice rather than mandate. When the mandate to publish in volume becomes the most prescribed way to reach success, it leaves many authors feeling pressured to publish more quickly and more often than they'd prefer, with some left feeling as though taking the time to craft a book is devalued. Neither should be true. I'm simply championing choice, the personal decisions every author makes about how they'll reach success. For those who enjoy publishing in volume, who do it well and find it successful, that formula works. But for those who don't, I'm suggesting forging your own way unshackled from the mandate. That is all. Best with your writing!
___________________________________________________________
Follow Lorraine Devon Wilke on Facebook, Twitter, Instagram, and Rock+Paper+Music. Access details and links to her other work at www.lorrainedevonwilke.com, and her novels, AFTER THE SUCKER PUNCH and HYSTERICAL LOVE at her author pages at both @ Amazon and Smashwords. Watch her book trailer for AFTER THE SUCKER PUNCH here, and be sure to follow her adventures in independent publishing at her book blog, AfterTheSuckerPunch.com.

______________________________
Related
Popular in the Community