My kids and I are always on the go. To the sitter's. T-ball practice. We've run out of milk -- off to the grocery store. Let's hit the park. Story time. The list goes on. I feel like I live in my car some days. As a (single) mama, it can be exhausting.
One night last weekend, after we were finished running around, I put a movie on for my son, daughter, and me to enjoy. We had snacks and drinks. Blankets kept us warm and comfy (Spring in Ohio isn't all that warm, FYI). In that moment, my son looked at me and said, "I just love being home." My heart melted.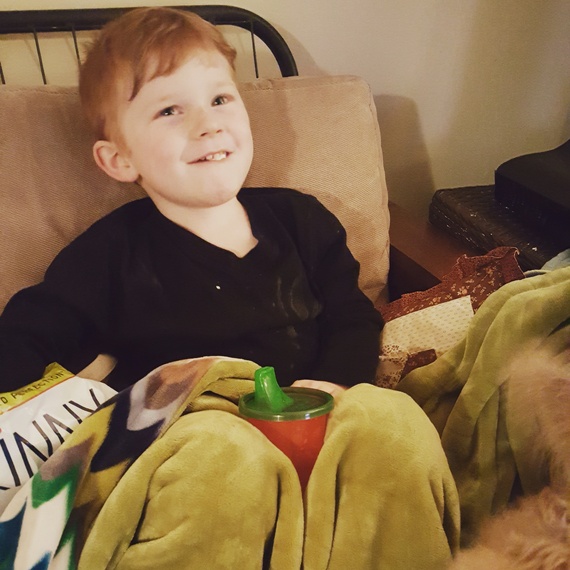 Part of me rejoiced at my son's declaration because it was further proof that my son, like me, is an introvert. It is something that we share, and, honestly, it is sometimes makes parenting him easier than my daughter because I know exactly how he's feeling. There is no place that compares to home for him or his introverted mama.
Part of me rejoiced for deeper reasons. As parents, we question the decisions we make and how they will affect our children. Divorce and single parenthood are no exception. I worry about how much my children will remember. I worry about whether my children will choose good partners and have healthy relationships. I worry about how much time I have to spend away from them in order to make enough money to raise them. I worry.
But when my son said he just loves being home, I was able to take a break from the worrying. My son loves to be home -- our modest apartment with secondhand furniture. Home, where he has to share a room with his baby sister (sorry, Deac!). Home, where Mom is sometimes too caught up in grading or housekeeping to sit down and color or play babies or even watch a movie.
But my son isn't worried about the square footage of our place or the location (minus the fact that we can walk to the park). What he cares about is the fact that his sister and I are here. We are each other's home.
And you are home for your children.
Even when they claim they don't love you.
Even if they ask for the other parent or a grandparent or a fun aunt.
Even when you feel like they spend more time with the sitter than with you.
Even when it seems they aren't listening to a word you say.
Even when you have to move several times in a short period.
Even when you feel your relationship is strained.
Your children act out and speak their minds and hearts with you because they know you will always be there. They know that no hateful word or temper tantrum could drive you away. They know you will be there to sign them up for school, to drive them to their practices, and to provide their basic needs and as many of their wants as you possibly can. But more than that, they depend on your attention, love, and prayers. While there may be many variables in their life, you will always be their constant. You will always be home.