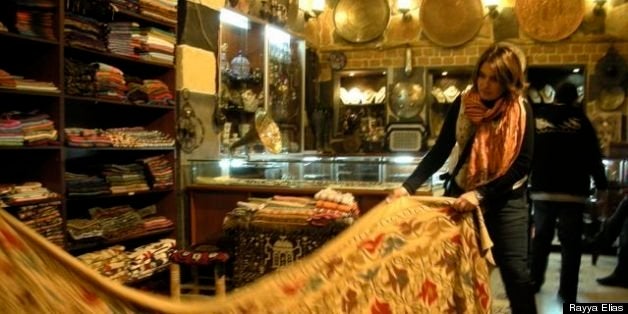 My family left Syria in late 1967 after nationalization started taking place and moved to Detroit. My father was a firm believer in education and economic growth for his family, which is why he chose the United States and not Lebanon, or Brazil, which is where other family members were living. It's really hard for me to wrap my head around what is going on in my homeland. People often ask me how I feel about Syria, and frankly, it confuses me. I've never been opinionated about politics in other countries, and especially regions as complicated as the Middle East. All I know is that when I was a kid and living in Aleppo, it was beautiful, civilized and a wonderful place to grow up. I rarely saw the religious tension (I was raised christian), or political strife that people often talk about now, but of course that was in the 1960s. I've gone back and visited Syria with my family many times since we moved to the United States, but never had I seen it the way I did a few years ago when I went with my dear friend Shawn, a handsome, sophisticated, well traveled, gay Canadian man. We met my family for Christmas and New Year of 2009/2010 and it was amazing. The most glamorous holiday either of us had ever experienced. We spent evenings in fabulous restaurants in Aleppo, eating the most extravagant food, and sight-seeing the great Citadel and famous Souks. We spent time walking around the city and meeting people who were charming, civilized and generous. We visited with my family in neighborhoods that brought back fond memories from my childhood. After Aleppo, we traveled to Damascus and attended a friend's daughter's wedding at the Four Seasons, which was so sophisticated and grand it put all other parties or weddings to shame. When we came back from our vacation after visiting Syria, Lebanon and Jordan, we were both so taken with the region that all we spoke about was going back, and taking other friends to share in the experiences that brought us so much joy. It was shocking and extremely upsetting that just a short while after our return all the problems started. Shawn would call me disturbed about the footage that was on the news about his now beloved country. "I wonder what happened to those sweet children that we met from the Armenian school," he would say crying in disbelief as we watched the city fall into ruins.
I'm constantly asked about my feelings and opinions about what is going on in Syria, and my answer is always, "I don't know." What I do know is that my heart grows heavy when I think about it because I don't care about the politics so much -- only the people that I love. My 85-year-old aunty and her son who live in Aleppo, and are unable to get electricity or food on a regular basis, are in constant fear for their lives. My other cousins who live in Damascus have already had the windows in their flats blown out, and don't have a way out of their situation. The land and people that I love are being torn apart, and no one has the answer, even if they think they do.
I'm going to write a short note below to convey my feelings. This may sound elementary, but it's honest and straight from the heart.
Dear Syria, I love all of your people. You are an old soul, so please heal your wounds, rebuild your character, find your beauty and grace, and come back to us in peace.
REAL LIFE. REAL NEWS. REAL VOICES.
Help us tell more of the stories that matter from voices that too often remain unheard.