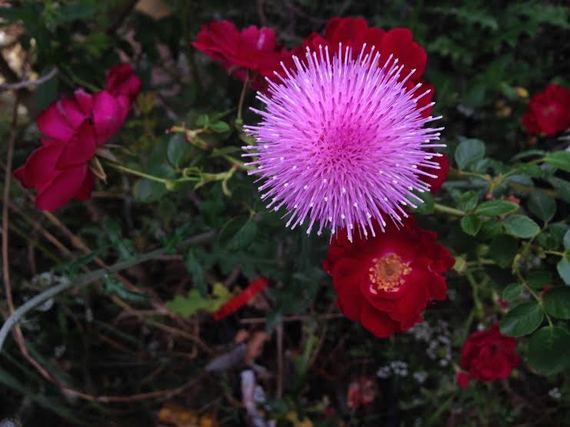 I did not believe I could do it, but you did. You believed I could write and change the world with my gift.
And it did not matter where I ranked in my graduating class or how many writing awards I gathered or whether I accomplished any of what I'd set out to do. It mattered that you believed.
In my early years, it was you, Mrs. Fisher, who let me tell my stories; and it was you, Mrs. Allen, who encouraged my above-level reading because you said it would make me a better writer; and it was you, Mrs. Stone, who taught me I could see a hard project through and do it well, even though it was cultures and values and family history that a third-grader didn't want to explore because my family only held a broken history and betrayed values.
There was you, the one who taught fifth grade English, the teacher whose name I can't remember because we'd just moved again, this time without my dad, and my life was in emotional turmoil. You believed so much in what I had to say that you sent my story, about a girl in a wheelchair who miraculously began to walk again, to a magazine, and I got published. You showed me possible in the impossible.
And there was you, Mrs. Roome, who wrote a kind and encouraging note every time I turned in an essay, who filled a seventh-grader's heart with hope. You, Mrs. Crisp, who told me I was destined for greatness with my pen, who filled an eighth grader's heart with courage that said she just might be able to accomplish her dream.
And then I got older, and there was you, Mrs. Sappington, who approached me early, freshman year, to try to get me to join the journalism team because you'd heard I had talent. You pursued me like my writing meant something valuable and important, told me I didn't have to be afraid to try something new, said you'd teach me what I didn't know about reporting. It took me a year to say yes. But I'm so glad I did and that you never gave up.
And you, Mrs. Nicholson, red-penning those remarks that said, "So very good!" and "Fantastic writing!" and "Great report," even when it was a report on the thirty-second president. You taught me how to write even in those places that did not steal my heart.
Then there was you, Mrs. Jimerson. I met you before that junior English class because I signed up for Ready Writing and you taught it, and you chose me to represent our school over some of those upper-classmen, and do you know what your confidence in me did? It told me, this girl with scars that looked like abandonment and sorrow and deep-down insecurity, I was good enough. It told me I had what it took. It told me I would have to work hard and practice, and so I did, every week, writing those extra essays that you'd diagram and mark up and keep in a folder marked with my name so you could show my improvement, week to week, month to month, year to year.
And at the end of it all, you called me a writer.
You all called me a writer.
Sometimes that's all it takes--for someone to believe in what you don't even believe yourself. Someone to call out the greatness you don't see. Someone to name us what we could never dare name ourselves.
There were others who would come later, in my college years, some who would believe, like the Shakespeare professor whose note I still have tucked away in an encouragement folder, and some who would not believe, like the creative writing professor whose note found the trash, but it didn't matter, really, because you had already breathed life and truth and hope in all those earliest, most formative years.
You had already named me writer, and I believed it.
What you have done I cannot ever repay. You believed when I could not. You became the voices that speak loudest in my confidence-is-slipping places. You showed me how to write and keep writing, no matter what it looks like or whether I win or how many people like it.
Today I honor all those giants who lifted me to their shoulders, who infused courage into a young girl's heart, who turned my face toward a dream that seemed impossible.
Thank you, teachers, for believing in me. Thank you for believing in my gift. Thank you for helping me believe, too. You will never know the many ways you have changed my life and anchored my soul.
What you do matters. The strength-places you see, the life you speak, the encouragement you give, it all matters.
I hope all students everywhere, and most especially my sons, are gifted with phenomenal teachers like you, who will always be remembered as one who believed.
What noble work you do, teachers. Thank you.
Calling all HuffPost superfans!
Sign up for membership to become a founding member and help shape HuffPost's next chapter