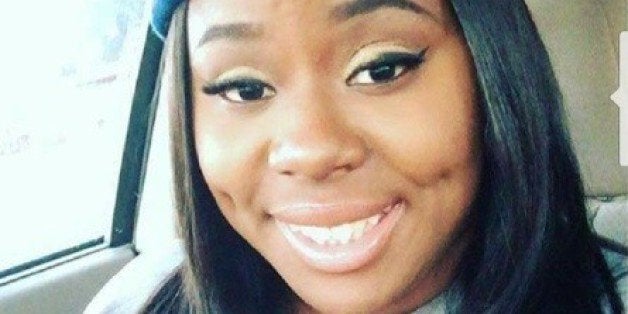 I am not proud of you right now: neither proud to be an alumna nor to be a current student, although I'm both. I enrolled at a university whose mission statement purports a desire "to create and advance knowledge, prepare a diverse student body to thrive, and positively impact local and global communities," and whose vision is of "a pre-eminent, public, urban research university known for academic and research excellence, success across a diverse student body, and meaningful engagement in its urban community." Integral to your institutional identity is an expansive definition of community that facilitates symbiotic relationships with the human beings who populate this "urban" environment so essential to your mission and your vision.
And yet this week, you chose to seal your borders. The search for a missing 24-year-old woman named KaJavia Globe ended tragically with the discovery of her body in a backyard on the west side. Her death was likely a homicide, the perpetrator still unknown. When news stories began to identify her as a Wayne State student, all you had to say was that she hadn't been enrolled in classes since 2012. You offered no condolences to her loved ones; no resources to those directly or indirectly affected by her death; no solidarity for grief over another life lost in Detroit, the city from which you derive so much of your particularity and power. Frankly, if the people you have appointed to serve as the university's public face and voice are so tone-deaf to the meaning and magnitude of KaJavia's passing, I place little trust in your ability to comprehend the collective mood on campus. Like 17% of students (and 20% of undergraduates), KaJavia was African-American. In her June essay for the New York Times Magazine, "The Condition of Black Life is One of Mourning," Claudia Rankine asserts that "a sustained state of national mourning for black lives is called for in order to point to the undeniability of their devaluation." To issue a statement of "fact," severed from context and absent the more difficult and daring work of feeling, is to ignore significant emotional and political realities of the "diverse student body" in which you take so much pride. Instead of deferring to "a sustained state of national mourning," you distanced yourself from it, and from those of us for whom "close to home" is not a function of matriculation status. I am ashamed to be part of the white majority at a school whose PR department seems incapable of paying attention and being attuned to accounts of Black experience.
I was particularly disturbed by this reaction because of its resemblance to your disownment of Amber Monroe just this past August. Amber, a Black trans* woman, was murdered at 6 Mile and Woodward, and initial media reports described her as a Wayne State student. You were quick to deny her connection, when in fact she had been involved with the Horizons Project through WSU's med school, and when in fact there are many ways of belonging to a university -- especially one situated in such close proximity to the surrounding city. Do you take issue with the specific title of "student"? Then dispute that word without withdrawing all claim to community. As newspapers redacted and corrected in the wake of your "clarifications," the name of Wayne State disappeared from headlines and descriptions. By refuting their status as students, you erased all affiliation these women had with a place that would be better for having them. Where you could have chosen a language of inclusion, you preferred to exclude; where you could have chosen to express sorrow, you stuck to the bare bones of a "truth" that fails to encompass so much of what is true.
To further contextualize the problematic nature of your approach to these tragedies, it seems prudent to remind you that graduation rates for white Wayne State students have historically been about 4 times those of our Black counterparts, and that this academic year your medical school narrowly escaped full accreditation probation for -- among other things -- insufficient diversity in its accepted applicants. Furthermore, among 58 tenured and tenure-track faculty who chose to declare their race, 44 were white while only 1 was African-American. I'm sure these are issues of which you are well aware, and I like to think and want to believe that you are doing everything within your power to discover and dismantle whatever structural barriers and institutional deficiencies have created these conditions. But I would ask you to do more.
I didn't know KaJavia or Amber, and I don't know why neither woman was taking classes at the time of her death. I can, however, imagine many reasons why a person might find it difficult to do so -- and I refuse to reject them for it. My community includes everyone whose financial aid didn't come through, whose high school didn't prepare them for college, who needs to work three jobs, who can't afford the rent in Midtown or the time to navigate Detroit by bus, who is obligated to care for family, who is preoccupied with all the large and small labors of being alive; everyone who has dropped out or is struggling to get in. I won't let you insinuate that I should diminish or disavow community as I've chosen to define it. Is your name worth so much, and guarded so tightly, that you can't spare the smallest part of it for Amber and KaJavia -- just as you can't spare even the slight platitude of "thoughts and prayers" for those they left behind? If so, your name is worth so much less to me; but if you've heard anything I've said I hope you will respond by listening to my Black classmates as well as your faculty and staff, whose stories demand a greater sensitivity and deeper understanding than you have shown this week.
REAL LIFE. REAL NEWS. REAL VOICES.
Help us tell more of the stories that matter from voices that too often remain unheard.