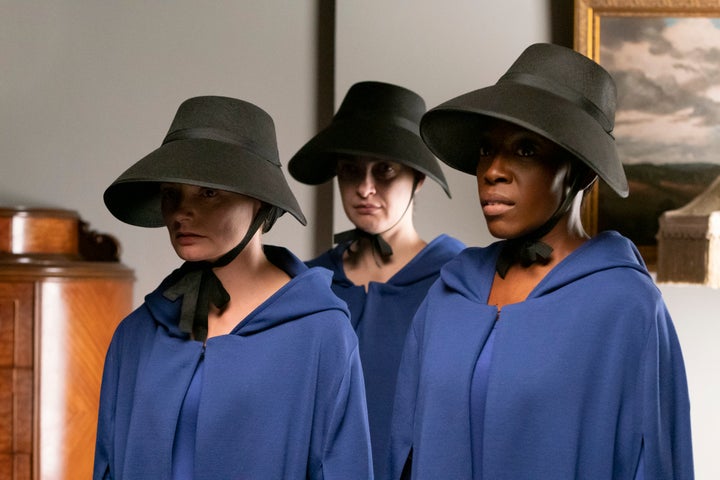 What's up: Students at a prestigious college attempt to balance homework and job searches with relationships and youthful idealism. The first two seasons had the characters focus almost exclusively on social injustices involving relations between black and white people, but now the characters want to tune out that fight for their personal mental health. This choice smartly mirrors what many in real life have gone through since Donald Trump got elected president ― with an initial all-consuming drive for activism, a subsequent feeling of powerlessness and then a transition to seeking out more mindless activities as a distraction.
Sum-up: This season feels like a reboot, with characters having entirely different ambitions and traits than before. The show makes self-aware references to this throughout the season, with multiple jokes involving characters saying their friends are just treading water like the characters in the third season of a Netflix show. But just because the show recognizes it is treading water does not mean the inert storytelling works.
Where the show still shines, though, is in the one-off jokes made in the margins of the messy plot points. For one, the charismatic characters have dialogue that still works, making this viscerally enjoyable. More notably, however, is a recurring bit of streaming show parodies the student characters watch (while checking out from their lives).
In this season, "Dear White People" has parodies of "The Handmaid's Tale" and "Queer Eye" that might make you think twice about ever watching those shows again. I have written in the past about the moral problems of "Queer Eye," and it felt refreshing in the sea of universal praise to have a fellow Netflix show attack "Queer Eye" so incisively and viciously that I imagine it caused an internal problem for Netflix. These parodies are so good that I kind of wish the "Dear White People" writers would just make a sketch show of similar parodies. For now, you'll just have to check the parodies out within these new episodes.
Heads-up: As mentioned, the storytelling doesn't work this season. The show tries to ground the characters away from their past, superhero-esque selves into more believable college students, which mostly just makes everyone more boring. It also doesn't help the new attempt at realism that most of the main cast are now in their 30s in real life, despite still playing college students. The writers clearly recognize the storytelling mess and repeatedly make self-aware jokes about it, but again, self-awareness of messy writing doesn't wave a magic wand to make it all good.
Bonus: I tried to find another outlet doing an in-depth piece about the new season's show parodies, but it doesn't look like anybody has covered yet. Perhaps I'll have to take that one on myself. In the meantime, watch this video of the "Dear White People" hair and makeup team giving a head massage to cast member Marque Richardson.
Read on for more recommendations and news from the week.
And if you want to stay up to date with what to watch on a weekly basis, subscribe to the Streamline newsletter.
What Else Is New This Week On Netflix
"Derry Girls" (Season 2) ― In this comedy series, young students living in 1990s Derry, Northern Ireland, have to deal with the trials and tribulations of growing up while the violent, ethno-nationalist conflict happens around them.
"Four Weddings and a Funeral" ― Not to be confused with the series adaptation that just debuted on Hulu. This 1994 rom-com stars Hugh Grant and Andie MacDowell, and Richard Curtis wrote the script.
A Couple Of Netflix News Stories From This Week
1. Netflix renewed "Big Mouth" for three more seasons. I would have preferred Netflix to have given the recently canceled and similarly animated "Tuca & Bertie" at least one of those seasons instead, but I don't get to call the shots. Yet.
2. The trailer for Martin Scorsese's "The Irishman" dropped. Come for the special effects de-aging of classic Hollywood stars, stay for the fact the movie, well, looks like it's going to be really good.
"Whitney Cummings: Can I Touch It?" (Netflix Original)
"Kengan Ashura" (Part l, Netflix Anime)
"The Letdown" (Season 2, Netflix Original)
"The Red Sea Diving Resort" (Netflix Film)
"Wentworth" (Season 7)
"Are We Done Yet?"
"Boyka: Undisputed"
"Four Weddings and a Funeral"
"Groundhog Day"
"Horns"
"Jackie Brown"
"Jupiter Ascending"
"Now and Then"
"Panic Room"
"Rocky"
"Rocky II"
"Rocky III"
"Rocky IV"
"Rocky V"
"Sex and the City: The Movie"
"Something's Gotta Give"
"The Bank Job"
"The House Bunny"
"The Sinner: Julian"
"To Wong Foo, Thanks for Everything! Julie Newmar"
"Why Do Fools Fall in Love"
"Ask the StoryBots" (Season 3, Netflix Family)
"Basketball or Nothing" (Netflix Original)
"Dear White People" (Volume 3, Netflix Original)
"Derry Girls: Season 2 (Netflix Original)
"Otherhood" (Netflix Film)
"She-Ra and the Princesses of Power" (Season 3, Netflix Family)