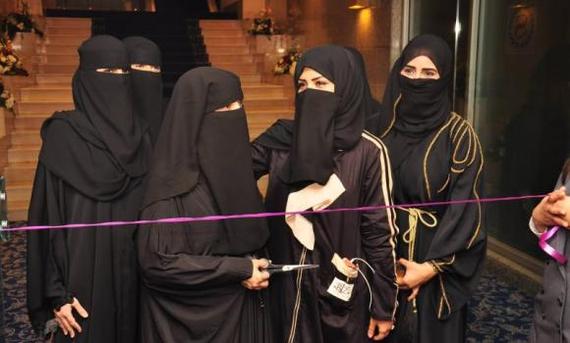 In a stunning move of independence replete of any help, force, or aid from the West, the first female law firm has opened in Saudi Arabia, two months after its founder and three other female lawyers were granted licenses to practice law in the nation. The law firm will focus on labor cases and business disputes affecting both genders. The founder, Bayan Mahmoud Al-Zahran, told Arab News that their objective would be to fight for Saudi women's rights and to get women's cases heard in court.
Following a university degree education and three years of training that is gender-neutral in nature, the four women were the first to be issued licenses that shifted their status from legal consultants to lawyers, lifting the ban imposed on female law graduates to practice. This move allows female plaintiffs to feel more comfortable in seeking their rights and freedoms, since male lawyers in many instances may be unable to understand the problems and situations of the plaintiffs.
With this step forth in the right direction, we are faced with the simple truth: This was a women's rights victory, no matter how you slice it. Regardless of location, timing or repercussions, the achievement of these women to practice law is an achievement for women everywhere. There was a struggle, a focus, and a victory, that is not negated by the fact that it took place in a overwhelmingly patriarchal nation, one that is slowly moving into a more progressive direction of gender equality.
Although it might not resemble what we in the West have defined a typical women's rights victory to be, it is, by definition, a victory for the rights of Saudi women. The achievement joins a number of other women's rights movements ongoing in the nation, including the persistent driving protests that are beginning to pick up steam, upcoming sweeping reforms in education and labor policies and the debut of the first feature-length film directed by a Saudi woman and produced entirely in Saudi Arabia. When a movement can only be seen thriving and growing, such that the women's rights movement in Saudi Arabia is doing, recognition and support must be allotted to the women fighting for their rights.
Granted, Saudi women have a ways to go.
Yet the constant, unwavering focus and insistence by the West to treat women in the country as though they thoroughly lack rights and individuality regardless of what they do is backwards, petulant and undeveloped in itself. We are all in the struggle together, and the breaking down of communication through condemnation and judgment only serves to alienate rather than build bridges.
Let's give these women some credit. If we are truly looking to help the women in Saudi, it is integral to no longer engage in the far more comfortable monologue that we've had so many times. Instead, let's begin to engage in dialogue -- that is, dialogue that comes with the go-ahead of the Saudi women. Otherwise, we owe it to the free women of the world to take a step back -- and those women include Saudi Arabia's.
REAL LIFE. REAL NEWS. REAL VOICES.
Help us tell more of the stories that matter from voices that too often remain unheard.