It's tempting to paraphrase George Orwell by stating that "All artists are equal, but some artists are more equal than others."
Some, like Judy Garland, become known for their human weaknesses as well as their talent.
Some, like Bette Midler, become known for their versatility (stage, screen, theatre, nightclubs) as well as their philanthropy.
Some, like Michael Jackson, become known for their eccentricities and tabloid lifestyles as well as their blazing talent.
Some (Philip Seymour Hoffman, Heath Ledger, James Dean, Marilyn Monroe) become known for their exceptional artistic gifts that were left unfulfilled by untimely deaths.
Some (Roman Polanski, Woody Allen, Fatty Arbuckle) are known for their scandalous behavior as much as for their artistic output.
Some, like Angela Lansbury, are noted for their tremendous versatility, the high quality of their work, the longevity of their careers, and their reputation as a supportive colleague.
On January 2, 1996, the beloved Viennese soprano, Leonie Rysanek, ended her run of more than 300 performances at the Metropolitan Opera with her portrayal of the old Countess in Tchaikovsky's 1890 opera, Pique Dame (Queen of Spades). Having been an audience favorite at the Met for nearly four decades, her final ovation was a highly emotional experience on both sides of the footlights.
If one were to search for a song which could capture the core value of an exceptional artist, one might turn to "Something Wonderful," the impassioned solo sung by Lady Thiang in Rodgers and Hammerstein's 1951 musical, The King and I. Hammerstein's lyric reads as follows:
"This is a man who thinks with his heart,
His heart is not always wise.
This is a man who stumbles and falls,
But this is a man who tries.
This is a man you'll forgive and forgive
And help and protect as long as you live.

He will not always say what you would have him say,
But now and then he'll say something wonderful.
The thoughtless things he'll do will hurt and worry you,
Then all at once he'll do something wonderful.

He has a thousand dreams that won't come true,
You know that he believes in them and that's enough for you.

You'll always go along, defend him when he's wrong
And tell him when he's strong, he is wonderful.
He'll always need your love and so he'll get your love
A man who needs your love can be wonderful."
Charlie Chaplin was probably the most beloved entertainer of the 20th century. His affair with actress Joan Barry in the 1940s led to a paternity suit which gave FBI Director, J. Edgar Hoover, an opportunity to wage a smear campaign against the gifted comic (whom Hoover suspected of having Communist leanings).
One of the charges filed against Chaplin claimed that he had violated the Mann Act. Although he was acquitted, Chaplin's personal life became the subject of scandal again two years later when, at the age of 54, he married Eugene O'Neill's daughter, Oona (who was only 18).
On September 19, 1952 (the day after Chaplin and his family sailed for London to attend the world premiere of his film, Limelight), Attorney General James P. McGranery revoked the actor's permit to re-enter the United States. Chaplin did not return to America until 1972, when he received the Academy Honorary Award (for which he received a 12-minute standing ovation).
While silent film fans have never lost their passion for such geniuses as Charlie Chaplin, Buster Keaton, and Harold Lloyd, one of the films screened at the 2014 San Francisco Silent Film Festival proved to be quite a revelation. I had never seen or heard of Max Linder (a French director, writer, and actor who has been described as the first international film star).
The reason is a sad and simple one. On October 31, 1925, Linder (who had a long history of depression due to the health problems that resulted from his service in World War I) and his wife committed suicide after attending a screening of Quo Vadis.
What one learns from reading up on Linder's life is quite fascinating. He started out as a contract player at the Bordeaux Théâtre des Arts in 1901. His big break came in 1907 while acting in small roles for Pathé Brothers. After René Gréhan (Pathé's leading star of slapstick comedies) left to go to work for another studio, Linder was chosen to take over Gréhan's signature role of Gontran. In the following short from 1907, Linder stars as "The Unskillful Skater."
By 1911, Linder had become the world's most popular film star (among his fans were George Bernard Shaw and Czar Nicholas II). Long before Charlie Chaplin introduced his character of The Tramp in 1914's Kid Auto Races at Venice, Linder was entertaining audiences in silent shorts as Max (a handsome, fashionable fool with a tendency to get into all kinds of trouble). By the time Linder left Pathé in 1914 he had made more than 400 films there.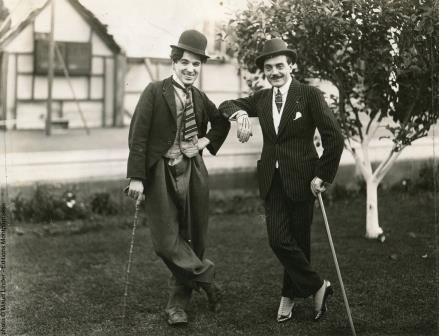 Charlie Chaplin and Max Linder
During the brief years he spent in Hollywood, Linder became a close friend with Charlie Chaplin. Although his 1922 spoof of The Three Musketeers (The Three Must-Get-Theres) was praised by silent film stars like Chaplin and Douglas Fairbanks, it was a box office dud.
Linder's work had a strong influence on filmmakers like Mack Sennett and King Vidor. In addition to giving Maurice Chevalier his start in films, he inspired major talents like Adolphe Menjou and Raymond Griffith. A young actor named Abel Gance (famous for his 1927 silent film epic, Napoleon) appeared in one of Linder's silent movies. A signed photograph that Chaplin sent to his close friend read "To Max, the Professor, from his disciple. Charlie Chaplin."
With the San Francisco Silent Film Festival's screening accompanied by Donald Sosin on piano and Frank Bockius on percussion, what quickly became obvious was that Linder was a master of physical comedy. Written, directed by and starring Max Linder, Seven Years Bad Luck (1921) tells the story of a dapper man who, after breaking a mirror, is convinced that he will be plagued with seven years of bad luck. It also contains one of the first recorded depictions of the human mirror trick.
Considering Serge Bromberrg's enthusiastic introduction for Seven Years Bad Luck, I was surprised to hear some people in the Castro Theatre complaining that Linder had crammed "too much" into the film's 65 minutes. Bottom line? The experience felt like watching a master class in the art of comic setups, pratfalls, and silent entertainment.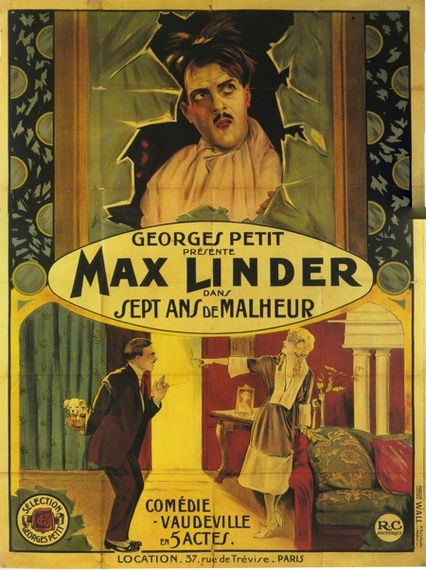 Poster art for Seven Years Bad Luck
Actress Gwyneth Paltrow recently came under fire for her claims about the hardships of acting.
"You come across [comments] about yourself and about your friends, and it's a very dehumanizing thing. It's almost like how, in war, you go through this bloody, dehumanizing thing, and then something is defined out of it."
Compare Paltrow's whining with what Linder wrote in a September 1917 issue of Motion Picture Magazine
"War, Monsieur, is not so terrifying as one who has not been in it may conceive. As a motor dispatch-bearer for France, I felt no horror, particularly at what fate might be hovering over me, preparing to strike the next moment. The Great Divine, it seems, has provided at least one single solace in this game of life and death. He has made the bullets, the shrapnel, and the tremendous bombs to fly so quickly at us that we cannot see them. And what we cannot see, we do not fear so much. In truth, I have had some experiences in the production of my own cinema-plays which have filled me with more terror, momentarily, than battlefield ventures.

I had conceived what you might call a 'thriller' as a scene in my third Essanay comedy, Max in a Taxi. Having been disinherited by my wealthy father, the scenario directed that I lie down in front of an onrushing express train, thus to doff my life-burdens. The train was to rush down upon me; all would be over -- but no! Within 10 feet of where I lay was to be a switch, which the audience has not perceived. And even as the engine's pilot stretched forth to snuff out my life, the train suddenly was to strike the switch, swerve to a side-track, and whiz past, leaving me and my life-burden intact.

The scene was filmed without a flaw. I lay down upon the track; the huge express train rushed up to within 10 feet of me. The switch opened and it swung to the left and past. Yet, during the fleet second of the action, the terrible horror almost paralyzed me. What if by some unforeseen accident the switch refused to open? Here was death which I could see hurtling directly at me. I could not escape it. As I arose from that track, I felt almost a craving, Monsieur, for the battlefields again. There, at least, I did not have to look at the death as it rushed at me or I rushed at it."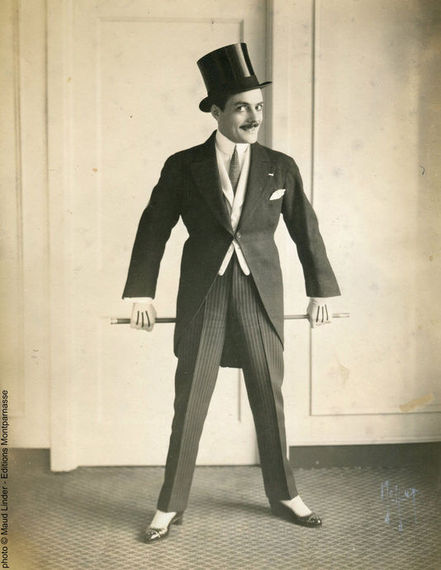 Max Linder as his dapper character, Max
Thankfully, Seven Years Bad Luck can be viewed in its entirety on YouTube. Enjoy!
2014 has been a triumphant year for Dan Hoyle. In March, the San Jose Repertory Theatre presented the world premiere of Game On, a contemporary farce co-written with Tony Taccone (the artistic director of Berkeley Repertory Theatre). In June, The Marsh presented the world premiere of Hoyle's latest monologue: Each and Every Thing.
Directed by Charlie Varon (and developed with the help of Varon and Maureen Towey), Each and Every Thing is a remarkable showcase for Hoyle's talents as a mimic and shape shifter. In between performing some of his hilarious rap songs ("Phone Zombies"), he contrasts his interactions with coffee shop patrons in Calcutta to his encounter with a violent felon who belongs to the Aryan Brotherhood on one fateful night in Nebraska.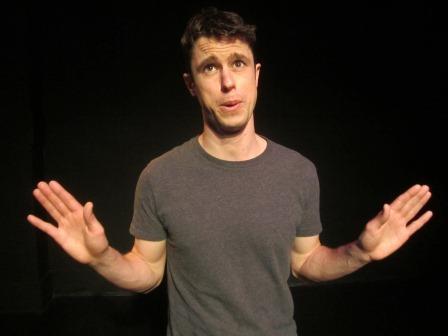 Dan Hoyle in Each and Every Thing (Photo by: Patti Meyer)
Whether imitating a much younger version of himself learning how to watch television or mimicking a black street hustler named Coco (who has a wicked sense of humor), Hoyle's ability to capture the spoken rhythms of the people he has met in his travels and craft them into compelling vignettes is often astonishing. His work is literate and riveting, hysterically funny, fluid, and filled with pathos. His ear for foreign accents and regional dialects is uncanny.
The skills which Hoyle employs to carry on a conversation with his stoned roommate, Pratim, while driving through the Midwest are no less impressive than his ability to portray the various characters attending a Digital Detox retreat in Northern California. Watching him perform makes it easy to believe that Robin Williams has some pretty stiff competition.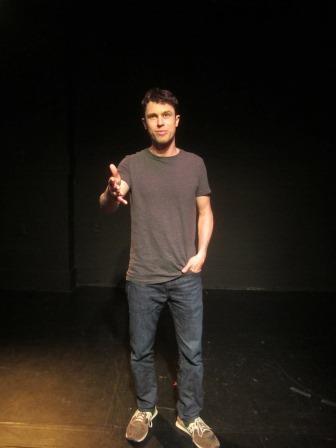 Dan Hoyle in Each and Every Thing (Photo by: Patti Meyer)
Over the years, Hoyle has a developed a loyal and loving following. Photos of him dressed in the simplest of street clothes cannot convey the energy of his performance, the laid-back grace of his storytelling, the depth of his characterizations, or the kind of relaxed charisma which makes audiences fall hopelessly in love with him.
Part of Hoyle's appeal is the simple knowledge that his audience is in the hands of a master storyteller and will leave the theatre enchanted, entertained, and dramatically fulfilled. In his author's note, Hoyle writes:
"I would have never guessed this play would emerge when I began writing it two years ago. And yet I've been researching it for the past decade. What a pleasure to revisit dormant material (Chicago MiniDisc recordings, that night in Nebraska, my newspaper route) that had been traveling with me all this time. And a thrill to observe the dawn of the digital age. As with all my best 'subjects,' at some point they become collaborators, and Pratim shares this stage in more ways than one. As I always say, what you'll hear tonight is a blend of sometimes several people's words and my own writing in the service of the larger truth of my experience. For now, I ask you turn off your devices, be present for the secular humanist church that is live theater, and take this journey with me. Your phone will be waiting for you on the other side, I promise."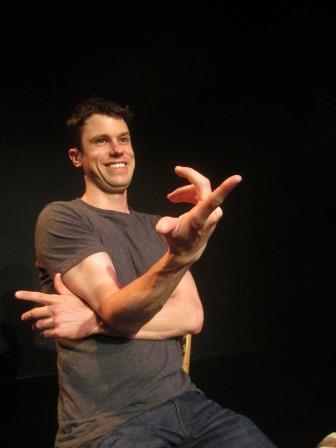 Dan Hoyle in Each and Every Thing (Photo by: Patti Meyer)
Performances of Each and Every Thing continue through October 4 at The Marsh (click here to order tickets).
Popular in the Community