When Archie Comics announced the arrival of Roberto Aguirre-Sacasa, he of Glee fame as Chief Creative Officer, it felt very gimmicky. Especially when the first offering was a series called Afterlife with Archie that had a very trendy zombie theme. Well, what I read was a game changer. Archie's one of those brands that I've never quite identified with and have found many of their past efforts (especially illustration wise) to be limiting. It takes a truly innovative, creative force like Aguirre-Sacasa to breathe new life into these archetypes. And especially with the recent release of Chilling Adventures of Sabrina, he's done just that. I spoke to him about my new comic obsession.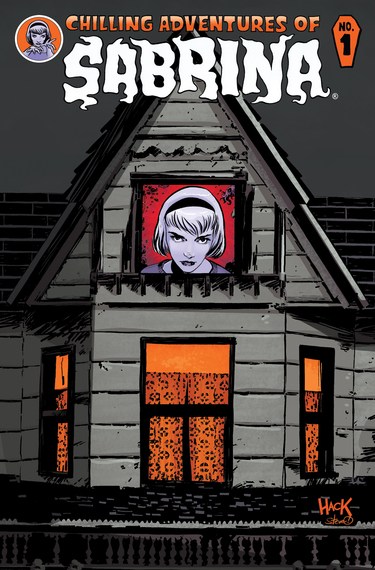 Sabrina and After Archie are amazing, and I'm not an avid Archie reader--how have you managed to fuse the genres and make it work, or from your perspective have there been narrative threads there that you've just connected the dots?

Teenagers and horror are just a natural fit. To me, it's as simple as that--though it took the success of "Afterlife," and people pointing out the fact that teenagers have been dying in horror movies since the 1950's, for me to realize it... Also, horror movies traffic in archetypes--archetypes the "Archie" characters helped establish in popular culture. And people have an emotional attachment to these characters--even if they don't read "Archie" comic books on a regular basis, they seem to "know" the characters--which means they're emotionally invested in what happens to them. So the more dire things get for them, the more people care. It became this perfect fusion of genres.

They're both dark, but have lots of heart--is this the first time Sabrina's origin has been told?

I haven't read every single "Sabrina" comic book out there, but as far as I know, this is the first time Sabrina's origin is being explored in such detail, beginning with her birth. And you're right, both books definitely try to balance the darkness with emotionality and heart. Every story we tell in "Afterlife" has to be A) a great horror story; and B) a great "Archie" story. The essence of Sabrina is that she's both a witch and a teenager, so every story has to weave both of those elements together. In fact, I was gonna send Sabrina to hell in the first issue, and my cousin was like, "No, no, high school is already metaphoric hell, you don't have to send her to literal hell." So I'm holding off on that, but just for a little bit.

You used so much Lovecraft in the last issue of After Archie and yet it fit perfectly; is that something that you've always wanted to do?
Very early on, (After Life artist) Francesco Francavilla and I talked about doing an all-Lovecraft issue. That's why in Issue # 1, Sabrina steals the Necronomicon from her aunts--the Necronomicon being, of course, a Lovecraftian creation. I didn't know how, exactly, we were going to introduce elements like the elder gods and Cthulhu, but I had faith we'd get to them, somehow, and I knew it would somehow involve Sabrina. Once I had the idea to introduce Lovecraft as an actual character, the issue came together quite quickly.
REAL LIFE. REAL NEWS. REAL VOICES.
Help us tell more of the stories that matter from voices that too often remain unheard.