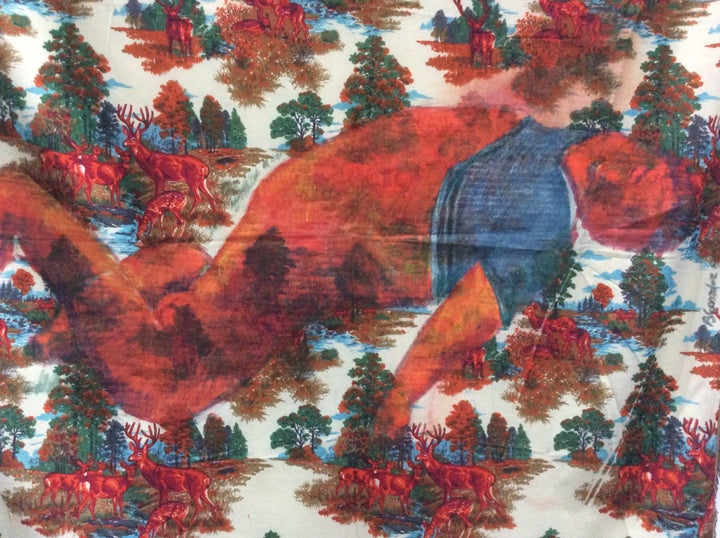 "Death and Transfiguration" is the name Richard Strauss gave to his transcendent orchestral tone poem at the end of the 19th century as Europe crept slowly toward mass death and industrial globalism. "Death and Transfiguration" is a series of internal reflections from an artist on his death bed. Beatrice González, at 79, has spent a lifetime using cloth, canvas and wood to meditate on a century of death in her native Colombia. Dead and delirious bodies float in and beside their transformative crypts defining a nation awash in loss and transfiguration.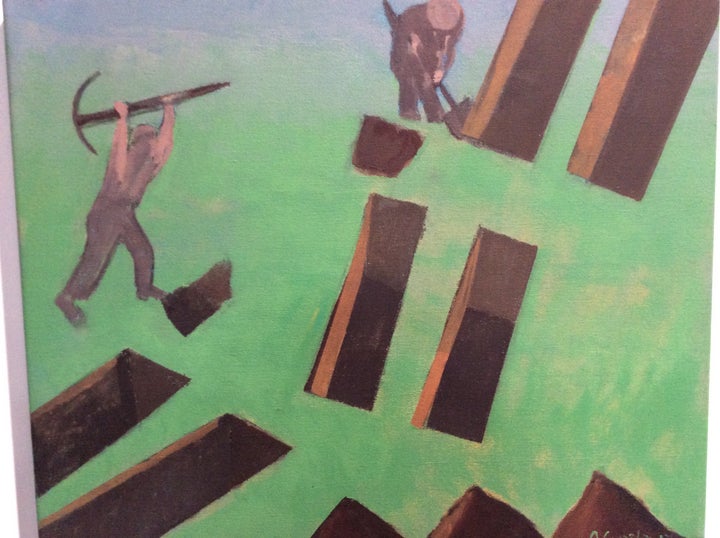 González's work occupies two floors of the always provocative CAPC (Center for Contemporary Plastic Arts) at Bordeaux, just off the waterfront. It takes time to fully absorb her work. A seven meter long series of greenish boxes atop a white wall suggests Greek or Egyptian geometric insignia—until you look more closely at their repetitive, angular form and realize these almost playful objects are plain pine coffins. Another series of images, rendered in paint, paper and "stop signs" seems to show hunters carrying home a wild boar. Little by little as you look at her sketchbooks, her crayon and her charcoal studies, it hits you that these gaunt silhouetted figures are not hunters. They are survivors carrying back the corpses from Colombia's "La Violencia" – ten years of internal, concentrated, collective murder in the context of what Gabriel Garcia Marques called "the hundred years of solitude."
González is a master of solitude—in her flat muted colors, in her repetitive studies of grim politicians at a party, or even in her oddly joyous renderings of suicides and languorous dead bodies draped in flowering fruit trees.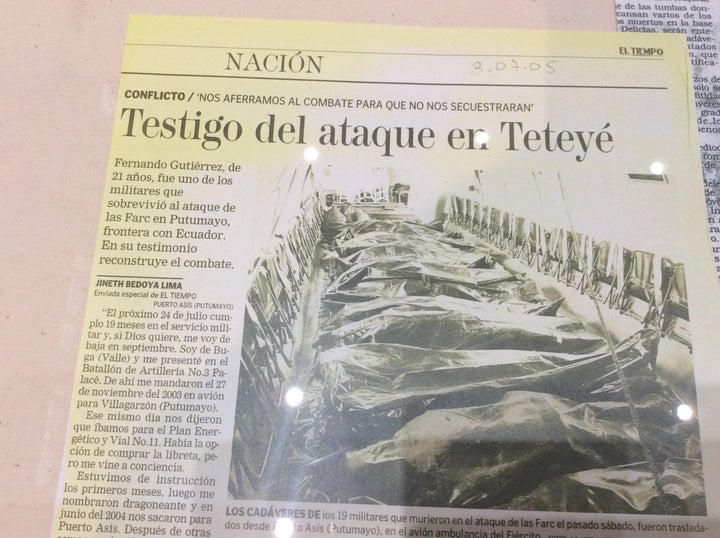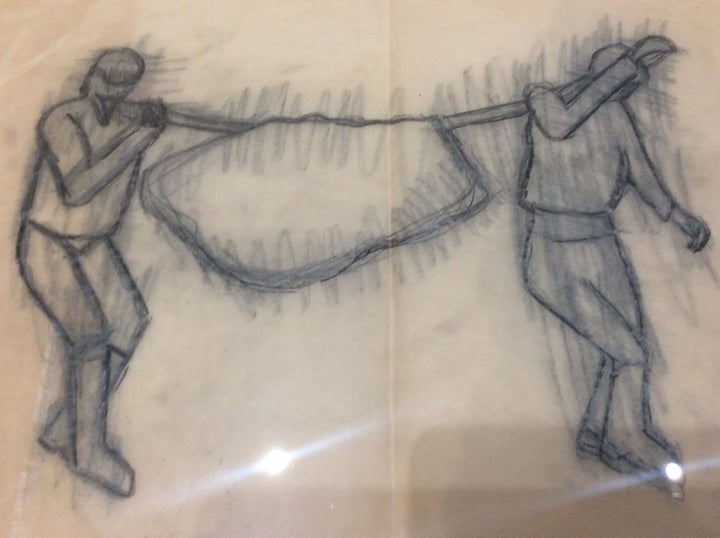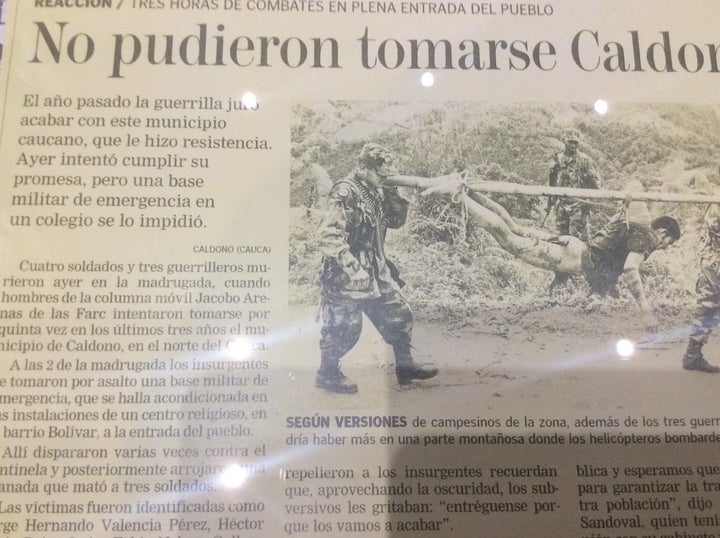 Much of her work derives from popular newspaper clippings—notably the showcase painting of a young couple who have just met and fallen into sublime love with each other—so sublime that they've had a photograph made of the two of them embracing and holding each others hands so intensely that their fingers appear to merge and dissolve into one body. Then they committed mutual suicide.
Death, presumably, equaled incorruptible transcendent love in an orchard of killing. The panorama of death during "La Violencia" drenched the nation as the county's two dominant parties, the Liberals and the Conservatives, degenerated into mutual murder operations between 1948 and 1958. All the while, the dominance of multi-national agribusiness corporations, most notoriously the US-owned United Fruit Company, plunged the agricultural workforce into a seemingly endless cycle of poverty and near starvation, its workers paid in chits that were only honored at company stores.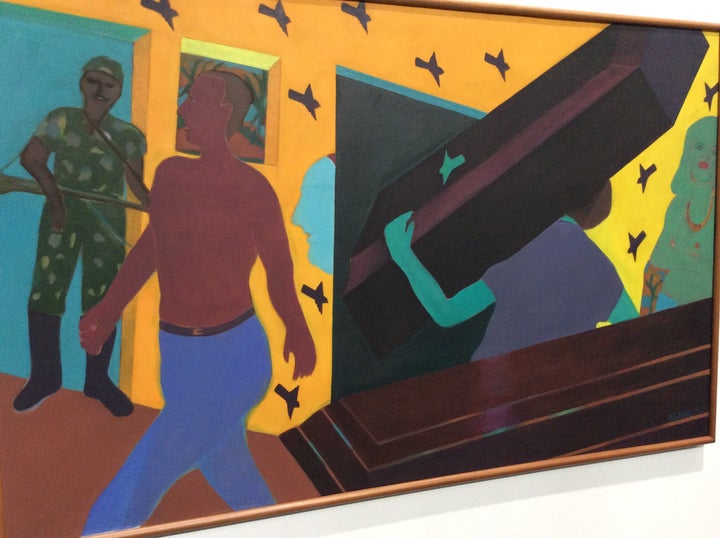 Strikes were summarily quashed either by the US supported military or the private militias financed by the northern corporations. Across four decades an estimated 300 to 400 thousand people died, including victims of revolutionary cells and later the cocaine trade that fed the appetites of many of Hollywood's most famous stars.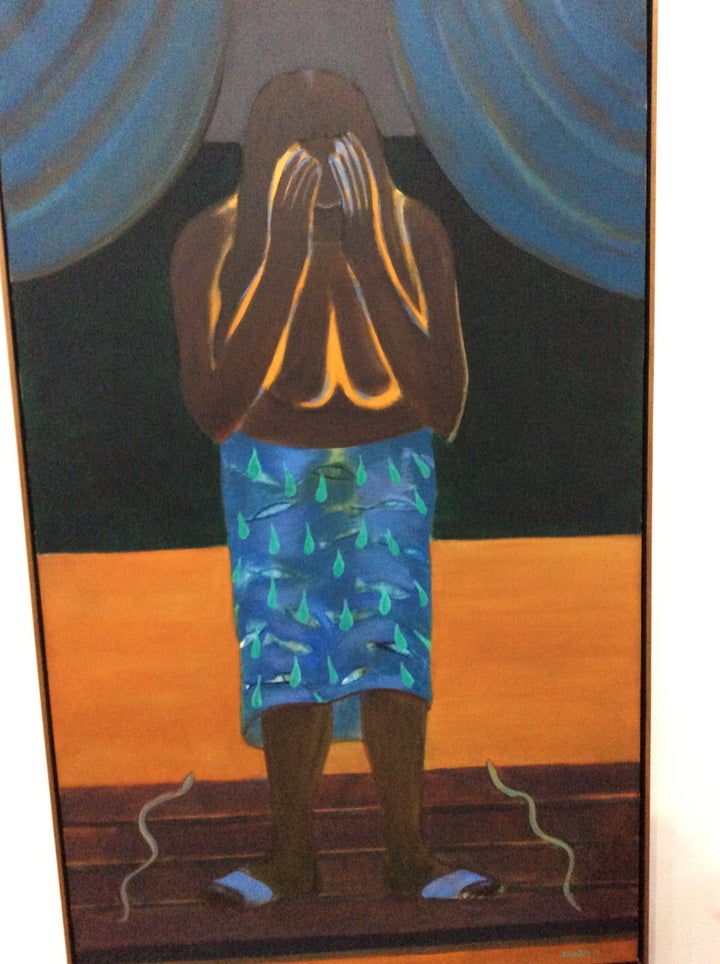 Beatriz González'a pieces make scant if real reference to the role of the US in Colombia's relentless slaughters, but the sun and shadow of America permeate her work—even in pieces of dark irony, like a painting of Jackie Kennedy Onassis on a camel, entitled "Jackie Oasis."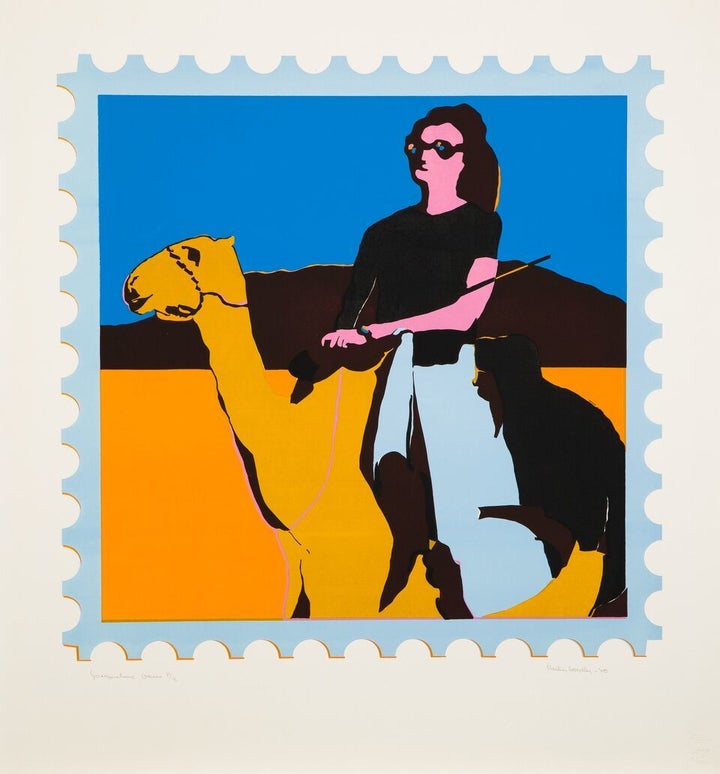 Dark humor is indeed everywhere in her work, including a glittery collection of lacquered household furniture—beds, chairs, stools and a hat rack where a shiny Mona Lisa has replaced the usual mirror. Several painted beds present oddly disturbing versions of kitchy Hollywood style children's stories. The contrast between her ironic high lacquer furnitures and the flat tonality of her death paintings is at once distancing, deeply intimate and at times oddly playful, notably in a series of society women who have slashed their own throats. We're inclined to see these images as distant and remote darkness—until we remember that roughly 33,000 Americans are killed each year by firearms—a slaughter house unparalleled in Colombia or any other nation.
MEANWHILE, around the corner at CAPC there's an intriguing assembly of stones, papers, paintings, photographs and projections that unite geo-physics, sculpture, and art history, including the conversion of the building itself from a one-time commodities warehouse into its current life as a museum.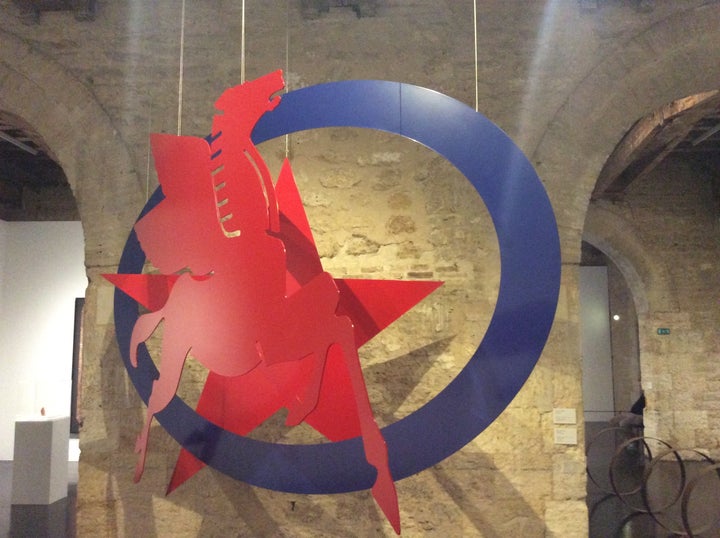 Rayyane Tabet, Three Logos, 2013
Entitled "The Matter of Matter," it includes the work of 30 artists, assembled and mounted by a Spanish team, Max Andrews and Mariana Cánepa Luna. They call themselves Lattitudes; they aim to excavate the world we inhabit daily, be it through the history indigo mining in Mexico and southern France (vital for fine pottery and coloring bluejeans) or oil extraction in Venezuela, gas infused sculptures or open pit diamond mining in southern Africa. All that we do, all that we eat, all that we create derives from one form of excavation or another. Simple truism as it may seem, Lattitudes takes us into the intimacies of our relation with this earth and calls us to meditate on our physical and aesthetic relation to the steadily warming round rock that is our home.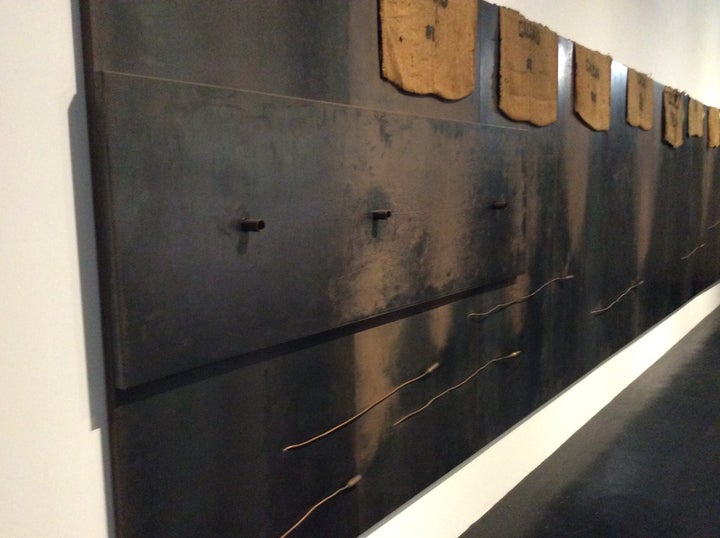 Jannis Kounellis, 1985 (gas, minerals, coffee), CAPC Collection
All photos by Frank Browning unless otherwise credited.
Support HuffPost
The Stakes Have Never Been Higher
Related
Popular in the Community