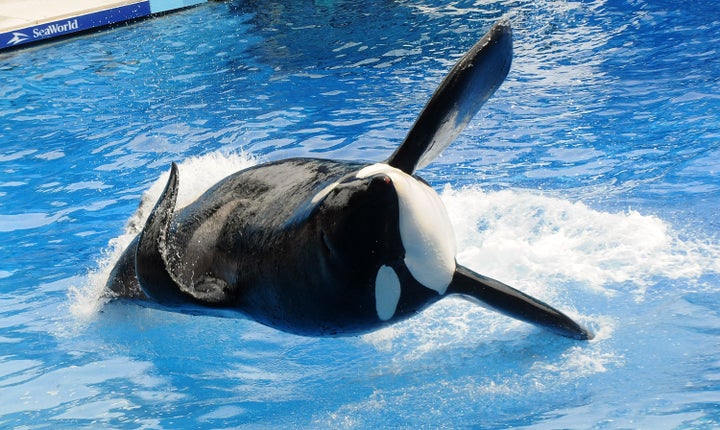 On Thursday, a federal judge ruled against the husband and family of Dawn Brancheau, the trainer who died in February 2010 at SeaWorld. The family had moved to seal video and photographic evidence surrounding the death of Brancheau, who was killed by the orca Tilikum in Orlando. U.S. District Court Judge Gregory A. Presnell rejected the family's motion for an injunction, ruling that their legal argument was "murky, to put it mildly," and that "None of the statutes purportedly relied upon by the Plaintiffs can provide them with the relief they seek."
This coming Monday, a courtroom in Central Florida will be mobbed with media and members of the public to witness one of America's most beloved theme parks, SeaWorld, fight back against the federal government and the Occupational Safety and Health Administration (OSHA), which slapped the company with a "willful neglect" violation and a $75,000 fine in Brancheau's death at SeaWorld. Trainers there have not performed in the water with killer whales since Brancheau died.
It is not clear if these images will ever be seen by the public, though the judge in the OSHA hearing said he will not permit a public display of the videos or photo stills, according to the Orlando Sentinel. Nonetheless, OSHA has been flooded with requests for the materials through the Freedom of Information Act. That, paired with Judge Presnell's ruling, makes it quite possible they will be released.

This is obviously an emotional and highly charged story, with worldwide interest. Public access to these images will certainly be painful and devastating to all who loved Dawn Brancheau. It is, by all accounts, a brutal record (there are two sets of videos, and I believe it is the less graphic one that can now be released). The autopsy report alone will give one some idea of the ferociousness of the attack.
I sympathize deeply with Dawn's family and know that I would not want my own family to endure the release of such images. On the other hand, they are evidence in a federal trial and, as Judge Presnell ruled, part of the public record. I know that television outlets will have the decency and good taste to cut or blur out the most unwatchable portions of Dawn's death and aftermath. I fear I can't say the same for the Internet.

But the airing of carefully edited video is essential so that the public may know the real risks involved in working so close with captive killer whales, the ocean's top predator -- in this case a 12,000 pound bull with two human deaths already on his rap sheet. I feel for Dawn, and I feel for Tilikum. Neither one of them should have been allowed to be in such close proximity to the other, in my opinion, and that of OSHA as well.
The larger question is whether killer whales should be kept in captivity at all, which is something I explore in my upcoming book, Death at SeaWorld. For now, the most immediate questions are:
Should the public have access to these images? Federal Judge Presnell thinks that it should.
Should trainers be allowed in the water or, in Dawn's case, onto a shallow ledge in the water right next to a killer whale like Tilikum? On that, I will let readers be the judge.
Dawn Brancheau was the fourth person to die in a killer whale pool. Dozens more have been injured, some quite seriously. There is only one known case of a killer whale injuring a human in the wild in all recorded history, and no deaths. In that instance, the whale probably mistook a surfer in a wetsuit for a
seal, and quickly released him.
SeaWorld is fighting for the right to put trainers back in the water with its killer whales. OSHA is fighting to uphold a violation that its agents issued with the utmost sobriety and due diligence. And the fight over these images may continue in other courts, who knows?

Stay tuned, it's going to be quite a week in Orlando.
David Kirby is the author of Death at SeaWorld - Shamu and the Dark Side of Killer Whales in Captivity (St. Martin's Press).
Related
Popular in the Community