Olivia Bareham is a death midwife. Just as a birth midwife helps bring someone into this world, a death midwife helps them depart from it. Bareham's mission in life is to change the way we think about death.
"Most of us think death is a scary thing to be avoided at all costs," Bareham said. "But watching my mother die completely fearlessly had a huge impact on me. She knew where she was going, and she was ready."
When the hospice nurse in England invited Bareham to help bathe her mother's dead body, it sparked a desire in Bareham to help others die with the same courage, honesty and awareness as her mother.
Six months before she died of ovarian cancer, aged 82, Rosemary Olive Bareham's doctor asked if she'd like to try another round of chemotherapy. She said, "No more of that nonsense, thank you."
"I cradled my mother as she cradled me as an infant, and I had this profound experience of love and continuity. After we bathed her body, we dressed my mother in her burial gown... ceremoniously, quietly, graciously and mindfully. The tears that flowed were not of grief but something cracking open. That's what I speak about in my workshops. It's this cracking open into a bigger place in our psyche that I want others to experience."
So began Bareham's work with Sacred Crossings. Now Bareham and others like her are reclaiming the lost art and healing rituals of a home funeral, which include conscious dying, bathing, dressing, anointing the body, laying it out in a place of honor and inviting people to look at the body to say goodbye.
Living in Los Angeles, Bareham has guided families through the many different religions, cultures, ideas and beliefs about death, "I respect all of them and have been involved in most. I hold open the space for the family to have the experience that they want for themselves."
Bareham's work has evolved from helping others as a home funeral guide to teaching the art of dying.
I teach people how you can care for loved ones who have taken their final breath. I've helped 55 families so far, and Los Angeles is a big city. When things get busy and I have three families in a week, it's just not possible for me to do it by myself. I don't want to create a whole other industry. My goal is to empower, inspire and uplift people to do it for themselves. When that starts to happen, I'll feel we've achieved our goal as a home funeral movement.
You can have a home funeral in all states apart from Connecticut, Illinois, Iowa, Indiana, Louisiana, Michigan, New York, Nebraska and New Jersey where it's the law to hire a licensed funeral director to arrange certain aspects of your loved one's funeral.
According to Bareham, the ideal amount of time for a home funeral is three days, during which the body rests on dry ice to keep it refrigerated while the family builds a pine box or decorates a simple cremation casket. Bareham brings art supplies for the family to decorate the casket. And you can drive the body to the cemetery or funeral home yourself.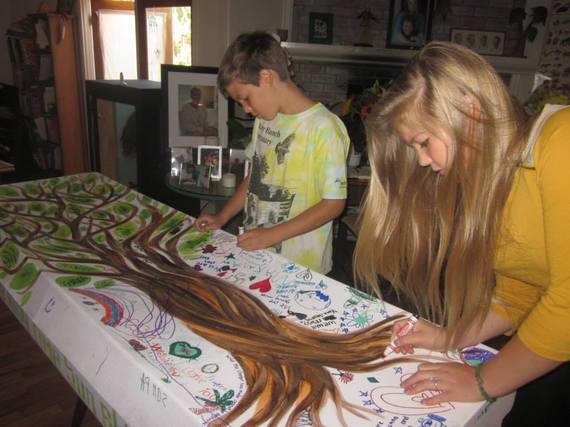 "It takes three days for the psyche of the bereaved to come to terms with the death. And to get the legal paperwork done," said Bareham. "Let's give ourselves three more days after death to experience and fully embrace what has just happened, then we can begin to accept our own mortality better."
The average cost of a full service funeral is $7,300. Home Funeral Guides usually charge between $500 and $1,200 for ministerial or consultation services. A home funeral costs about $2,000 in total. This includes the casket, transportation, filing paperwork, ministerial guidance for body preparation, a three-day vigil and the cremation itself.
Even if someone dies suddenly and the coroner carries out an autopsy to determine cause of death, you still have the legal right in most American states to bring the body home and file the paperwork yourself.
Bareham hasn't yet decided how she would like her own death to be.
I'm still fully investigating the myriad beliefs, customs and practices that are available. It's still cooking for me. I think it's actually cooking for most people, but nobody actually stands at the stove and stirs the pot. I'm inviting people into the kitchen and saying, 'Look, this is death. It's there for all of us. What do you want yours to turn out like? I just spent an incredible two days with a lady who I'd been visiting every week for the last year and a half. She was 52. We had more than a hundred people in her back yard. She was laid out in her bedroom and everyone went in to see her. All were transfixed and transformed by the experience of seeing a dead body in their own home. She looked stunningly beautiful and so peaceful. Then they went back into the garden to sing to her and celebrate her. This is how it should be. It's wonderful and it's organic.
Bareham holds strong views on embalming. "It's not required by law and it's not necessary," she says.
It's a practice that was started during the civil war. We have dry ice now, which we didn't have at the turn of the century. It's so much better. There's no invasion or compromising of the body with piercing, and no health hazard with possibly contaminated body fluids draining into the water system.
Dry ice costs about $1.50 a pound. Bareham gets hers from Smart & Final and usually uses $80-worth for a three-day wake.
Bareham would caution anyone against setting up shop as a death midwife unless you have gone through your own healing process. This is not for the squeamish, she says. "It requires a level of awareness and consciousness that takes a real commitment to a spiritual path. It doesn't have to be a religious path, but a deep spiritual inquiry into who you are. What is your service to humanity?"
Marlou Russell, PhD is a psychologist, marriage and family therapist and a certified grief counselor. In her 20 years in private practice, she has found that people really don't know how to talk about death or how to allow themselves to be a part of it. "Which is surprising," she said, "because we're all going to die."
Some religions do, but most people don't have the words, procedures or rituals for it. One of my intentions is to get more comfortable with this thing we're all going to do. Because I believe if you can embrace death, you can appreciate life more.
Russell doesn't want to be a death midwife or a home funeral guide, but is doing the Sacred Crossing three-day "Conscious Dying" workshop beginning December 6 in Los Angeles so she can benefit her clients who are grieving.
Bareham's Death Midwifery training is a three-part program over three weekends: Conscious Dying, After Care of the Body and the Home Funeral Celebration. Each weekend costs $350.
"It's a nice use of the word 'midwife' to help people through the death process. To know that you are being taken care of and that someone is helping and shepherding the people around you to be present. That's a really wonderful gift," said Russell.
REAL LIFE. REAL NEWS. REAL VOICES.
Help us tell more of the stories that matter from voices that too often remain unheard.