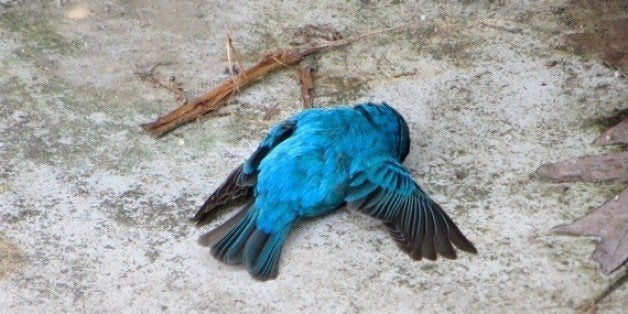 There was a dead skunk in the middle of the road. Behind her were two dead kits. I took a deep breath, only normal road kill. Another day, an Indigo Bunting flew into a closed window breaking its neck.
There are times when, even with intense clinical training and small group process and support and disciplined self-care and expertise, death becomes intolerable. Any death.
Even with profound faith group nurture and prayer, the support of a wise and seasoned team, part of our humanity is the realization that no one is immune to horrors and complexities of death. It's not normal to wish to die. Or, to work with death, to chaplain those traumatized by the killing fields of war, planes falling out of the sky, regular mall and movie theater shootings, or the increasing strength and duration of Big Killer Weather.
Hypersensitivy to death is one of the classic symptoms of PTSD and secondary PTSD for those who have participated or been exposed to mass fatalities regardless of the cause. What about those who seek, like chaplains, to support those who respond to provide life-saving emergency services to those impacted?
So, why do you want to respond to a catastrophic disaster? That generally is one of the simple screening questions asked of prospective volunteers who wished to be sent to past transportation incidents and mass fatality natural disasters. One feels called to help, called to respond. The same call that one feels to work with the sick and injured, the poor and hungry, the challenges of physical, emotional, and spiritual health.
Those who wish or feel that one should be "inside the circle", and, not on the outside or perimeter looking in as others walk around Ground Zero. For some well-intentioned, big-hearted folks, it's all about access. What does it take to be credentialed and why is the bar always set so high?
Some further thoughts....
One knows that if you are in close proximity to a natural or human-caused disaster, you already are a first responder by being in the wrong place at the right time, or right place at the wrong time, and so forth. One is also a victim and basically needs to get out of harm's way. You can help with immediate needs, i.e. getting the kids out of the school bus, but then you become a liability in due order and 'get in the way' of those specially trained in search and rescue, search and recovery.
For disaster spiritual care managers as well as medical center pastoral care directors, management is sacred. Managers must assess needs and resources in order to limit the exposure to trauma of their team of chaplains and CPE students to determine a care plan and that benefits those entrusted in our care. That includes our patients and clients, as well as our staff and team members. That also includes our families and loved ones, as well as the families and loved ones of those in our care. Some of whom have just experienced the sudden, unanticipated death of a loved one.
Some of whom will be forever changed, and, for some, forever defined by the plane crash, the tornado in the night, the explosion, and the gun shot.
Fast death takes your breath away. Being with those who have experienced the loss of a loved one by sudden, traumatic injury, takes an immense skill set and not just a credential like FEMA 101.
There are many responders and chaplain companions who have no choice and are subject to repeated exposure to death and dying. Hospice chaplains accumulate valuable wisdom and experience working with Slow Death, illness and infection that will terminate for some in labored breathing and pain medication, and, if surrounded by family and no unfinished business, the possibility of experiencing 'the beautiful death'.
Hospice chaplains, in my experience, have been notable recruits for disaster response...a faster death for many...as they have many transferable skills and understand a chaplaincy of 'presence'.
I admire and honor many police and fire chaplains and military chaplains I've circumstantially met. I've had the privilege to present at their national conferences and work as members of training and planning teams who advocated for a common operational field, an infrastructure of partners making immediate sense of the destruction, and where the competition to care is addressed and best practices established.
One of the most valuable principles: the closer one may be assigned to disaster victims and their loved ones, the higher the professional credentials needed. And, those credentials are based upon experience and training, skills gained from presence and use in disaster settings whether it is in the emergency room or flood plain, a burning nightclub, or bloodied classroom.
Yet, I have realized that there may be no such thing as a 'perfect' response. Where all get the help and support one needs by a sensitive and gifted team, and one returns home celebrating and mourning and accepting the new reality, the new normal, wounds mended and healed.
Sometimes, catastrophe comes to the chaplain. To the caring professional who has dedicated his or her life in the service of others through faith and commitment. The disaster is here, not there. The sky fell here on the chaplain or the chaplains loved ones.
Ten years ago, Hurricane Katrina devastated not only the Gulf Coast, the entire nation and globe witnessed our domestic horror of thousands dead and separated, assistance under equipped and staffed, spontaneous and delayed, and the unprecedented response of humanitarian assistance from around the globe. The story is still being written including our part, the chaplaincy part, the faith community response, the health and mental health care part.
I remember a young woman approaching me at a professional chaplains conference in the year after Katrina. She was a chaplain, a first-timer at the conference. She had only heard about the 80 chaplains that had responded to care for those profoundly impacted by the Gulf Hurricanes. Those who had been assigned to bless the dead after recovery teams had found and, those chaplains who were assigned to the temporary disaster morgue to provide family support. Those deployed to the baggage carousels at the New Orleans Airport where the old and affirmed were sheltered in the heat and, for many, darkness.
The chaplain from New Orleans had been at her hospital when Hurricane Katrina struck and had stayed to companion patients and staff. She was also there for her husband, who was dying from an end-stage illness who couldn't be evacuated immediately.
To be there for self and others. To be in unimaginable pain and suffering, caring for and hoping for sources and resources that didn't arrive in a timely or vital fashion.
She wanted to hear about the entire chaplaincy efforts that were unknown to her during and after the storm and power failures as the world responded to unimaginable needs.
If one had only known that our chaplain colleague was there. Was there with her dying husband in the middle of hurricane and the days after cut off from the world, the news and electricity, family and food.
Nine months later in Atlanta, all one could do was listen.
Calling all HuffPost superfans!
Sign up for membership to become a founding member and help shape HuffPost's next chapter