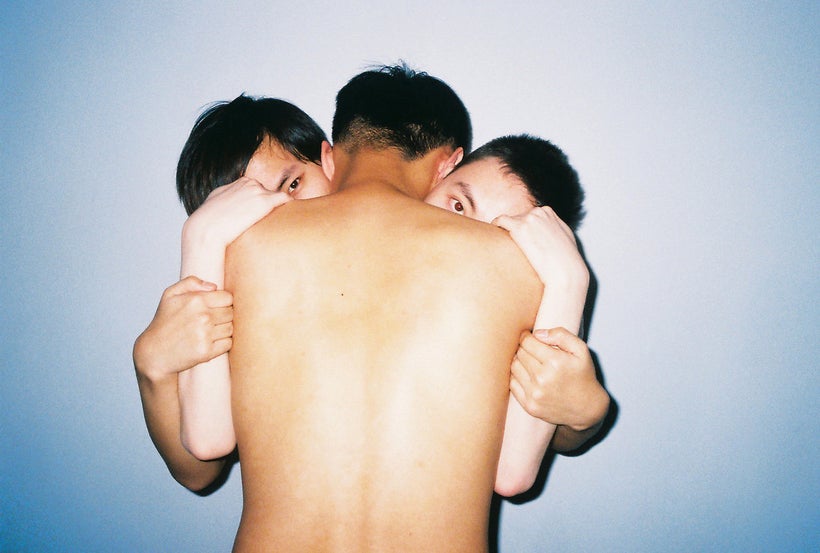 Clamorous wrath afflicts death, feeding newly ripe celebration. Ren Hang and I are the same age. It is vast feeling connected to such a bizarrely unique and quintessentially necessary stranger. The body begets its own restrictions, its exploration exploits freedoms. There are depths beyond its sticky fumble. Today is hurt, feelings focused; tomorrow may be the same. Everything is remembered. We transform. They are not wants or wishes, they are willed. Ren Hang embodies this, so does his work. Nothing stops—forward motion struggles on. Safety no more. Ren Hang's creations are his own, the works are inside illusions, we choose to believe them. We shall continue.
Wonder what you could become. Ren Hang's visions release the noble body. It is free of former expectations. Quaked in bright lights, unthinkable pose, place and day play on possibilities. How could there be any fear in a state of such prodigious naturalness? Naked bodies narrow scape are subjected to the phantasmagoric. His works have always been filled with phantoms. They are by no means clear—or easy—they're not meant to be. They aren't even all that erotic, but they are bizarrely incorruptible. All the parts are incredibly true to themselves. Figurative subjects removed of sexuality are filled with consideration.
Parts press together. A sound almost forms. Chaos becomes communal, not so much quiet as it is all consuming. What comes next? Everything catches up. Escape is inside; it is the only place to return. Feelings belong to flesh, that layer feeds mouths and minds. Pull out that covering and make new. Individuals may not be where they are meant. That's good—it means they tried. Pull out the body, take the body and don't want; it wants you. The past is an embracing reflection. Cast away doubt. Justify what's waiting.
REAL LIFE. REAL NEWS. REAL VOICES.
Help us tell more of the stories that matter from voices that too often remain unheard.
This post was published on the now-closed HuffPost Contributor platform. Contributors control their own work and posted freely to our site. If you need to flag this entry as abusive,
send us an email
.