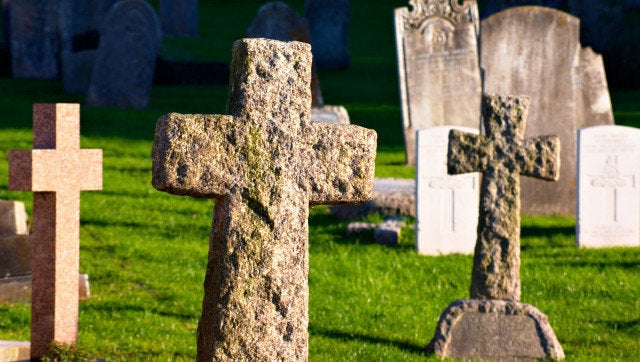 What does it mean to die?
When it comes to our own lives, few of us want to think about it.
But death surrounds us. Each year, 2.5 million Americans die. The causes vary, but among the racial, religious, economic and linguistic barriers that separate us, the inevitable end of life is one thing we share.
Having covered religion for several years, I've had the opportunity to write hundreds of stories on almost every topic that affects religious people: disagreements over shifting mores about sexuality, the role of women in religion, faith in politics, religion and science, and the growing diversity of our religious landscape, to quickly name a few. But the stories of personal journeys through life and the ethical, moral and existential questions that arise around death have been some of the most powerful.
We're in a moment of unprecedented change when it comes to the conversation about death. Death, once a private issue, has also gone public and political. Just take a look at the heated debates over "death panels," the resurgence of the movement to legalize assisted suicide, and the growth of hospice and palliative care industries.
At HuffPost, we've started to focus on stories about death. Recently, many of them involved how technology and social media are changing how we remember the dead. As I found out while reporting a feature on death in social media, Facebook, a site created to connect the living, has become the world's biggest online memorial with millions of profiles left behind by people who have died. I've also written about the curious case of a nephew who created a Facebook profile in his uncle's name more than 23 years after his uncle died. And I've covered MyDeathSpace, an unusual site where the morbidly curious browse Facebook and MySpace profiles of dead people they never knew.
But death goes beyond the web. Some of the most popular stories on The Huffington Post have been about near-death experiences, such as that of Eben Alexander, a Harvard neurosurgeon who says he saw heaven after going into a coma from a rare bacterial meningitis. With belief in next week's so-called "Mayan Doomsday" persisting, we've taken a cultural and historic look at why humans have been so attracted to apocalyptic scenarios -- a kind of desire for death. On a dedicated page, we're also collecting powerful eulogies for the dead.
In a recent meeting with Victor Chan, the founding director of the Dalai Lama Center for Peace and Education in Vancouver, he surprised me with a short anecdote. He told me that in the time the Dalai Lama spends meditating, the 77-year-old Buddhist dedicates hours each day meditating on his own death.
On a different end of the spiritual spectrum, that reminded me of the words of Pope Benedict XVI, 85, who spoke of death during his weekly general audience in November.
"Despite the fact that death is often almost a forbidden subject in our society, and that there is a constant effort to distract our minds from the thought of death, this fact of life involves each and every one of us, it involves humans of all eras and all spaces, before this mystery, all of us, even unconsciously, are looking for something that encourages us to hope, a sign that can console us, that can open up some kind of horizon, that can still offer a future," he said.
For him, that future rests in God and religion. But with the one in five Americans who said in a recent Pew survey that they have no religion, the world of views on life and death is wide open. I look forward to the journey of telling such diverse stories.

I'd love to hear your ideas for covering death. Comment below or email me.
REAL LIFE. REAL NEWS. REAL VOICES.
Help us tell more of the stories that matter from voices that too often remain unheard.