Sometime in mid-July, Anthony Dowdell put on his favorite plaid shirt, drove his Dodge pickup to the parking lot of a Sam's Club in Linden, N.J., leaned back in the driver's seat, and shot himself.
Nobody knows exactly when the 39-year-old, who went by the online moniker "Dare Dellcan," took his life. Nobody knows why the normally cheery creative director and design company owner did it. And for the first couple of days, few people besides the police officers who found his body on July 16 knew he was dead.
The day after the discovery, a message appeared on Dowdell's Facebook wall.
"I am a friend of Anthony's. I wish I could call you all to inform you personally and this is probably a crappy way to find this out but our dear friend Anthony aka Ant aka Dare Dellcan has passed away. It is confirmed. I live around the corner and I have spoken with authorities this evening … I am only sharing this because if I was Anthony's friend, I would want to know too. And I know that Anthony had friends all over the place."
Dowdell had 692 friends on the social network. They were in New Jersey, where he lived, New York City, where he was raised, and spread from Los Angeles to Miami. A few were in Brazil and Italy. As with most people on Facebook, they were former girlfriends and dates-turned-friends, high school and college classmates, co-workers. Many hadn't seen him in years. Most didn't know each other.
The message on Facebook, linked to a newspaper article about an unnamed man found dead in a truck in the store's parking lot, is how nearly all learned of Dowdell's death.
Dowdell wasn't close to his mother and stepfather, and "we knew from his family situation that there would not be any sort of memorial," says Jessa Moore, a 35-year-old friend who lives in Jersey City, N.J. "Facebook became our memorial. We could leave messages for him and each other." Moore has been posting memories of Dowdell on his page for four months. Friends upload photos of him and his dog, Bacon, and if they are at a restaurant or bar he would like, they "tag" his name so his Facebook profile shows that he, too, was there.
For some, it's been a painful experience to see constant reminders of Dowdell online, as if he were still living. Others have wondered if they're being respectful of his privacy. But for Moore, it's been cathartic. "For a month, I was there on his page every day. It just sort of kept us all connected," she says.
It used be that news of death spread through phone calls, and before that, letters and house calls. The departed were publicly remembered via memorials on street corners, newspaper obituaries and flowers at grave sites. To some degree, this is still the case. But increasingly, the announcements and subsequent mourning occur on social media. Facebook, with 1 billion detailed, self-submitted user profiles, was created to connect the living. But it has become the world's largest site of memorials for the dead.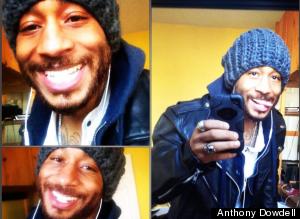 Dowdell -- "Dare Dellcan" on Facebook -- died in July.
Since the beginning of the Web, it's been plausible that pieces of information about people with Web sites and email accounts would be left accessible after they died. But the virtual cemetery is fairly new. One of the oldest online memorials is the U.K.-based Virtual Memorial Garden, which began in 1995. A simple, alphabetized collection of tens of thousands of paragraph-long, user-submitted memories of the dead, it's still growing. Since social media first gained mass appeal a decade ago with Friendster (2002) and MySpace (2003), online profiles have outlived their creators. But the skyrocketing growth of Facebook has created a new terrain for death on the Internet.
Dowdell is just one of an estimated 30 million people whose virtual profiles on Facebook have outlived them. By the end of this year, 3 million Facebook users' pages will have become memorial sites for their owners, according to calculations by Nate Lustig, the founder of Entrustet, an online company that helps people access and delete online accounts after someone dies. Lustig arrived at the number by culling data on the total number of Facebook users, their ages and geographic distribution, and international death rates.
There are clear rules for how next of kin can inherit or delete accounts on Facebook, Twitter, Instagram and the countless other online manifestations of ourselves that have proliferated. Usually, family members have to submit an obituary, news article or death certificate to verify the user is dead. But unless there's a request, the rules on death are rarely enforced on social networks. Facebook allows only the living user of a registered account to have access to it -- families can't get full access to profiles unless there's documented instruction from the deceased. In a rare case in June, a Wisconsin couple obtained a court order for Facebook to give them access to the personal messages in their 23-year-old son's account after he committed suicide.
It's easy to track who joins a social network, but it's hard to keep up with who dies. Some accounts exist in perpetuity. Others are shut down by friends and family who have access to passwords or prove their relationship to the dead, or by social media companies because of inactivity. Facebook is largely hands-off with dead users unless there are specific requests from families.
One unique site, MyDeathSpace.com, tracks social media profiles of the dead and maintains an extensive message board and Facebook page, where the morbidly curious can discuss the passings. The site, which has archives of 17,825 profiles of the dead, gets up to 11,000 views per day.
"Looking at the MySpace and Facebook profiles of the deceased that haven't been altered by family members is like looking at a snapshot of a person's life the moment before they passed away," says Michael Patterson, the 31-year-old San Francisco resident who founded the site seven years ago. "You can see what the person was into, what music they enjoyed and so many interesting things that were important before their passing."
Other services, such as Lustig's Entrustet, have formed to assist the living in planning for their digital legacies. One called My Wonderful Life not only offers digital estate planning, but schedules posthumous emails to be delivered to friends, coworkers and loved ones.
The Web is profoundly changing the life of someone's memory after their death.
"There aren't really any norms around death and social media yet. People are kind of making it up as they go along," says Jed Brubaker, a leading scholar in the relatively new field of digital identity and a doctoral candidate in informatics at the University of California-Irvine. "But what's known is that this Facebook generation will have more experiences with death than any generation before it. Because anyone you ever knew, people who have naturally faded from your life, will remain there and you will stumble into them and realize they are dead."
That's what happened with Dowdell. Moore, a communications student and actress, had met him six months before July 16. They first contacted each other on OkCupid, a dating Web site. There were no romantic sparks, but they became friends.
"We texted or talked or Facebooked every day. … He was supposed to come over for dinner that week," Moore says. But Dowdell's Facebook page, peppered with photos of him with dogs, pictures of his design projects and videos of him dancing, had been quieter than usual.
Since his death, Dowdell's Facebook has become a virtual memorial to his life. (Click photos to enlarge)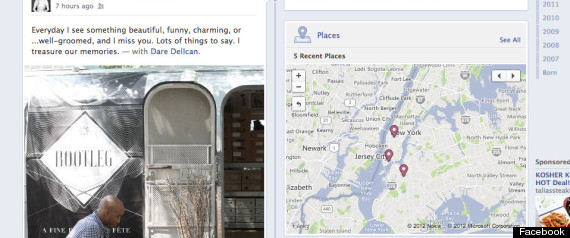 Moore didn't come across the post about what happened until a few days later. A friend posted a message on his Facebook wall after speaking to Dowdell's mother, with whom Dowdell had a strained relationship. He would be cremated with no ceremony. So Moore and a handful of Dowdell's friends began exchanging messages, planning for a celebration to keep his memory alive.
They posted photos of him ahead of the gathering: a dapper Dowdell at a friend's wedding, him with a good friend's dog, him wearing a blue baseball cap and posing with a friend, one that captured his fun-loving spirit: him sticking his tongue out in a grainy iPhone photo. On July 26, Dowdell was posthumously tagged at his own wake at Stout, a bar in Manhattan. "A gathering of the FAB ladies in honor of our dear friend Anthony (Dare). RIP, we love and miss you ♥ ," the friends wrote.
The page has been filled with similar updates since. Most times, the friends speak directly to Dowdell, as if writing on a Facebook wall will transmit a message to him.
"It's more for us than for him," says Moore, whose name is scattered throughout the page with her own postings and "likes" of others' words. She says she doesn't think Dowdell would mind. He loved being online. It's how he met new friends and kept in touch with old ones. "I remember saying to him once, 'You know, everything on Facebook stays on Facebook. It's not going to go away or disappear.' That's how he felt," says Moore.
Some would rather that not be the case.
In early August, Rohan Aurora, a 24-year-old biomedical engineering student and technology blogger who attends the University of Southern California, was on Facebook, reading news about friends back home in New Delhi, India. The routine is common and deeply important for Aurora. He posts photos and updates of his life -- announcements of internships and photos of mountain-climbing adventures -- and friends comment on them, while he does the same for them.
One friend from high school, Lalit Mendhe, had a photo posted on his Facebook page of himself in a hospital bed. He didn't look so bad, Aurora thought. "It didn't seem like he was very uncomfortable." So he made a quip on his wall, hoping to cheer up a friend stuck in the hospital, whatever the cause may have been.
"He had a habit of keeping long hair, so I wrote under the photo, 'Did you get a haircut?'" said Aurora. Not long after, he got a message in his inbox from another one of Mendhe's friends. Mendhe, 23, had been in a car crash. He died of cardiac arrest and liver failure in that hospital bed.
Aurora immediately deleted his comment. They hadn't been very close, but would meet whenever Aurora was back in India. Facebook had allowed their bond to survive. It's been four months, and while Aurora misses his friend, he doesn't want to think about his death all the time. He says Facebook is forcing him to.
"My roommates and I, we have a lot of mutual friends on Facebook. And it would keep on notifying them that they may 'know' Lalit and should add him on Facebook," says Aurora. "My friends would pull me over and say, 'Do you know him?' He's expired. It just doesn't look nice."
One of Facebook's most loved and loathed elements is the "people you may know" feature. Based upon your location, university or workplace and the people one has friended, Facebook employs a formula to suggest users befriend people they "may know," usually friends of friends. Above a link to "add friend," Facebook shows the name and thumbnail photo of the suggested friend.
"One of my good pictures with Lalit, it came up on Facebook and it asked me to tag and identify this person. It's not good. You are tagging him at the wrong time. When I go through my pictures, I see his comment. I am forced to click on his name and look back," says Aurora. "A Facebook profile is an indication that someone is alive. We need to respect one's privacy."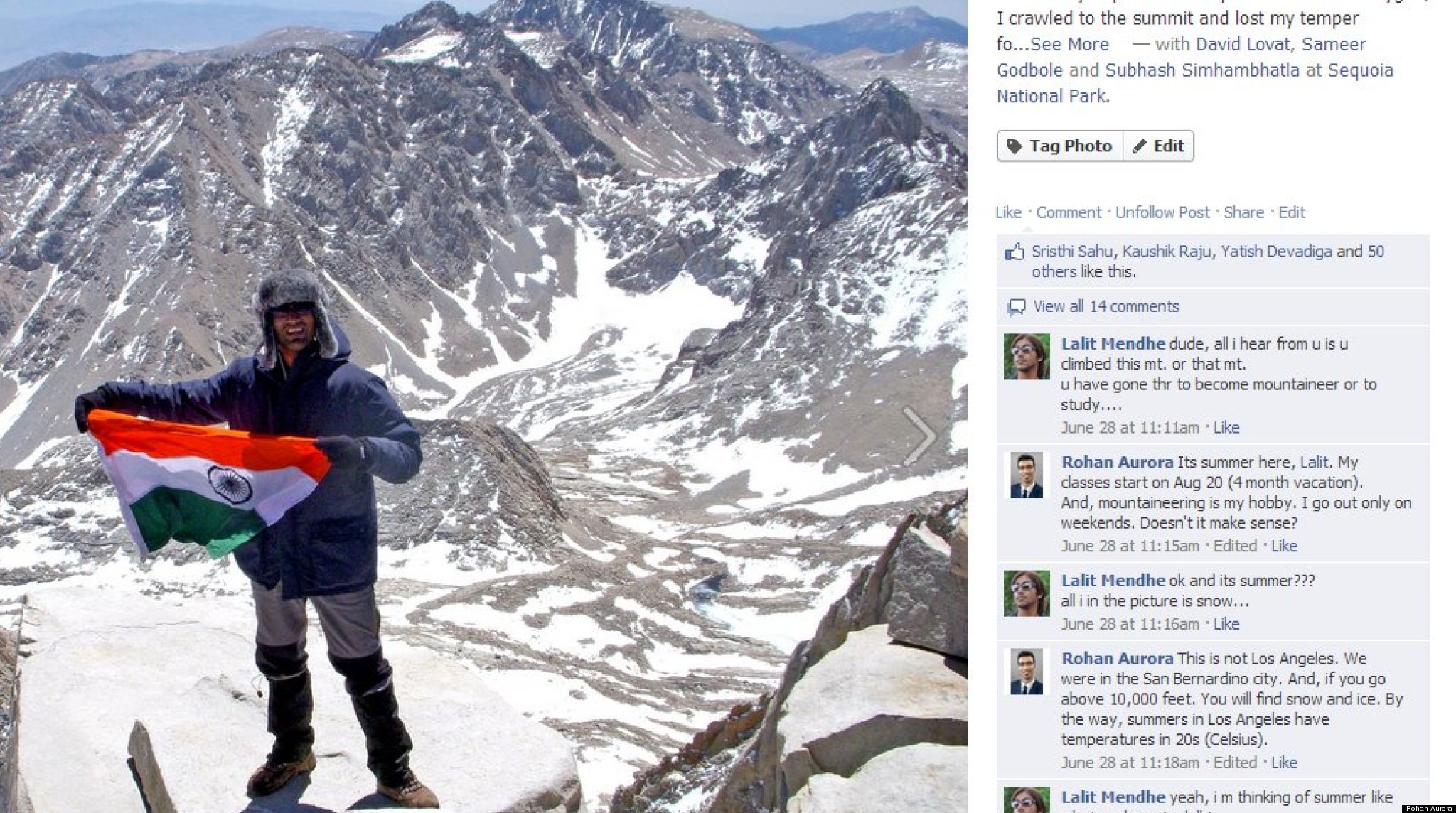 One of the last exchanges Aurora had with his friend before Mendhe died in August. (Click to enlarge).
"We believe we have put in effective policies that address the accounts that are left behind by the deceased," said Fred Wolens, a Facebook spokesman. "When we receive a report that a person on Facebook is deceased, we put the account in a special memorialized state. Certain more sensitive information is removed, and privacy is restricted to friends only. The profile and Wall are left up so that friends and loved ones can make posts in remembrance. If we're contacted by a close family member with a request to remove the profile entirely, we will honor that request."
Memorials can only be found by people who were already friends with the dead person (by default, Facebook accounts show up in Google) and the "tag a friend" and "people you may know" features are disabled. But the memorialization option is unknown to even the most social media-savvy and hard to find on the site. It's unclear how much the feature is being used. Wolens said there are no figures on how many formally memorialized pages exist.
"Facebook doesn't do a good job of thinking about death," says Brubaker, the scholar who studies death on social media. "It doesn't have that concept. There's no checkbox that says 'I am dead,' and when would you click it anyway? What does it mean for all these profiles to be lingering on of people who are dead?"
Evan Caroll, who co-founded a Web site called The Digital Beyond, is trying to fill that gap. Along with co-founder John Romano, a co-worker in the marketing business in Raleigh, N.C., the site has dozens of articles on how to plan for digital assets after death, from email to bank accounts and, of course, Facebook. The site lists more than 30 for-profit online services for digital legacy management.
"People really want to control what they leave behind -- and what's left behind of their loved ones," says Carroll. "But I think we are starting to see this shift in our feelings about death, where it will be less tangible but will be about situations where we can remember people whenever, wherever we want to and make them part of our everyday lives."
Aurora, who says he "wouldn't write on Lalit's wall" to say anything to his friend because he thinks he would violate Mendhe's privacy after his death, tried to submit his page to become an official memorial, but Facebook asked him for a news article to confirm the death. "I said if you come to his wall, you will see the RIP message." He forwarded the memorialization link to Mendhe's brother in case he had better luck.
For decades, the "five stages of grief," a model introduced by Swiss-American psychiatrist Elisabeth Kübler-Ross in 1969, dominated popular thought about experiencing death. The stages -- denial, anger, bargaining, depression and acceptance -- essentially supposed that people would eventually get over the death of a loved one. Some of that thinking continues today with the shift of grieving to social media.
In part, it explains why people such as Aurora -- who undoubtedly felt pain at his friend's death but was not in his closest circles -- would be ready for the profile of a dead person to stop showing up so often on Facebook. Aurora says his grieving process is done.

But it wouldn't explain why someone like Moore would be grateful to see her friend's Facebook account live in perpetuity. She would never ask for it to be removed, delete her words on his page or ask for a slimmed-down version of it to become a memorial. The stages of grief wouldn't explain why one would hold on to the account of a dead person, writing messages on it and checking for updates as if that person had never gone away. Or is Facebook the new phase of denial?
"Historically, clinicians may have looked at a Facebook wall and seen these people who are writing to the deceased as having not gotten over their attachment to the dead. They would say that by not letting go of that person they are not accepting the loss," says Brubaker. "But more recently, there's been this idea of 'continuing bonds' that takes strong issue with the notion that one has to 'get over' your relationship with the deceased. We always have relationships with the dead that continue. It's just that the nature of those relationships change."
Maki Podell is caught somewhere in the middle of these two ways of looking at death and grieving.
Two years ago, her husband Buff Herr went to his physician for a routine checkup. He ended up abruptly dying on the exam table. Culturally observant of Jewish traditions, the family didn't do an autopsy. Podell and their daughter don't know how Herr, who was 63, died. Podell, who lives in New York, buried him in Connecticut near her parents' graves. She rarely visits. But as a Facebook novice -- she had only recently joined it -- she was was "both shocked and interested" to see her husband's much more active Facebook page evolve into a tribute to his life. She was also taken aback by how people used the site to speak to her about his death.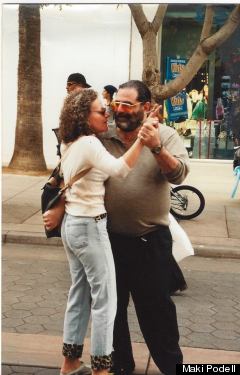 Maki Podell made this photo of her dancing with her husband, Buff Herr, into her Facebook photo after he died. She shares memories of him on her Facebook page, while his friends have created a memorial for him on his Facebook profile
"I had a friend send me condolences over Facebook. I thought, 'Wow, buy a card,'" says Podell, a 61-year-old corporate sales agent for Balthazar, a New York-based restaurant and bakery. "I don't think she meant any harm by it. It's just very impersonal.
"Some people didn't realize he died, so every May 4, they would leave 'happy birthday' messages. I would send them his obit notice," says Podell, who was with Herr for 34 years. "I don't know how real [Facebook] is. How much do you know about a person? Ultimately, it can be silly because you don't."
She looks at his Facebook wall about once a month. She reads through the messages friends leave for him -- and still notifies the occasional visitor who thinks he's alive. But she keeps her deepest thoughts about him private.
"I see people whose husbands are ill and the wives are playing out the whole scenario online. I just think you can overshare things sometimes. People's lives, maybe their deaths, shouldn't play out like that," Podell says. "But on the other hand, I think, who will be remembered? A couple of presidents. Some poets. And who will remember you? Kids if you are just a normal schmoe. And if you're lucky enough to see them, grandchildren. But that's it."
Podell says she has "a million memories" of her husband around her apartment. She can see his photos and his old letters anytime. Their daughter is 24, and they reminisce over the good times: Herr's obsession with red wine (he ran a wine blog), his 80-person Thanksgiving parties and his painstakingly cultivated backyard garden. But Podell finds herself going back to Facebook.
She looks over Herr's old Facebook photos, like the black-and-white one of him dipping his daughter on the dancefloor, and the one of him smiling, running his fingers through his hair while driving on a racetrack, one of his favorite hobbies. Known for his spontaneity, he once took her hand and serenaded her as they danced along a street during a visit to Los Angeles. A friend had snapped a photo and Podell recently made that her Facebook profile picture.
When she dies, she's not sure if she wants the same kind of activity on her own Facebook. As as much as it irks her to see some people pretend to know her husband when they didn't, remembrances posted by others have touched her heart.
"Maybe it's a way of pretending he is there on some level. It's weird, I don't even know what my own motives are," she said. "My father died when I was 17. The way we kept him alive was talking about him all the time. But there comes a point when that stops, and I think that it doesn't stop on Facebook. It just keeps going."
Support HuffPost
The Stakes Have Never Been Higher
Related
Popular in the Community