When I first heard about Tsugumi Ohba's Death Note I wasn't necessarily interested. At that point in my life my taste in anime did not extend past titles like Sailor Moon, Ah! My Goddess, and Princess Tutu, all of which are similar in their "magical girl" theme. Shōnen, or boy's comics, really didn't interest me. However, when I reviewed Viz Media's release of Blanc Et Noir, I fell in love with Ohba's art style, especially the drawings for Death Note. As a result, VIZ Media sent me The Omega Edition of the Death Note series on blu-ray to review.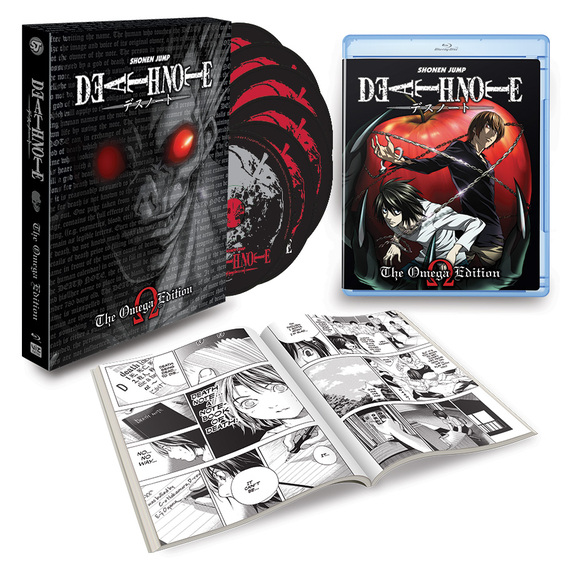 The story of Death Note begins when Light Yagami, the son of the police chief, finds a death note, a note book that kills any person who's name is written in it, which was purposely dropped by the Shinigami (Death God), Ryuk, because he was bored. Light tests out the note's powers by writing the names of two criminals he sees on the news and once he's convinced of the note's powers, he uses it to punish known criminals. This attracts the attention of his father, the FBI, and a special correspondent known only as L. Light's entire world is turned upside down as he's consumed by the power of the note and the notion of becoming a God in a crime-free world. Though technically fantasy, it's also a gritty cop drama that has so many twists and turns that you can't miss a moment or you'll end up completely lost.
The series is equal parts, drama, fantasy, and comedy, with just enough of a love story sprinkled in to keep things interesting. After the first episode I was hooked. Not only is the art exquisite, the story is interesting and complex and the dubbing well, the dubbing is fantastic, yes; I watch my anime in English (don't judge). While a lot of translations seem strange and odd in English, Death Note's English language script, produced by Ocean Productions, is not only intriguing it's flawless.
Not only does the Omega Edition contain the entire 37 episode series, it also includes over three hours of extra content, including interviews with the Japanese creators, behind-the-scenes footage with both the English and Japanese voice cast, production art, audio commentary, and more. It also includes both feature films and the original Death Note pilot, which appeared in Shonen Jump in 2003 #36.
Originally released be VIZ Media on March 1st, 2016 the series can be purchased online through retailers like Amazon and Right Stuff Anime and retails for around $52.99. If you're unsure about purchasing the series you can also watch it in both English and original Japanese on Hulu or directly through VIZ Media's streaming site. Either way, the series is worth the watch, I'm only upset it took me so long to realize this. It makes me nervous that Hollywood is currently filming a live-action Americanized film version staring Nat Wolff and Margaret Qualley currently in production through Netflix.
Calling all HuffPost superfans!
Sign up for membership to become a founding member and help shape HuffPost's next chapter