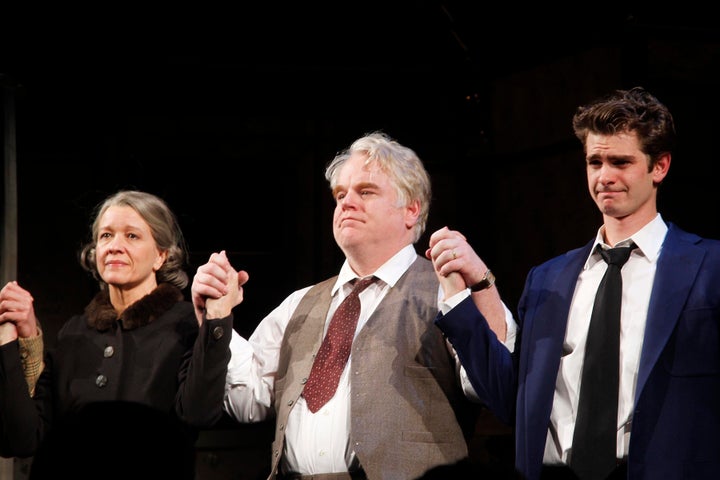 Ever since Lee J. Cobb first dropped those sample cases on the stage of the old Morosco Theatre on a cold February night in 1949, the role of Willy Loman in Death of a Salesman has been a magnet to American actors.
Leaving aside the debate on whether Arthur Miller's play is a great tragedy about the mirage of the American dream or an overblown melodrama about a dysfunctional family of losers, the fact remains that Willy Loman is one of the most complicated characters in dramatic literature, and great actors love nothing better than complicated characters.
Willy is a bad husband and a bad father and not much of a salesman either. He cheats on his wife, bringing his floozy a whole box of nylon stockings while his wife, Linda, mends her one pair at home. He lies to his sons, Biff and Happy, turning a blind eye to Biff's petty thievery while preaching that popularity is the key to success in life. He is a braggart and a bore, the sort of man you would cross the street to avoid if you saw him coming down the sidewalk toward you. He has traded his Chevy for a Studebaker.
There have been five Willy Lomans to drag those sample cases across Broadway stages, and countless others in regional theaters across the country. Of the half dozen or more Willys that I have seen, including the most recent Broadway incarnations, the only one to instill genuine sympathy for this otherwise deluded blowhard is the current one, Philip Seymour Hoffman.
One measure of the success of any play is whether the main protagonist learns anything, comes to some sort of self-realization about himself that mitigates his flaws and at least partly atones for all the errors of judgment that has brought him to this point in his life. In Miller's text there is little to indicate that Willy has ever had second thoughts about anything. Right up to the end, Willy has lived inside his delusions.
Yet there is a moment in the second act of the current revival when Philip Seymour Hoffman shows a side of Willy that I had never seen before. He is chatting with a now-grown Bernard, the kid he used to tease for being "anemic," waiting for Bernard's dad, Charley, to give him the $50 he has been taking weekly on a regular basis. Bernard idly asks Willy why Biff didn't go to summer school after he flunked math during his senior year in high school. Miller's stage direction simply says: "Willy stares in silence."
Hoffman stares at his hands, then the floor, then at some space in the distant past. He stares and stares. He uses that most dramatic of all the tools at the actor's disposal - silence - for maybe a full minute or more while he replays Willy's entire life. You can almost see Hoffman's brain rewinding the tapes, remembering that awful scene in the Boston hotel room, hearing his empty boasts, his shouting at his wife, his misguided advice, his taunting of Bernard, his excusing Biff's pilfering,
And in that long silence Hoffman conveys a sense that the old drummer really wants to know what went wrong, and that maybe, just maybe, he had a part in it. The actor, of course, cannot change his lines. But in Hoffman's superb performance, when Willy reverts to his blustering self-denial, the audience at least has seen a man with doubts. The chip on his shoulder perceptibly totters more precariously.
The two most recent revivals starred Dustin Hoffman, in 1984, and Brian Dennehy, in 1999. Each gave strong and accomplished performances, but they were somewhat predictable. Dustin Hoffman's Willy was brash and bullying; Dennehy's was stodgy and stubborn. There were other revelations, however, in those two productions.
In the 1984 staging, John Malkovich played Biff, the athletic elder son on whom Willy dotes, as a soft-spoken young man whose continued failed efforts to meet his father's expectations led to a self-realization of his own. At the outset one wondered whether he had conceived Biff as a closet gay. By the end, it didn't matter. Malkovich had indelibly altered the traditional image of Biff as a rough-hewn jock into a sensitive young man who had been misunderstood his whole life. I remember leaving the theater thinking the play was really about Biff Loman.
In the 1999 staging, Elizabeth Franz presented a Linda Loman of such unwavering loyalty to her husband that the audience winced each time Willy snapped at her. The way she rolled with every punch gained her a real admiration for her unflagging ebullience and optimism. When Franz unleashed her furious indignation over her sons' reprehensible behavior at the restaurant, the audience bridled with her. And if she had trouble crying at the graveside, the audience wept for her. I remember leaving the theater thinking the play was really about Linda Loman.
There is no confusion in the current revival over whom the play is about. While he has a fine supporting cast, especially in Andrew Garfield's portrait of Biff, Philip Seymour Hoffman returns the spotlight to center stage. Hoffman gives Willy Loman a dignity I had never seen him possess. I left the theater thinking better about Willy, that at the end he had come to understand that the most important thing in his life was the fact that his son loved him.
Who do you think has portrayed Willy Loman best? Let us know in the comments.
Calling all HuffPost superfans!
Sign up for membership to become a founding member and help shape HuffPost's next chapter