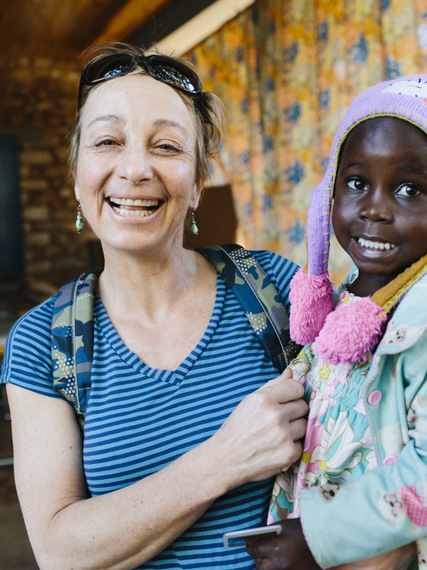 Death of An Artist Devoted to "Tikkun olam**"
In other words, making the world a better place.
My friend Lili Schad died on Sunday, December 20, 2015; she fought hard for 16 months against a vicious brain cancer and had moments of good quality of life, but finally was unable to be who she was and do what she did best...to be a good mama, sister, friend, artist, philanthropist, and valued community member. She died at home in a bed that was right in the living room where we sat for shiva (ritual Jewish mourning practice) to celebrate her life on Thursday, December 24, surrounded by loved ones.
I met Lili through a board member of my foundation, Worldwide Orphans (WWO) at least 10 years ago; she facilitated an early retreat for WWO and then she became our champion through generous gifts from her family's foundation in Canada. She was a Canadian for sure with that predictable even temper and steady commitment. We became friends and I enjoyed her very exciting, engaging, and dramatic art work.
Myself, my sons, her kids and their father, and the children of the family who introduced me to Lili, spent a few days camping on an island on Lake George one summer a few years back. We spent magical nights in our tents in late August, cooking meals over an open fire and philosophizing, while the kids were tubing and fishing.
Lili decided to take her son Simon and a friend's daughter, Arianna to Haiti with me two years ago for a service trip. What a week of adventure! Lili brought art supplies and the kids were busy doing all kinds of drawing, sport, dancing, and singing with the very poor children we support in Kenscoff, Haiti. We took a long and challenging trip by bus to a very poor church community in the mountains. It was a very trying experience, but Lili was up for everything...she wanted to learn and make the world a better place. Arianna's mother was at Lili's home when I came for shiva on Christmas Eve afternoon and she shared with me that her daughter was forever changed by the trip to Haiti. Lili was always changed by her travel to do good work.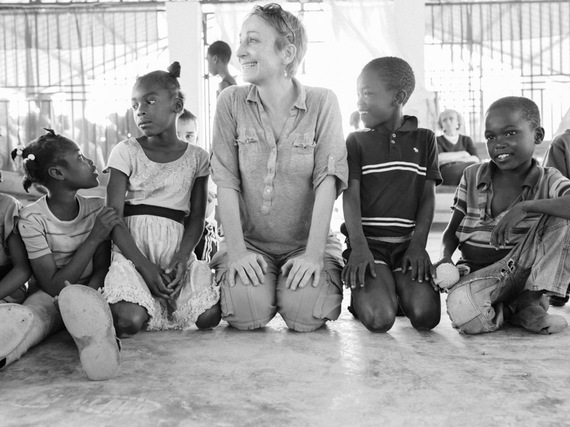 I drove to New Paltz to be with Lili's spirit; this was where Lili and her family have lived for many years after leaving New York City to find a gentle environment to bring up her two young children. As her friends and family assembled for the last day of shiva, I was informed by her sister Catherine, how Lili slipped into a coma and peacefully died a few days ago. There was healing and kindness all around her. She was held closely, tightly so that she could finally let go. A dear friend took her fear away right at the bedside.
It was nice to meet her friends and and learn about Lili's life over the last year as she became more ill. I wanted to let the family know that I loved Lili and that we at WWO were grateful for her generosity. She helped me through my divorce and her sustained giving over the years was substantial and supported amazing programs to help at-risk and vulnerable children remain hopeful in the face of outrageous adversity. That she actually traveled with me to do service was above and beyond.
I felt healed by her friends and family. Her sister, Catherine, is a healer from Ottawa, Canada and she was so kind to me and included me in the ritual shiva with a completely open and honest heart. I drove home sad and the loss was heavy, but I was so grateful to have been with Lili and her family in her home; I could feel her presence and now have that forever.
Dr. Jane Aronson
CEO & President, WWO
** Tzedek, the root of tzedakah, means justice or righteousness. Acts of tzedakah are used to generate a more just world. Therefore, tzedakah is a means through which to perform tikkun olam. Philanthropy is defined as giving money in order to "promote the common good."
‎In the Mishnah - ‎In Jewish prayer - ‎The role of ritual mitzvot
Popular in the Community