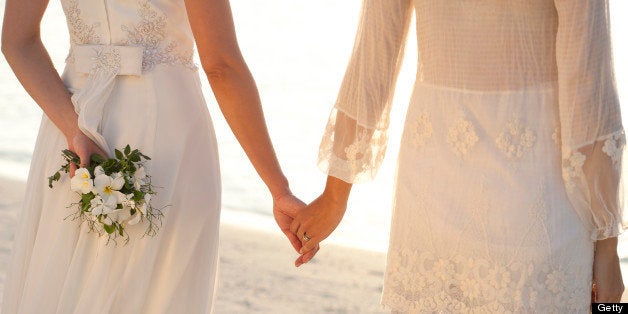 What if you were a talented citizen of Sweden and were recruited to work in the United States for a high-tech software company? If you are in a heterosexual marriage, you could bring your spouse and kids to the U.S., but if you are gay or lesbian, you'd be forced to choose between your career and your family. Until last week. In last week's landmark decision, the Supreme Court struck down section 3 of the Defense of Marriage Act ("DOMA"), which defined marriage as between a man and a woman in the realm of federal law and benefits. The decision has far-reaching consequences for same-sex spouses in the U.S., including in the area of taxes, health care and pensions. However, one impact of the Court's decision that resounds far beyond our borders, is in the area of immigration. For the first time in our nation's history, the talented techie from Sweden will have the right to live in the U.S. with his loved ones. U.S. citizens can now apply for visas for their loved ones, regardless of sexual preference. The Supreme Court's decision touches families in the U.S. and around the world, and furthers the cause for universal human rights.
Under DOMA, gay and lesbian couples could not seek asylee benefits for their spouses, often subjecting the person left abroad to an even more precarious situation. Now, persons fleeing persecution and applying for asylum in the United States can file for derivative asylee status for their spouses and children. Consider the case of Hasan* and Mohammed* -- a gay couple from Pakistan. The two met while in graduate school, and began dating in secret. On a study-related trip to Spain, Hasan and Mohammed married at a Spanish courthouse. When they returned to Pakistan, they hid their relationship and feared for their lives. The inevitable discovery of their relationship resulted in immediate risk of fatal repercussions. Mohammed escaped to a cousin's house in a nearby town while Hasan, with nowhere else to turn, fled to the United States and applied for asylum; his application was granted due to his legitimate fear of persecution based on his sexual orientation. Under DOMA, Hasan couldn't petition for his husband to join him in the United States, leaving him vulnerable and alone in Pakistan. Now, Hasan, and others like him, can include their lawfully wedded spouses in their asylum application and provide them with a route to refuge in the U.S.
Domestic violence affects same-sex couples, but until now, a victim's options for protection were extremely limited because their relationship was not legally recognized. Under the Violence Against Women Act ("VAWA"), a battered spouse of a U.S. Citizen or Permanent Resident can apply for a green card independently of the abuser by showing extreme cruelty. Under DOMA, however, only a domestic violence survivor in a heterosexual marriage could self-petition for a green card. Lesbian and gay survivors of domestic violence now have the right to the same benefits under VAWA.
Now that section 3 of DOMA is no longer in effect, gays and lesbians in deportation proceedings can assert the same defenses to removal as heterosexuals. For example, a judge has discretion to grant a green card to those who entered the U.S. without inspection but have lived here for at least ten years, have not been convicted of certain crimes, and can show that their removal would result in exceptional and extremely unusual hardship for their U.S. citizen or lawful permanent resident spouse. Consider what happened to Ximena* and Linda*: Ximena, a 45-year-old lesbian and citizen of Mexico, crossed the border in 1994 with dreams of a better life. In 1999, while working as a barista in a busy New York coffee shop, she met Linda, a single mom with two-year-old twin sons. Linda and Ximena have been inseparable ever since; they live together and raise Linda's two sons together as co-parents. In 2011, when New York State legalized same-sex marriage, Linda and Ximena were married. In January 2012, Linda was diagnosed with breast cancer and was forced to leave her job to undergo regular chemotherapy and treatment. Ximena is Linda's sole source of financial and emotional support; she takes care of her, their children, and their home, and works three jobs to pay for Linda's medical treatment. In July 2012, Ximena was arrested for jaywalking and found herself in removal proceedings before an Immigration Judge. Because her relationship to Linda carried no legal weight, Ximena's deportation was imminent. With the death of DOMA, the Immigration Judge hearing Ximena's case can consider the impact her removal would have on Linda and their sons. Instead of removing her to Mexico, the judge can grant Ximena a green card, which will allow her to continue to live and work in the United States, and stay with her family.
While the fall of DOMA is certainly a cause for celebration, in the in the area of immigration law, it will not benefit same-sex couples who are not or cannot legally marry. Gay and lesbian couples may also have a harder time proving the bona fides of their marriage (required to obtain immigrant status through marriage) if they have been unable to secure legal documentation of their relationship, like being listed as a beneficiary on one another's pension, health care, or vehicle insurance. It remains unclear whether same-sex partners in civil unions or domestic partnerships will be afforded the same protections as same-sex spouses in immigration law.. Immigration law is a complicated field, and recognition of same-sex couples remains uncharted territory but the downfall of DOMA finally clears a long-awaited path for equal protection under the law for same-sex couples and their families.
*Stories are loosely based on cases we've encountered, but names have been changed.
Popular in the Community