These past few months, I've grown weary trying to find albums that engage me from start to finish. In fact, I've yet to find one album in the past few months I can listen to top to bottom. I truly believe that we are back in the land of "singles." Not saying that a Blood on the Tracks, Dark Side of the Moon, OK Computer, or (What's The Story) Morning Glory? isn't lurking in the shadows, but.... I'm old enough to have bought 45s back in the '60s when I was a young pup; my first was The Beatles "Rain"/"Paperback Writer." In the land of digital, I'm happy to download one single, not always the band or label's choice, from some new noteworthy act and let it fall into my enormous random shuffle playlist (over 8,700 songs and counting). If you love an album that you truly believe holds your attention for ten (or more) songs, I'm all ears. In the interim, here are 12 "singles" I've added to my summer playlist. I'll have more next month...and maybe, just maybe, one entire album!
"Get Up" - Wiretree: Get Up (Cobalt Works)
First time I heard this track from Kevin Peroni's Austin-based quartet, I was certain it was by an alt-pop U.K. band like Teenage Fanclub or The La's. I had to double check their website. Regardless, this is really catchy, vibrant alt pop-rock that will make you sing along. Now is that so bad? Their fourth album will be released on July 9th.
"Flick of the Finger" - Beady Eye: Be (Columbia)
TV on The Radio's Dave Sitek, who produced this, ushers in a "new" Beady Eye sound on former Oasis vocalist Liam Gallagher's band's second release, and it's a much stronger album because of his input. Pounding drums, brass, and Kayvan Novak reading a passage from Street Fighting Years: An Autobiography of the Sixties by British Pakastani writer/filmmaker/journalist Tariq Ali render this my favorite track of the month. Video was directed by Sitek, too.
"Period Piece" - Lloyd Cole: Standards (Tapete)
Lloyd Cole sounds formidable on this catchy track, perhaps reinvigorated by reconnecting with friends Matthew Sweet on bass and Fred Maher on drums. This is a song that looks back and looks forward -- that moment when you hit middle age and you wax poetic about your youth and the wisdom that you've carried forward from said youth. Love the sound of the ping-ponging guitars and chiming arpeggio. And Lloyd is fine vocal form, strong and articulate, an homage to his most beloved records and informed by his musical influences.
"Ohio" - Patty Griffin: American Kind (New West)
Griffin is one of those evocative singer-songwriters who embodies the quintessential essence of Americana. Hailed by critics but often ignored by a larger audience, she deserves so much more. Hopefully her latest single will help in that cause as she's in grand company on this atmospheric duet with her new beau, (Rock God) Robert Plant. There is a siren-like quality to this acoustic-driven meditative love ballad and the undertow of the instruments -- acoustic guitars, djembe, dobro -- is as strong and steady as the current of this name-checked river. "Meet me in the evening / Where the river is low..." 
"Vedette" - Ekha: BCWTIOT (Daylight Curfew)
Smart, edgy, provocative, soul-noir that will not appeal to a very wide audience, but this trio certainly deserves more ears. Sonically think Massive Attack. The group is composed of vocalist Thimali Kodikara and producers Devang Shah and DJ Jad1. Their album drops on July 9th on Daylight Curfew.
"You Can't Be Told" - Valerie June: Against A Stone (Concord Records)
Wow! The Black Keys' Dan Auerbach may have met his match when he decided to produce the Memphis-based, Americana singer-songwriter Ms. Valerie June. She makes it all seem so effortless. This "single" is so good it'll levitate you out of your blues. Pushing Against a Stone is set for an August 13th release.
"We Are" - Karnivool: Asymmetry (Sony)
Apparently these Aussies from Perth are much beloved in a music genre that often gets hammered by my fellow rock critics. I just discovered them, and I have to give them high marks for terrific songs, playing, production, et al. "We Are" is their latest single from their forthcoming album, Asymmetry, due later this summer. If you dig the prog metal of Tool, A Perfect Circle, and dare I say, King Crimson, then you will dig Karnivool. Prog is not dead, long live Prog!
"Little Too Late" - Nicki Bluhm and The Gramblers: Little Too Late single (Little Sur)
SF-based Nicki Bluhm and The Gramblers get their roots-rock jam band groove working OT on this infectious new tune from their third album, which drops on August 27th. Husband Tim Bluhm of Mother Hips (on acoustic guitar) certainly knows his way around a groove, and the sultry, earthy soulful vocals of his wife Nicki make for perfect company. For fans of Grace Potter, Alabama Shakes, et al. Currently on a West Coast tour, check their website for dates.
"Part of Me" -  Tedeschi Trucks Bands: Made Up Mind (Sony Masterworks)
This tasty new track from Tedeschi Trucks Band's third album, Made Up Mind,  reminds me why I hail this band. In the spirit of Delaney & Bonnie, Susan and Derek get their R&B groove on, from top to bottom. And when Derek lets his slide guitar sing, well, it's not just another "voice." One of my favorite American bands and worth catching live any chance you get. New CD drops on August 20th. Download the free single now!
"Sweet Mountain River" - Monster Truck: Furiosity (Dine Alone Records)
Some heavy, melodic metal thunder for your weekend. I caught this Canadian quartet Monster Truck last month at Piano's (NYC) where they played songs from their new album Furiosity. This is no-frills classic rock and roll -- huge Les Paul guitar riffs, spacey organ fills, thunderous drums, bottom-heavy bass, and one powerful vocalist. The spirit of Stillwater and Grand Funk Railroad lives! I predict these lads will be playing much larger venues very soon.
"On the Road" - Houndmouth: From the City Below the City (Roughtrade)
This is a damn fine single in a ragged roots-rock, stripped-down-version-of-The Band-kinda way from this New Albany, Indiana quartet. The dual vocals of keyboardist Katie Toupin and guitarist Matt Myers frame the proceedings with just right amount of tension along with stabbing piano and a tasteful, economical guitar hook. Worth keeping an ear and eye on; new 12-track album was just released a few weeks ago.
"Duet" - Everything Everything: Arc (RCA)
Math rock -- think XTC or a poppier Elbow or a more muscular Coldplay -- at its most potent! This infectious single with sunny harmonies is from the Arc album, the follow up to this Manchester-based quartet's Mercury Prize-nominated Man Alive album. Released in the U.K. in January of this year, it debuted at Number Five on the UK Album Charts. Currently available Spotify; hopefully U.S. distribution is not far behind.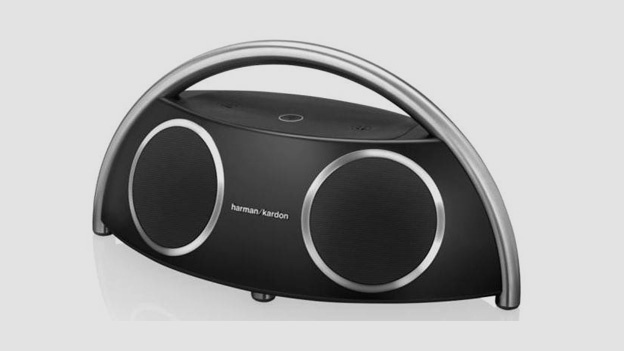 Harman Kardon Go + Play Wireless Hi-Fi Speaker Unit
I'd been looking for something that had a "bigger" sound to play my digital music and this Bluetooth- and TrueStream-capable device delivers on all fronts. This elegant industrial designed "boom box"-style portable wireless speaker system is perfect for dorm rooms, beach houses, apartments, patio decks, et al. (Need to download the free app to use your iPhone/iPad/iPod as the controller.) Delivers fantastic big, tight bass, thanks to dual "Atlas" woofers and two 30-watt Harman Kardon amplifiers, and plenty of high-end and midrange thanks to two 15-watt tweeters. It runs on eight D-cell batteries or the supplied DC power supply chord. Need to charge your iPhone/iPad/iPod? There's even a USB port that works with the DC (not batteries) plugged in. And there's an auxiliary jack for 1/8" auxiliary cable to control the device, too. (Think iPhone 4 or earlier models.)
When in doubt, turn it up! Enjoy the music, share the magic.
Calling all HuffPost superfans!
Sign up for membership to become a founding member and help shape HuffPost's next chapter