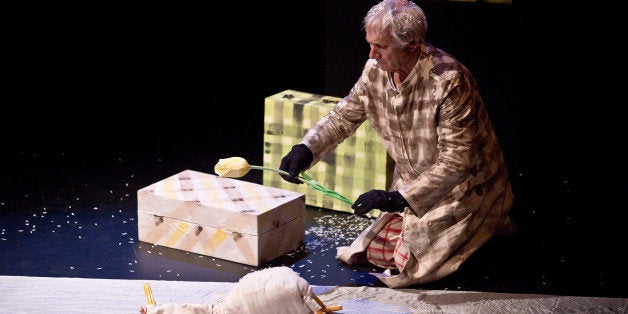 Eighty-year-old Lynn Ruth Miller takes the stage in Edinburgh this month to talk about death. That might sound morbid, but Miller isn't.
The California comedienne, who now lives in the U.K, is celebrating the fact that she is old and full of life and over the fear of dying. Her stand-up comedy show is simply titled "Not Dead Yet."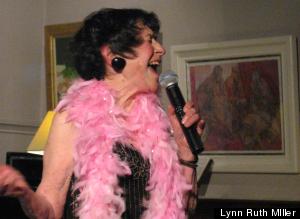 Lynn Ruth Miller embraces aging in "Not Dead Yet."
And she's not the only one talking thoughtfully, bluntly and comically about death in Scotland this summer. Miller's performance is part of Death on the Fringe, a series of dozens of dramatic plays, musicals and comedy shows taking place as part of the Edinburgh Festival Fringe.
A nearly month-long arts free-for-all, the Fringe plays out across the city's theaters, public squares, concert halls, bookstores and hotels every August. This year there are nearly 3,000 productions planned through the end of the month. The festival has a history of kickstarting theater trends and celebrity careers and premiering some of the globe's most provocative art, which makes it a good stage for talking about the ultimate tough topic, said those putting together the death-related series.
"If the Fringe can do everything else, why not this?" said Robert Peacock, organizer of Death on the Fringe. "You never know when death's going to hit."
Besides Miller's show, Death on the Fringe offers up other humorous takes. "Over It: Death, Anorexia and Other Funny Things" showcases two comedians, Dave Chawner and Robyn Perkins, sharing tales of eating disorders and the "unexpected, ridiculous aspects" of coming to terms with a partner's death. London-based comedian Nathan Cassidy calls his show "Date of Death."
The play "Chris Is Dead" meditates on how three post-college housemates mourn a fourth who died in a car accident. Among the sadness, it looks at the liberal arts graduates struggling with the math as they try to split utility bills now that their friend is gone.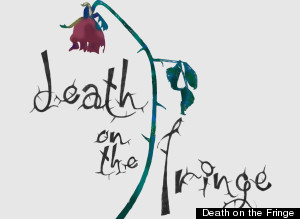 "Part of theater's job is to show what can happen to human life," said Vicki Baron, the 25-year-old artist director of the London-based Empty Photo Theater Collective, which is producing "Chris Is Dead." "Death is really sad, and it can also be confusing and have moments of comedy," she said.
It can also touch the youngest people. "Duck, Death and Tulip" is a puppet and mime show about a duck who learns about dying and the afterlife from a new friend, Death. Staged by New Zealand-based Barking Dog Productions, the play is based on a German children's book and aimed at 3- to 7-year-olds, said producer Katherine Joyce-Kellaway, "because kids need to talk about death, too."
Death on the Fringe is an effort of Good Life, Good Death, Good Grief, a nonprofit coalition of 200 partners -- including the U.K. National Health Service, hospitals and hospices -- that aims to get Scots talking about death.
Surveys in the U.K. and the U.S. show that a sizable share of citizens are uncomfortable talking openly about dying and haven't discussed their end-of-life wishes -- such as the use of life support -- with their families and doctors. Social activists with a variety of tools are trying to change that. The loosely knit "death awareness" movement has grown in recent years, with projects such as Death Over Dinner and Death Cafes spreading in the United States and large-scale initiatives like Dying Matters Awareness Week taking off in the U.K. There are two Death Cafes, the anything-goes discussions that often take place in coffee shops, scheduled in Edinburgh during the festival.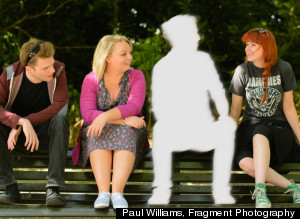 "Chris Is Dead" is a play about how three housemates deal with the death of a fourth.
While Death on the Fringe is largely a Scottish effort, its place at one of the world's best-known arts events could give it a wider impact. The Fringe has been a launching pad for shows and stars before, including Rachel Weisz, Jude Law and Mike Myers, who trod its grounds early in their careers. "Stomp," the long-running percussion show that makes instruments of trash bins and kitchen sinks, premiered at the Fringe. In 1966, Tom Stoppard's "Rosencrantz and Guildenstern Are Dead" made its first appearance there.
Unlike many other performance festivals, the Fringe has no jury, which means that anyone who has an idea -- and secures a venue -- can perform during its run. Neil Mackinnon, a spokesman for the Edinburgh Festival Fringe Society, said he believes that openness means the festival "can best organically represent the zeitgeist."
So is talking about death part of the spirit of our time?
"People are really interested in anything to do with death, whether it's autobiographical or scripted plays and dance," said John Troyer, deputy director of the Center for Death and Society at the University of Bath.
Troyer, who is scholar-in-residence this summer at the Morbid Anatomy Museum in Brooklyn, New York, noted there has also been a shift in how death is discussed. "If it was 25 years ago, you'd find a lot of the art about death centered around HIV/AIDS. These days, you'll find a broader public discussion of dying and how it affects people."

REAL LIFE. REAL NEWS. REAL VOICES.
Help us tell more of the stories that matter from voices that too often remain unheard.
BEFORE YOU GO
PHOTO GALLERY
Death Discussions Reading List