A handful of U.S. counties that buck the nation's overall downward trend of using the death penalty have emerged as particularly deadly places for criminal defendants who have intellectual disabilities, severe mental illness or brain damage, according to a new report from Harvard Law.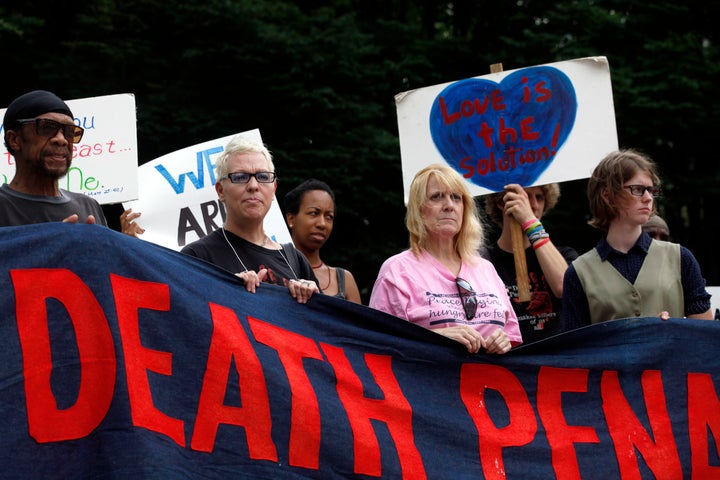 From 2006 to 2015, 56 percent of cases in 16 so-called "outlier" counties involved defendants with "significant mental impairments or other forms of mitigation, such as the defendant's young age," according to a report released Wednesday by Harvard Law's Fair Punishment Project.
The report, "Too Broken To Fix," highlights the 16 counties (eight counties in Part 1 of the report, and eight in Part 2) that share a pattern of overzealous prosecution, inadequate defense resources and racial bias.
"It has become clear that a significant proportion of individuals we are sending to death row suffer from serious mental impairments, or are so young in age, that they appear to be nearly indistinguishable from the categories of people whom the Supreme Court has said we shouldn't be executing due to their diminished culpability," Harvard Law Professor Carol Steiker said in a statement.  
The U.S. Supreme Court ruled in the 2002 landmark case, Atkins v. Virginia, that executing people with intellectual disabilities was "cruel and unusual punishment" in violation of the Eighth Amendment. Defendants who have a mental illness but are not considered clinically insane may be executed. 
But the trio of overzealous prosecution, poor defense lawyering and racial bias contribute to defendants ending up on death row despite having mental impairments that should otherwise exempt them, according to Rob Smith, one of the researchers on the report.
"In the end, you are left with an excruciatingly rare punishment," Smith said. "And, in the few places where it is still used with any regularity at all, it is the brokenness of the system and not the culpability of the defendant that leads to death verdicts."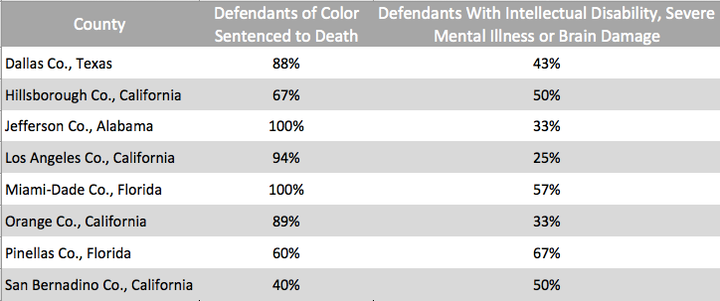 In addition to the rates of death sentences handed down to defendants with intellectual disabilities ― as high as 67 percent in places like Pinellas County, Florida ― the outlier counties have a track record of significant error: The 16 outlier counties have a combined 20 death row exonerations since the death penalty resumed in 1976. 
Smith said the outlier counties act in a way that's inconsistent with the constitutional requirement to apply the death penalty to "the worst of the very worst."
"What we're seeing in these 16 counties time and time again that they're the most broken and the most vulnerable people [sentenced to death]," Smith said. "It's just not consistent with our own dignity to punish people so impaired." 
Calling all HuffPost superfans!
Sign up for membership to become a founding member and help shape HuffPost's next chapter
BEFORE YOU GO
PHOTO GALLERY
Capital Punishment Methods Through History